Category Archives:
Cinema
In this episode of AVFF 2017, we engage in conversation with Tom Mo, who is a filmmaker and a teacher. A film enthusiast, he talks to us about how important the film festival is for Auroville. We also discuss the main categories for submission, Kino Cell, Kino Cabaret and about getting in touch with more funders for the festival to come alive.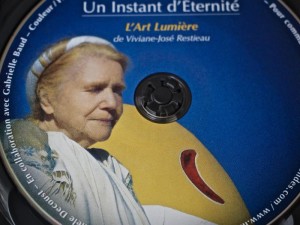 Le Pavillon de France présente UN INSTANT D'ÉTERNITÉ L''Art Lumière de Viviane José Restieau Film Exceptionnel de Michèle Decoust. Projection en présence de la réalisatrice Version française avec sous-titres anglais (55 min-2015) Wednesday 20 janvier 2015 at 17 h Cinéma Paradiso (Town Hall) This film by Michèle Decoust * presented for the first time the extraordinary life of  a painter, Viviane José Restieau, and the Odyssey of her  inspiration whose work  "directly" transcends the singularity of a life. Art Light, a part of the truth of our times, in quantum physics we discover that we are the atoms of a single great body, connected to the Earth and the Cosmos, and in solidarity with the same destiny. This unconventional piece challenges leading physicists, paleontologists and internationally renowned professors of medicine, plunging them into the sources of our humanity, and the origins of life. And are thus connected in multiple styles and beyond dogma, the great archetypes of the living, sacred geometry of its forms, the embryo-genesis, totems signs Peoples Roots, or the revelations of the Vedas and Sufi mystics. Entirely carried by the breath -  SATPREM's work is also a vibrant source- Art Light reveals, illuminates, and heals. Michele* Decoust is a writer and filmmaker. Since 2010, she has directed  "Auroville Earth for Tomorrow ", " Auroville, The Golden Link "  and a "Brief Infinity"  (in collaboration with Gabrielle Baud).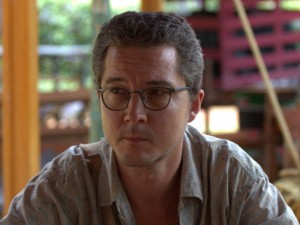 Auroville Film Festival Roundtable discussions on Human Unity lead by Sasi, featuring; Suresh, Tlaloc, Lata, Marco, Sanjay and others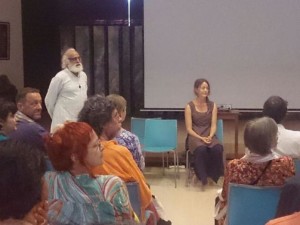 Anna Bohlmark, a film maker from Sweden is in Auroville, to experience Auroville and give an experience to people for Auroville through her film, Fog of Bwindi. It is a very heart touching short film, which is more of documentary of events which occurred in 1991, when the Uganda government decided (with the backing of World Bank) to convert the Bwindi forest area into a protected national park. And in order to make successful this decision, the government had to evacuate and literally remove the indigenous people of that region, the pygmies of the Batwa tribe. The national park is a big tourist attraction, paying 500US$ per person to observe and engage with the endangered species of guerrilla. The government completely undersighted the relationship of the Batwa pygmies who have inhabitated those regions for 1000's of years. The pygmies now find themselves, without their home nor land to basically survive upon. No help, support or rehabilitation plan was prepared for evacuation of nearly 6000 pygmies. Anna through her film, ventures deep into the lives of these unique and indigenous people to tell state of what occurred in their lives, when their own government abandoned them with any show or cause.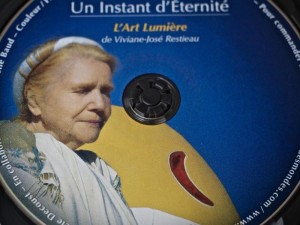 Le Pavillon de France présente
 
UN INSTANT D'ÉTERNITÉ
L'Art Lumière de Viviane José Restieau
Film Exceptionnel de Michèle Decoust. Projection en présence de la réalisatrice

Version française avec sous-titres anglais (55 min-2015)
 
Mercredi 20 janvier 2015 à 17 h
Cinéma Paradiso (Town Hall)
 
 
 
Ce film de Michèle Decoust* présente pour la première fois la vie extraordinaire d'une artiste peintre, Viviane José Restieau, et l'odyssée d'une Œuvre dont l'inspiration « directe » transcende la singularité d'une vie.
Visionnaire, l'Art Lumière s'inscrit dans la vérité de notre temps, où la physique quantique nous fait découvrir que nous sommes les atomes d'un seul et même grand corps, reliés à la Terre et au Cosmos, et solidaires de la même destinée.
Cette Œuvre hors normes, qui interpelle d'éminents physiciens, paléontologues ou professeurs de médecine de renommée internationale, plonge aux sources de notre Humanité, et aux origines de la Vie. Sont ainsi reliés, dans des styles multiples et hors de tout dogme, les grands archétypes du Vivant, la géométrie sacrée de ses formes, l'embryogénèse, les signes totems des Peuples Racines, ou les révélations des Vedas et des mystiques soufis.
Tout entier porté par ce Souffle - dont l'Œuvre de SATPREM est aussi une source vibrante- l'Art Lumière dévoile, illumine, et guérit.
 
*Michèle Decoust est écrivain et cinéaste. Depuis 2010, elle a notamment réalisé "Auroville, Une Terre pour Demain", "Auroville, Le Lien d'Or", "Voyage dans l'Infiniment Bref"(en collaboration avec Gabrielle Baud)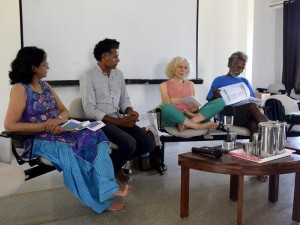 The panel consisted of Jill, Mala, Raman and Sasikant and the discussion covered movies from the previous day as well as the movies screened in the morning. The topics covered through the films ranged from the Israel-Palestine conflict and its representation, the preservation of language as well as the commitment to Satyagraha.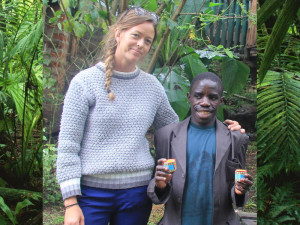 Documentary -

* FOG OF BWINDI

Uganda, 2015, Dir. Anna Bohlmark, 25 minutes, Documentary, English with English subtitles, Rated: G

For thousands of years the Batwa (a pygmy tribe) lived in harmony with the mountain gorillas in the Bwindi forest, south Western part of Uganda. In 1991, when the Bwindi forest became a world heritage, the pygmies were forcefully evacuated from the forest to leave space for the endangered gorillas. The mountain gorillas have become one of Africa´s biggest tourist attractions. But what happened to the Batwas?

This documentary give a frightening insight in a society that places economic interests above all others including human dignity.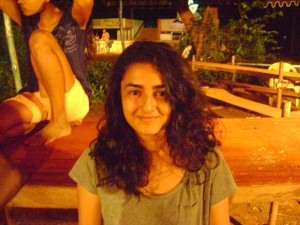 The 2015 Auroville Film Festival aimed to connect with people living in and around Auroville, while celebrating the theme of diversity and human unity. As well as the film screenings, the festival also featured a variety of musical and dance performances, and food stalls run by local groups including the Youth Centre and Sadhana Forest. We spoke to Aurovillians and visitors to see what they thought of the festival, and whether they felt it brought the community closer together.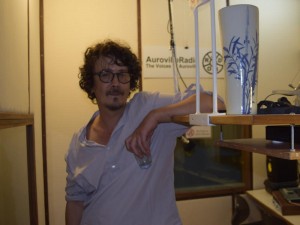 Philippe Borrel is a French documentary movie director who is coming for the Auroville Film Festival to present his latest opus ''The invisible (r)evolutions". He will also be one of the jury and will give two workshops during his stay, and took a few moments to talk to us about his work.