Category Archives:
Cinema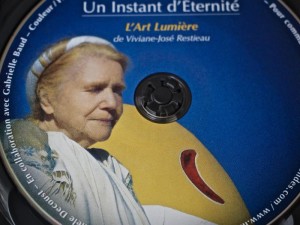 Le Pavillon de France présente UN INSTANT D'ÉTERNITÉ L''Art Lumière de Viviane José Restieau Film Exceptionnel de Michèle Decoust. Projection en présence de la réalisatrice Version française avec sous-titres anglais (55 min-2015) Wednesday 20 janvier 2015 at 17 h Cinéma Paradiso (Town Hall) This film by Michèle Decoust * presented for the first time the extraordinary life of  a painter, Viviane José Restieau, and the Odyssey of her  inspiration whose work  "directly" transcends the singularity of a life. Art Light, a part of the truth of our times, in quantum physics we discover that we are the atoms of a single great body, connected to the Earth and the Cosmos, and in solidarity with the same destiny. This unconventional piece challenges leading physicists, paleontologists and internationally renowned professors of medicine, plunging them into the sources of our humanity, and the origins of life. And are thus connected in multiple styles and beyond dogma, the great archetypes of the living, sacred geometry of its forms, the embryo-genesis, totems signs Peoples Roots, or the revelations of the Vedas and Sufi mystics. Entirely carried by the breath -  SATPREM's work is also a vibrant source- Art Light reveals, illuminates, and heals. Michele* Decoust is a writer and filmmaker. Since 2010, she has directed  "Auroville Earth for Tomorrow ", " Auroville, The Golden Link "  and a "Brief Infinity"  (in collaboration with Gabrielle Baud).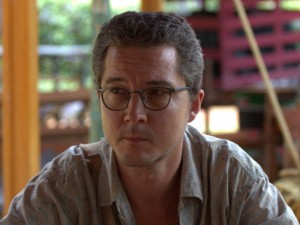 Auroville Film Festival Roundtable discussions on Human Unity lead by Sasi, featuring; Suresh, Tlaloc, Lata, Marco, Sanjay and others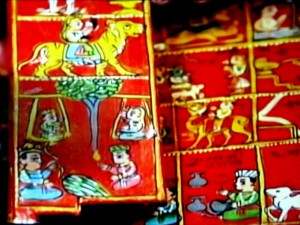 On Friday 9th in Auditorium, Bharat Nivas, Aurofilm has presented 5 short films in collaboration with IAWRT (International Association of Women in Radio and Television) and Dept. of Electronic Media and Mass Communication-Pondicherry University. The showed projections, part of the 2nd Asian Women's Film Festival, were: Capsule by Shreen Soliman (Canada), 1, 2, 3 by Nazli Deniz Guler (Turkey), Yup, It's My Body by Kiki Febriyanti (Indonesia), It's the Same Story by Nina Sabnani and Superman of Malegaon by Faiza Ahmad Khan (India).
Films and Directors in detail: Capsule by Shreen Soliman, experimental,Canada. A personal journey as well as an urgent inventory of the precious, final moments of her mother's battle with cancer that the director wishes to collect and suspend in time. 1, 2, 3 by Nazli Deniz Guler, fiction, Turkey. Ahmet's adventures of being a man in Turkey start with his circumcision at the age of 5....and continue till the present age. Yup, It's my body by Kiki Febriyanti, documentary, Indonesia. One issue women constantly face, is the size of their bodies. Sara and her friends are experiencing it also. It's the same story by Nina Sabnani, India. Two storytellers argue about their version of a story on Shravan Kumar, as listeners are free to interpret it in their own ways. The art for the film uses the painted images from the wodden portable shrine called the Kaavad. The film is a collaborative work between traditional Kaavad storytellers and the Kaavad artists from Rajasthan together with the film-maker. Superman of Malegaon by Faiza Ahmad Khan, India. Malegaon, a small town tucked away near the heart of India geographically, is fraught with communal tension and under severe economic depression. To escape the harsh reality of their world, its people seek refuge in the fantastical world of Cinema. This passion has spurred a group of cinema enthusiasts to make their own films. Quirky, low budget, socially aware and notoriously funny spoofs of Bollywood films. Their ambition has grown and now they are ready to take on Hollywood and Superman and this journey can be followed by the audience. All Films were in their original version and with English subtitles. Film Directors Shreen Soliman and Kiki Febriyanti were there for the screenings with the audience. www.puinquirer.edu.in www.iawrt.org,
http://pondiuni.academia.edu/Departments/Centre_for_Electronic_Media_and_Mass_Communication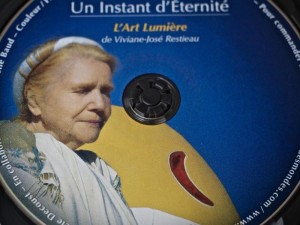 Le Pavillon de France présente
 
UN INSTANT D'ÉTERNITÉ
L'Art Lumière de Viviane José Restieau
Film Exceptionnel de Michèle Decoust. Projection en présence de la réalisatrice

Version française avec sous-titres anglais (55 min-2015)
 
Mercredi 20 janvier 2015 à 17 h
Cinéma Paradiso (Town Hall)
 
 
 
Ce film de Michèle Decoust* présente pour la première fois la vie extraordinaire d'une artiste peintre, Viviane José Restieau, et l'odyssée d'une Œuvre dont l'inspiration « directe » transcende la singularité d'une vie.
Visionnaire, l'Art Lumière s'inscrit dans la vérité de notre temps, où la physique quantique nous fait découvrir que nous sommes les atomes d'un seul et même grand corps, reliés à la Terre et au Cosmos, et solidaires de la même destinée.
Cette Œuvre hors normes, qui interpelle d'éminents physiciens, paléontologues ou professeurs de médecine de renommée internationale, plonge aux sources de notre Humanité, et aux origines de la Vie. Sont ainsi reliés, dans des styles multiples et hors de tout dogme, les grands archétypes du Vivant, la géométrie sacrée de ses formes, l'embryogénèse, les signes totems des Peuples Racines, ou les révélations des Vedas et des mystiques soufis.
Tout entier porté par ce Souffle - dont l'Œuvre de SATPREM est aussi une source vibrante- l'Art Lumière dévoile, illumine, et guérit.
 
*Michèle Decoust est écrivain et cinéaste. Depuis 2010, elle a notamment réalisé "Auroville, Une Terre pour Demain", "Auroville, Le Lien d'Or", "Voyage dans l'Infiniment Bref"(en collaboration avec Gabrielle Baud)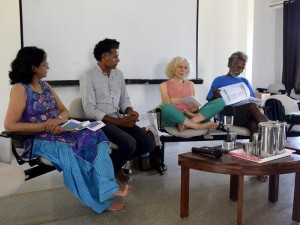 The panel consisted of Jill, Mala, Raman and Sasikant and the discussion covered movies from the previous day as well as the movies screened in the morning. The topics covered through the films ranged from the Israel-Palestine conflict and its representation, the preservation of language as well as the commitment to Satyagraha.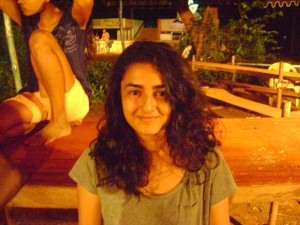 The 2015 Auroville Film Festival aimed to connect with people living in and around Auroville, while celebrating the theme of diversity and human unity. As well as the film screenings, the festival also featured a variety of musical and dance performances, and food stalls run by local groups including the Youth Centre and Sadhana Forest. We spoke to Aurovillians and visitors to see what they thought of the festival, and whether they felt it brought the community closer together.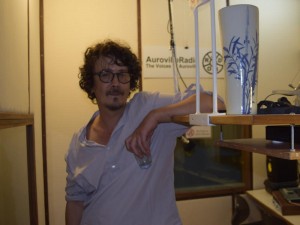 Philippe Borrel is a French documentary movie director who is coming for the Auroville Film Festival to present his latest opus ''The invisible (r)evolutions". He will also be one of the jury and will give two workshops during his stay, and took a few moments to talk to us about his work.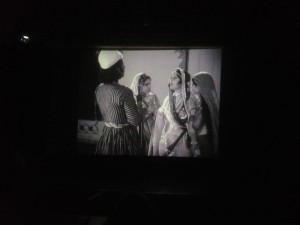 The 26th of December, Friday, 2014; had a bunch of people assembled in the auditorium of Bharat Nivas to watch the silent film A Throw of Dice; based on a story from the Mahabharata, set against the backdrop of the palatial settings of a dusty Rajasthan.
The timid yet bold actress blushing away at the sight of her lover, a might royal King, who falls in love with the charm and innocence of the common woman, Sunita. Amidst endless plots and plans to keep King Ranjit and Sunita apart, their fragile love still never ceases to blossom. With a simplistically cliched plot line, predictable scenes and raw performances by the humble actors, the naive charm of it leaves you amused and entranced.
And what better an ambience than the live accompaniment of artists such as Dr. Kim Cunio and Heather Lee who composed the background score for the film, perfectly emulating the clicks of the camel hooves, the Ghunghrus on the dancers' feet, the eerie and despair, and the fleeting moments of joy and romance.
The silent film was brought alive through their eclectic compositions; and reminded one of the Charlie Chaplin days when such orchestraic accompaniments were carried out for silent movies.
A hearty applause for Dr. Kim Cunio, Heather Lee, Susanna, Gerard and Ruben who made this event possible.
The recording includes the entire sound play for the movie.