Category Archives:
History
Une introduction sur la vie de notre chroniqueuse Gangalakshmi et son parcours à Auroville.
An introduction of our contributor Gangalakshmi's journey to Auroville.
Gangalakshmi presents over 80 recordings in French, of her reading titles from; Sri Aurobindo, The Mother and Satprem under the title 'Selections par Gangalakshmi' on Auroville Radio.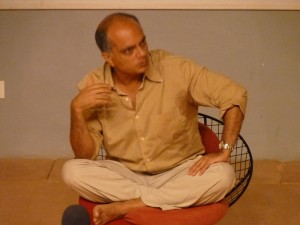 Surya Tahora nous a presente une conférence captivante sur le védânta et les chemins de la liberté, ou comment apprehender la vision du UN absolu et universel. Surya n'est n Madagascar... Il rencontre en 1995 Swami Dayananda Saraswati, un enseignant contemporain de la non Dualit (Advaita Vedanta) dans la tradition du philosophe Indien Shankaracarya. Surya Tudie depuis cette date avec Swami Dayananda les principaux textes de la tradition philosophique Indienne dans leur langue dorigine, le sanskrit . Il est également titulaire d'un doctorat en Sciences pharmaceutiques et d'un MBA. Il a travaillé pour des grandes socits multinationales dans le domaine du marketing international et stratégique la fois Paris et Bangkok. .Il à participe de nombreux cours résidentiels de courte et longue dure conduits par Swamiji Coimbatore et Rishikesh, qui sont deux de ses centres dtudes et de retraite en Inde. Depuis 2007, Surya et Neema animent des séminaires et des retraites intensives, et donne des conférences publiques sur la non Dualit en Inde et en Europe, la fois en Anglais et en Français.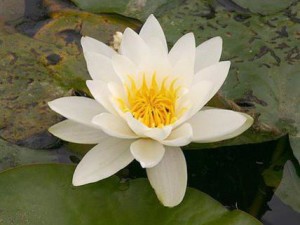 Une introduction sur la vie de notre chroniqueuse Gangalakshmi et son parcours à Auroville.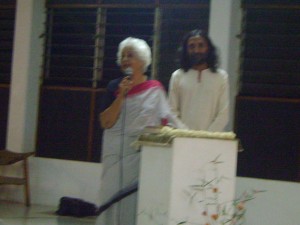 Last night on the occasion of the Kerala Festival, in India Space Manoj gave a presentation of the story of avatars. Through an inquiry of the evolutionary path from the perspective of Sri Aurobindo's teaching.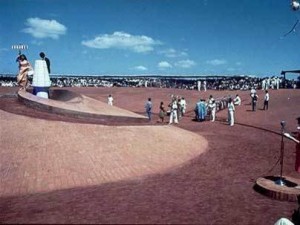 Listen to an inspiring piece of broadcasting history as Mother announces the inauguration of Auroville live across India on 28 February 1968. The recording was made with Mother sitting in Pondicherry while 5000 founding members of Auroville conducted the inauguration ceremony nearby at the Matrimandir Amphitheater. Thanks to All India Radio, her reading of the original Charter of Auroville in French was broadcast live to the amphitheater, as well as across India, while soil representing 124 nations and 23 Indian states was placed in the ground.
"Auroville wants to be the first realisation of human unity based on the teaching of Sri Aurobindo, where men of all countries would be at home". To learn more about the 1968 inauguration ceremony of Auroville, please visit http://www.auroville.org/vision/inauguration.htm