Category Archives:
Literature
Yatra Srinivassan and Kavingar R. Meenakshi dropped by to speak with AurovilleRadio about the upcoming release of Srinivassan's book of Tamil short stories, "Yatra Sirukathaikal". They speak about the inspirations, production, impact, and purpose of the book as well as their long-standing mentor relationship. Listen in and attend their book launch event: Auroville Ilaignarkal Education Centre (Near Town Hall) 30th November 2017, Thursday, 5:00pm Book Title: Yatra Sirukathaikal Author: Yatra Srinivassan Illustration: Kalaimamani Ravi Cover Illustration: S. Priyadharshami Famous Writer: K. Raja Narayanam
Last Thursday we had a pleasure to witness a books launch in a packed hall in Unity Pavillion. Anu Majumdar just released the book - Auroville: A City for the Future. The occasion was graced with Anu reading from the book. Inge and Mandakini held a conversation with Anu and the audience. Books are available at Wild Seagull Bookshop. https://www.amazon.in/Auroville-City-Future-Anuradha-Majumdar/dp/9352770285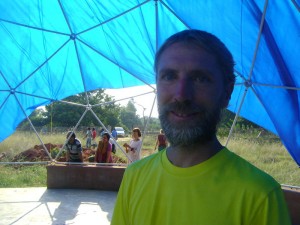 Sunny and hot Sunday afternoon at Sankalap in International Zone didn't stop many to come to the book launch of new children book - Yaroslava's Flowers written by Noel. He shares with us what has inspired him to write a book, and where the name came from. As is he saying he simply wanted to bring joy to children, to explore more, and for them to know also the spiritual significance of the flowers by the names given by The Mother. At the occasion of launching the book children of all ages were invited to plant some seeds, and they had fun to create "seed bombs" or "seed sculptures" which will be thrown on the prepared soil to sprout.

The book was written by Noel Parent, Illustrations by Pankhuri Singh, Layout/Design by Krupa Jhaveri - - With grant support from PCG and Stichting De Zaaier



Book for children of all ages, written by Noel Parent, and read by Marlenka. "...There once was magical land called Ayelen, where everyone smiled all the time. They smiled while they worked, they smiled while they played, they smiled when it was sunny, they smiled when it rained. They even smiled while they were sleeping!...."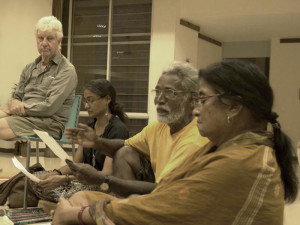 Tuesday 22 March, 2016 Unity Pavilion, Auroville As a part of the World Poetry Movement, Unity Pavilion presents A Poem for Refugees for all those who have been misplaced, having to leave their Motherland because of wars and human suffering. This is a multi-cultural and multi-lingual gathering where poets, musicians and friends share their heartfelt stories and sending peace and love to those in need.
It's the most vague and complicated thing in any of our lives. In fact, it's so convoluted, no one even bothers defining it; they just sprinkle it anywhere it's convenient. We all speak the language, but no one knows what they're saying. It's like an argument waiting to happen...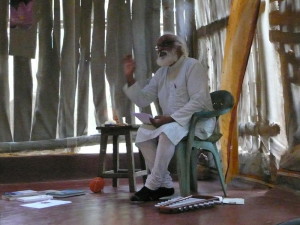 Prof. Schdev Kumar presents the songs of the great 15th century poet-sage in original and in English translations, with commentary on his Bhakti Yoga.
Aurolire, festival de lecture organise par Les Baladantesen partenariat avec le Pavillon de France a presente une Soiree Auteurs au Pavillon de l'Unite le lundi 22 Fevrier
Ces lectures en francais sont faites par Mirajyoti, Croquette,Yanne, Janaka, Francois G, Veronique, Monique et Ann