Category Archives:
Multimedia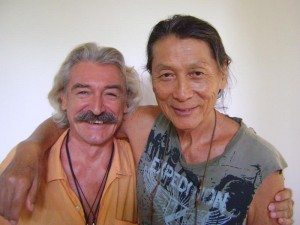 Marco and Tlaloc has stopped at our studio this morning and shared with us some details on already 4th Aurovile Film Festival which will start next Friday, 2nd at 5pm at Plazza in Town Hall. Festival itself is not only growing in numbers of films in all four categories but also in number of events which accompany it. So, again we can expect a real festival spirit for five days from next Friday onward... with some surprises on the way….
On Saturday the 3rd at 4 pm in Kala Kendra is started the exhibition Misja Auropol (Mission in Auroville) by six contemporary artist from Poland currently residing in Auroville, . The Collective exhibition as a result of cultural geography experiment meant to test how the reality of Auroville would influence artists' attitudes and practices. The works shown at the exhibition present wide array of media used in contemporary art, from painting to sculpture, installation and experimental film. The project is curated by Janek Simon.
It is a collaboration between Lodz Museum of Art and Kala Kendra, with the support of Goldex Podex and the Adam Mickiewicz Institute. Artist and their works: Daniel Rumiancev - Tears in heaven - and - Degrees - video installations. Monika Zawadzi - Thali plate - stainless steel sculpture, - I killed this hen especially for you - and - Hammock - acrylics on wall. Marta Deskur - Manju goes to Poland - social action. Tomasz Kowalski : four paint gouashe and watercolors on paper. Agnieska Polska - Wlosy (Hair) - movie. Andrzej Szpindler - Only now: same old vehicles - installation. www.auropol.com www.gallerysquarecircle.blogspot.com www.iam.pl
On the second day of the Auroville Film Festival many people came already in the morning. A film that seems to have grabbed special interest was "A New We" and was documenting the lifestyle of 10 intentional Communities and Ecovillages in Europe. Listen to the inspirations and insights that Aurovillians got from the lifestyle of those communities and their feeling about the Festival.
Andrea and Renu discuss the September month long fund raising drive. The present situation of the radio and our hope that this drive will help us achieve the basic expenses to sustain the radio for the year as well as to work towards our future project of creating an Art and Science of Communication school. Thanks to Auroville youth and musician Vania for the radio jingle. Its much appreciated! http://www.nepsound.com/
This recording was created on February 21st, shortly after the morning concentration at the Amphiteater. My walk started at the Matrimandir's gate toward the Banyan and back through the peace area, where I recorded conversations, guests entering the Matrimandir, workers busy in their tasks, and the songs of many birds. All the while, the rhythm of my feet on the earth accompanies the diverse sounds of the recording. Soundscapes, to me, share the beauty of a space in a way that doesn't have to be communicated in words; nothing but pure sound.
The Auroville FIlm Festival '11 will be bigger than in 2009! The number of locations where it will be happening, the installations, exhibitions: a group of video artists from Berlin gifted to Film Festival '11 fancy installations, which most likely will be on display at La Terrace at Solar Kitchen and at Town Hall. We can expect two exhibitions; one at Kala Kendra, the joint work of Marie Claire, Anna, Chloe and Christoph, their collaborative work of dance, sculpture, sound and video... in Bharat Nivas, artwork of students on Human Unity.