In today's musical edition we feature some classical rock pieces. That was the time just after the descent of supramental which has rippled throughout the world
shifting humanity conscious......
tracklist

Jethro Tull - Locomotive Breath
Dr. John - Such a Night
The Band - The Night They Drove Old Dixie Down
Lynyrd Skynyrd - Sweet Home Alabama
Grateful Dead - Truckin'
Janis Joplin - Me And Bobby McGee
King Crimson-Epitaph
Led Zeppelin-Stairway to Heaven
The Doors - Riders On The Storm (ORIGINAL!) - driving with Jim
The Moody Blues - Nights In White Satin
Mamas & The Papas California Dreamin
Fleetwood Mac - Little Lies
The Band The Last Waltz ThemeThe Doors - The End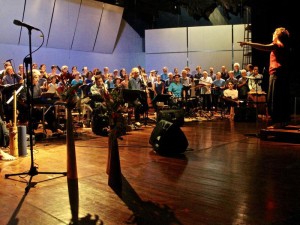 In Bharat Nivas the Auroville Choir and the Youth Choir accompanied by the various talented professional musicians of the Instrumental Ensemble, presented selections of song extolling peace, by Karl Jenkins. An astonishing, graceful concert once again, not only in agreement with the world wide wishes for world peace but also putting forward the spirit of Auroville, whereby people of different origins, race, age, sex strive harmoniously toward one common goal. Once again the beauty of the concert brought forward a collaborative work of many starting with Nuria, Auroville choirs, musicians, sound engineering by Joel, and Jean and Mahi on lights, as well as others. This interview of Nuria has been done on Tuesday 29th.
Still going down the memory lane with 3rd edition of rock. tracklist Bon Jovi - wanted dead or alive AC-DC - Highway to Hell Blue Oyster Cult - (Don't Fear) The Reaper Boston- More than A Feeling Blood, Sweat and Tears - God bless the Child Foreigner - Cold As Ice Bad Company - Bad Company Renegade - Styx Guns N' Roses - November Rain The Eagles - Hotel California Lynyrd Skynyrd-Free bird
Second edition of old rock at the time of big changes, shift of humanity consciousness corresponding just after the time of supramental descend. Rippling effects of it, expressions... and about the music of the time, and Woodstock  Joni Mitchell has wrote:"A look back at a time that brought people together with music, celebration and love! Sure there was lots of sex, drugs and rock & roll...but the true nature of this event was a coming together as one...to experience life to its fullest...a moment in time that will live on forever in our hearts and minds." track list The Whistler - Jethro Tull Woodstock ~ Joni Mitchell Starless King Crimson Crystal Blues - Country Joe & The Fish Roadhouse Blues - The Doors Hear My Train A Comin - Jimi Hendrix Paint It, Black - The Rolling Stones Ramblin' Man - Allman Brothers Band Southern Cross - Crosby, Stills & Nash Carry On My Wayward Son - Kansas I Love You More Than You'll Ever Know Blood, Sweat & Tears Piece of My Heart - Janis Joplin Today - Jefferson Airplane New Kid in Town, Eagles Forever young by Joan Baez

The Unstitute (UK artists Marianna and Daniel) concludes its sonic exploration of meditative landscapes, created from the sounds collected in and around of Auroville, India where The Unstitute is currently in residence practicing the yoga of work.


This meditational landscape 'Breath' invokes an inner reality of breath as it unfolds in its rhythmic form and travels through vibrational chambers, echoing in the vast labyrinthine spaces created out layers of recordings of breath, voices and wind instruments.