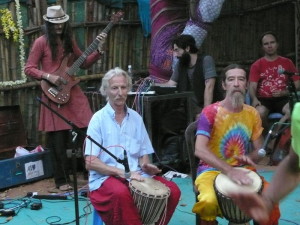 At the very beginning of Hibiscus festival this band played just one song, Louis and Patrick on djembe, Joel on bass while Audrey was involving the dancers.
Featuring some excellent musicians mostly from West Africa .... Ma Jaiye Oni - King Sunny Ade Mampam Sukuruwe - Sweet Talks A Capella no.4/Des Hauts Et Des Bas - Les Têtes Brulées Yélé n Na - Salif Keïta Lastou Adri - Souad Massi Ewa Ka Djo - Angélique Kidjo Pygmy Love Song - Francis Bebey Fantastic Man - William Onyeabor Kala - Mbongwana Star Khulumani - Nkata Mawewe Mbongwana Star - Nganshe New Bell - Manu Dibango King Sunny Ade - The Message (Love Ltd Edit)
Soulful Afrohouse – tribal house music in appreciation of Black Coffee, Boddhi Satva, Black Motion, Afrikan Roots, Xoli M… tracklist Black Coffee - Ziph Inkomo Black Motion & Dj Shimza - Ngoja Afrikan Roots Feat. Xoli M - Angel Dj Choice & Afrikan Roots ft BK - My Window Dj Lopez Feat Black Motion- Fortune Teller BlackCoffee feat Bantu Soul - Even Though DJ Nascent, Stones & Bones - Supernatural (Epitome Resound Afro Bless) Etu Beats & Tseko feat. John Moabi - Love Is You [Duma West]. Boddhi Satva - Nankoumandjan Afrikan Roots - Dance of the Tribe (feat. Tlokwe Sehume) Black Motion (feat. Black Coffee & Xelimpilo) - Thamokuro Black Coffee - Gardens of Eden Da Vynalist, King Mshivo, Luyanda Makapela - Space Fantasy
Another exhibition by Alean and Alex in Auroville, this time during the Hibiscus Festival 2017, supported by the busuki of Francois for a couple of songs.
On Sunday 19th February Hibiscus festival 2017 was opened by a couple of great musicians: Rotem Sivan and Eleonora Bianchini. Rotem Sivan is an exceptionally gifted and talented guitarist of the 21st century, Eleonora is an amazing contemporary vocalist and voice teacher from Italy. In this recording you can listen to some jazz and brazilian songs which were played very well.

http://www.rotemsivan.com/
http://www.eleonorabianchini.com/
Last night and still tonight Auroville Choir, Youth Choir and Instumental Ensemble are sharing with the community at Sri Aurobindo Auditorium, Bharat Nivas, Pavilion of India The Peacemakers by Karl Jenkins. "Music has the capacity to breathe harmony into the soul. The Peacemakers breathes the harmony of Peace." Terry Waite Choir director and vocal coach, and conductor Nuria Instrumental and Ensemble director Matthew Sound engineer Joel Lights Jean Youth Choir Aloe, Amber, Asia, Claire, Daniel Hye Yoon, Jangchup, Luna, Mir, Neha, Pia, Pooja, Prithvi, Raman, Sarah, Samedha, Snea, Tara, Akila, Auroshree, Eurydice, Hannah, Leela, Manisa, Masha, Mir, Rathan, Yugesh Auroville Choir Aisha, Ambra, Anandamayi, Bessie, Carla, Elke, Isabelle, Karen, Kathrin, Lisbeth, Marina, Marion, Pauliena, Stefania, Swaha, Agsaneh, Divya, Gumsoon, Helema, Helgard, Malvika, Mila, Miriam, Pala, Ratna, Rita, Srimoyi, Stefanie, Tineke, Antonio, Emaniele, Jean-Yves, Lyle, Otto, Stefa, Tom, Umberto Instrumental Ensemble flute Bryce, piano Carel, guitar and trumpet Shanks, keyboards and saxophone Matthew, double bass and violin Holger, electric bass Txuma, drums Matthia, percussion Prakash