Continuation of panafricanism story or going global. Featuring some interesting musicians, political activist, fashion icons........ in between from Portugal comes a prodigy producer from Angola - Dj Dotorado Pro, with African Scream, made last year, which it can be also seen with whole animation concept (work of collaboration). FoknBois from Gana are having fun while raping out, and Jidenna pairing with Janelle Monae do the Yoga..... Playlist Marimba D'Africa - Dj Dotorado Black Coffee's Africa rising ft SoulStar - Rock My World Chris Berry & Awa Sangho - Sister River Dotorado Pro - African Scream Lira - Wa Mpaleha Janelle Monae, Jidenna - Yoga Liquideep - Fairytale FOKN Bois - Jesus Is Coming ft Wusuwaah Bisa Kdei - Mansa Petite Noir - MDR Future - Codeine Crazy ELO - Stare MzVee Ft. Wiyaala - Real Woman (Bad Like We) Sarkodie ft Banky W - Pon Di Ting Cassper Nyovest - Mama I Made It ELO feat. FOKN Bois- My Everywhere Nneka - Africans Wanted (Cuppy Remix) Ft Tiwa Savage Ziyon - One I A Million
Tigris presents a 54 minutes of classic US rap / hip hop songs like 50 cent-In da club, NWA-Straight outta compton, Notorious BIG-Juicy, NAS-Life's a bitch, etc... Program duration: 54min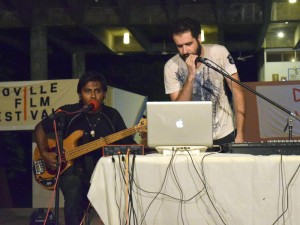 Day 2 of the Auroville Film Festival 2015 was full of screenings and delicious food and people milled about enjoying the festive atmosphere. People even referred to it as having a 'village fair vibe' as everyone got together, talking and laughing and even dancing.

Magnetic Fields, consisting of Ellie and Philippe from Pondicherry, performed live in the evening at the Town Hall Plaza.

You can learn more about them from their website:
http://changetheworldmusic.yolasite.com
This is the second part of the classic rap mix I made a week before this one, it includes some of the same rappers but also new ones like Rakim and Kurupt as well as other tracks by NAS from the album stillmatic, 2pac Ambitionz as a Ridah, hit em up...
I tried putting an eminem track but there was a problem with the file so it is incomplete but I left it for the lovers.
All of the tracks in this mix are newer classics than the first part except for songs like NAS- Ether and Still DRE...
Just in case you haven't checked your calendar today, it's Saturday, also known as 'Sic Sixx' day, which means we have a new playlist, this time focusing mostly on alternative pop-rock and indie rock. We hope you enjoy and stay(sic)!

Children of the Revolution (The Violent Femmes)
Spaceman (Population 1)
The Hardest Button to Button (The White Stripes)
Here Comes Your Man (The Pixies)
I Won't Let You Down (Ok Go)
Haters Gonna Hate (Chunk! No, Captain Chunk!)
Reptilia (The Strokes)
Do I Wanna Know? (Arctic Monkeys)
Bad Blood (Supergrass)
Easily (Red Hot Chili Peppers)
Stacy's Mom (Fountains of Wayne)
Shine (Collective Soul)