Category Archives:
Infrastructure
Sigrid, gave a very thought provoking presentation on situation of lands within the Auroville masterplan. As part of the presentation were 3 films, which give details about current and past circumstances regarding land. In one of the films, pioneers of Aurovillians are seen sharing their views and actual circumstance of lands when Auroville was getting ready to begin. The Crust of the presentation was to install a sense of urgency as mentioned, around 100 new private developments have emerged in past few years. These private developments not only plan to cash in on the popularity and good will of the community but also pose as an imminent threat to the lifestyle and basic functioning of Auroville at large. This presentation is an attempt to reach out to the world and stress upon all existing relations of goodwill with Auroville. The time to step up and act is now, what is slowly turning into a crisis can be avoided only if the entire community can come together and put forth an ingenious plan of action. Land will play a decisive role in manifesting the ideal Auroville we all dream of. With Sri Aurobindho and mother looking upon us, we must act diligently.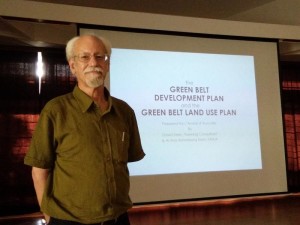 David Stein made a presentation to people of Auroville on his green belt land use plan. This plan is available on auronet and is waiting for an approval from Aurovillians. In near future a general meeting is being organized to understand and take a decision about action to be taken. The key note David Stein emphasised on was, by adopting the land use plan, we can start the process of getting legal status for Auroville buildings. David Stein along with the priority of adopting the plan, highlighted on the situation of increasing salinity in the ground water in Auroville and urged the people of the city to take urgent action to avoid dire situations in future. David said he is available for further comments and feedback , regarding the green belt land use plan.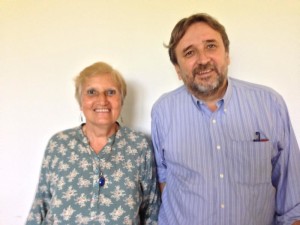 Susmita, working at Accessible Auroville, and Sauro, working at l''Avenir d''Auroville, received a donation from Italy to purchase a bus for public transport in Auroville. They are telling us how they have changed it into an Accessible Public Bus' first one in Tamil Nadu: everyone will be able to use it. This bus will be a model for the future ones. Accessibility creates an inclusive society where would pave the way for equal rights and participation of people with temporary or permanently reduced mobility in all community activities. Access and Accessible refer to the freedom of choice to enter approach, communicate or make use of a situation or environment without assistance and undue difficulties. Accessibility means to create an inclusive community: to embrace the ideals of all people living together harmoniously in a barrier – free world without fear of exclusion and discrimination. Nowadays in all countries the accessibility has become compulsory. http://www.auroville.org/contents/131
Fabian did a fabulous job in presenting, the circumstances of 16 new projects , all under development and waiting for various approvals. There was a lot of content to cover and a lot of pending inquiries by the Aurovilians, who attended the presentation. The ultimate intention of the GM presentation was to get a clear consensus on opinions of the residents on the projects. But, many Aurovilians it seemed, had no background information about some of the projects, which led to detailed narratives, which was apart from the intended flow of the presentation. Nonetheless, the residents were quite unified on issues of allocation of lands, in non-complimentary zones. The residents, requested for more data onto the projects, which could only then create a premise of decisions and opinions. ITDC acknowledged these concerns of insufficient data available, and were open for suggestions and volunteers to fill the gaps in administration. Data on lands is formulative of many agencies and thus can always only be a summary of things. At the on-set it is observed, couple of projects have strong objections, by Aurovillians and ITDC seemed to have no way of reaching a clear verdict.
General Meeting to Discuss the Kalpana Project and our development priorities and methods. The Residents' Assembly Service (RAS) invited the community for a General Meeting to discuss the Kalpana Project on Friday, April 15 at Unity Pavilion
The meeting has given residents an opportunity to: a) Discuss concerns; and b) Seek clarifications regarding the project.
Representatives of the following groups attended this meeting
• The Town Development Council (TDC),
• The Funds and Asset Management Committee (FAMC)
• The Project Holders
Approximate speaker timings:
Intro Jesse and throughout, Alok 8.20 min, Ange 16.32, 2.14, Satyakam 18.28, 40.49, 1.10.14, Devasmita 36.18, Susan P 46.20, JFP 49.50, Vani 50.04, PCS 55.44, Renu 1.02, 2.02, Aneeta 1.06, Sauro 1.13, Ambu 1.26, PVC 1.29, Alain B 1.31, Elvira 1.34, Manolo 1.36, Ramnarayan 1.37, Anita 1.42, Angela 1.46, Helgard 1.48, Olivier B 1.53, Noel 1.55, Sindhuja (AVC) 1.59.30, Aneeta 2.08, Paulien plus several - end
The educational research network of Auroville is being set up with 15km of Optical Fibre Cable (OFC) to 17 building clusters. This will be completed by December 2015 but covers about 15% of Auroville.
The next part of the project is to connect other buildings, units and residences and provide community services such as:

· Community wide (intercom) telephony
· Broadcast of AV Radio & TV, meetings, seminars and events
· Tele-services in education, health care and outreach
· Audio/ Video/ Web conferencing / Community browsing centres to make the services available to one and all
· E-surveillance of sensitive mobility areas
· Digital archives

The goal of this project is to create a platform to:

1. Enable borderless participation and collaboration in manifesting the Dream
2. Provide eco-friendly alternatives to travel within Auroville and outside
3. Expand the presence of Auroville beyond the geographical area of the City
Implementing this project by 2018 creates a new window to make Auroville belong to the whole of Humanity during the 50th Anniversary of Auroville.

Network Team: Anand, Chandresh, Dyuman, JV (Remote Participation) and Manu

To download the Power Point presentation Click Here.

The presentation was recorded in SAIIER Conference Hall.