Category Archives:
Infrastructure
Fabian did a fabulous job in presenting, the circumstances of 16 new projects , all under development and waiting for various approvals. There was a lot of content to cover and a lot of pending inquiries by the Aurovilians, who attended the presentation. The ultimate intention of the GM presentation was to get a clear consensus on opinions of the residents on the projects. But, many Aurovilians it seemed, had no background information about some of the projects, which led to detailed narratives, which was apart from the intended flow of the presentation. Nonetheless, the residents were quite unified on issues of allocation of lands, in non-complimentary zones. The residents, requested for more data onto the projects, which could only then create a premise of decisions and opinions. ITDC acknowledged these concerns of insufficient data available, and were open for suggestions and volunteers to fill the gaps in administration. Data on lands is formulative of many agencies and thus can always only be a summary of things. At the on-set it is observed, couple of projects have strong objections, by Aurovillians and ITDC seemed to have no way of reaching a clear verdict.
General Meeting to Discuss the Kalpana Project and our development priorities and methods. The Residents' Assembly Service (RAS) invited the community for a General Meeting to discuss the Kalpana Project on Friday, April 15 at Unity Pavilion
The meeting has given residents an opportunity to: a) Discuss concerns; and b) Seek clarifications regarding the project.
Representatives of the following groups attended this meeting
• The Town Development Council (TDC),
• The Funds and Asset Management Committee (FAMC)
• The Project Holders
Approximate speaker timings:
Intro Jesse and throughout, Alok 8.20 min, Ange 16.32, 2.14, Satyakam 18.28, 40.49, 1.10.14, Devasmita 36.18, Susan P 46.20, JFP 49.50, Vani 50.04, PCS 55.44, Renu 1.02, 2.02, Aneeta 1.06, Sauro 1.13, Ambu 1.26, PVC 1.29, Alain B 1.31, Elvira 1.34, Manolo 1.36, Ramnarayan 1.37, Anita 1.42, Angela 1.46, Helgard 1.48, Olivier B 1.53, Noel 1.55, Sindhuja (AVC) 1.59.30, Aneeta 2.08, Paulien plus several - end
The educational research network of Auroville is being set up with 15km of Optical Fibre Cable (OFC) to 17 building clusters. This will be completed by December 2015 but covers about 15% of Auroville.
The next part of the project is to connect other buildings, units and residences and provide community services such as:

· Community wide (intercom) telephony
· Broadcast of AV Radio & TV, meetings, seminars and events
· Tele-services in education, health care and outreach
· Audio/ Video/ Web conferencing / Community browsing centres to make the services available to one and all
· E-surveillance of sensitive mobility areas
· Digital archives

The goal of this project is to create a platform to:

1. Enable borderless participation and collaboration in manifesting the Dream
2. Provide eco-friendly alternatives to travel within Auroville and outside
3. Expand the presence of Auroville beyond the geographical area of the City
Implementing this project by 2018 creates a new window to make Auroville belong to the whole of Humanity during the 50th Anniversary of Auroville.

Network Team: Anand, Chandresh, Dyuman, JV (Remote Participation) and Manu

To download the Power Point presentation Click Here.

The presentation was recorded in SAIIER Conference Hall.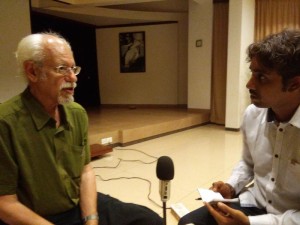 David Stein presented his plan for the land use of the green belt area. He also speaks about the ways we can build relations with local villagers to increase on our good will. Currently AVF owns only 25% of the land marked out originally for green belt zone. David prepares us for hard work ahead of us, in areas of resolving local governance issues, preservation of ground level water reserves, infrastructure development by local villagers which can hamper the idea behind green belt use. David gave very specific and enlightening methods which can spearhead growth and development and urged for the people of Auroville to adopt to the proposed plan, so that the real work of implementing the plan can begin. He suggested we are losing on time as the development and in some case depletion of certain resources can strangle the growth of the city entirely, for example the rise in salinity in our ground level water reserves. He points out, Auroville is in India and not in isolation and accordingly we must adhere and manage solution under pretext of existing set of defined rules and not be just stuck by comfortable ideals. He in accord with L'avenier are calling for action by means of adopting to a plan.
Today's meeting at SAIIER's conference room organized by TDC/L'Avenir d' Auroville, and presented by Jan was trying to point out that city does need move from ad hoc situation of building (as it was done in past) to an urban region with proper planning, starting with infrastructure. In regards to it also the sewage system has its own place, and for many reasons should be put in place quite soon. Jan presented one of the possibilities for the common waste water treatment of Residential Zone 1 and 2, which is clearly not in favor of the community. Since GOI grants were allocated to deal with those problems , and since the population of the Zone is rapidly growing , a solution needs to be found. After all, water is life, and water contaminated with too many of e.coli can be devastating for the population, apart from many other unwanted ingredients. TDC announcement
During recent years considerable funds from GOI and other sources have been invested to develop the Sector 1 and 2 of the Residential Zone. As new residences have been built, roads and the technical infrastructure for drinking water supply and electricity network have been expanded. Similarly we would like to build up a waste water management system which is able to deal with the increasing demand. The system should be ecologically sound and provide recycled waste water for irrigation in parks and gardens. A detailed study was carried out to compare different options and determine the best suitable technique. The proposed design consists of a sewer system which connects to a single treatment plant. The treated water undergoes further purification and is then pumped back into the communities to be used for gardening. The sludge, separated during the treatment is post- processed at the treatment plant and can be used as compost in parks and gardens. In the first phase communities along the Vikas Radial are connected to a main sewer that runs along this Radial. A second sewer will be built along the Samasti-Solar Kitchen Radial and the remaining communities are connected in the following phases. The project is expandable to serve the entire planned population of these two sectors of the Residential Zone.
Today Andrea met with Manu, Yahalom, Chandresh and Dyuman to discuss the implementation and the use of the fiber optic network in Auroville.
In the coming weeks some testing will start at the AurovilleRadio/TV in order to provide live audio video content.
Some events happening in public buildings will be visible in a dedicated video channel.
Actually some schools and about 5 public buildings are served but this service will be enlarged soon.
The next phase of the fiber infrastructure is to connect some missing communities, other public buildings and later also housing settlements will be reached by the fiber.
In the coming 2/3 years around 500 residents may avail of the hi speed network and associated services.
The ICITI project was initiated by JV Avadhanulu and Chandresh Patel.

https://en.wikipedia.org/wiki/Optical_fiber