Category Archives:
Infrastructure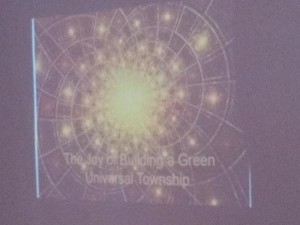 CAT10- was organized on Mother's birthday to reflect on the 'Joy of building a green universal township: Auroville'. Luigi and team had created this presentation based on the vision of the Mother of an eco-friendly city the Earth needs. It was a very harmonious presentation and was explained in much detail to inspire deeper insights. An innovative presentation style, with 4 panelist from various fields and having pioneering experience in Auroville, to discuss and comment on the presentation content as it moved along from topic to topic. Due to late start, the presentation was cut short but the passion and enthusiasm with which Luigi and panelists presented was abundant. There were many aspects to take away from this presentation, like the suggestion to 'remove the internal fences between communities to concretely foster human unity ' or to increase the use of creepers in a maximum effect manner or use applied research in making internal spaces, external facades and terraces more energy efficient in order to develop greener landscapes including vegetables cultivation. The entire evening and the audience response was very pleasant, ideal to discuss Mother's vision in action. Thank you Luigi, the panelists, the participants and the 'CAT's' to co-create this safe space of reflection on what holds Auroville to the past and what opens to the future.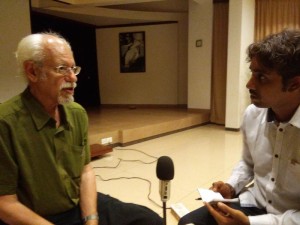 David Stein presented his plan for the land use of the green belt area. He also speaks about the ways we can build relations with local villagers to increase on our good will. Currently AVF owns only 25% of the land marked out originally for green belt zone. David prepares us for hard work ahead of us, in areas of resolving local governance issues, preservation of ground level water reserves, infrastructure development by local villagers which can hamper the idea behind green belt use. David gave very specific and enlightening methods which can spearhead growth and development and urged for the people of Auroville to adopt to the proposed plan, so that the real work of implementing the plan can begin. He suggested we are losing on time as the development and in some case depletion of certain resources can strangle the growth of the city entirely, for example the rise in salinity in our ground level water reserves. He points out, Auroville is in India and not in isolation and accordingly we must adhere and manage solution under pretext of existing set of defined rules and not be just stuck by comfortable ideals. He in accord with L'avenier are calling for action by means of adopting to a plan.
Today's meeting at SAIIER's conference room organized by TDC/L'Avenir d' Auroville, and presented by Jan was trying to point out that city does need move from ad hoc situation of building (as it was done in past) to an urban region with proper planning, starting with infrastructure. In regards to it also the sewage system has its own place, and for many reasons should be put in place quite soon. Jan presented one of the possibilities for the common waste water treatment of Residential Zone 1 and 2, which is clearly not in favor of the community. Since GOI grants were allocated to deal with those problems , and since the population of the Zone is rapidly growing , a solution needs to be found. After all, water is life, and water contaminated with too many of e.coli can be devastating for the population, apart from many other unwanted ingredients. TDC announcement
During recent years considerable funds from GOI and other sources have been invested to develop the Sector 1 and 2 of the Residential Zone. As new residences have been built, roads and the technical infrastructure for drinking water supply and electricity network have been expanded. Similarly we would like to build up a waste water management system which is able to deal with the increasing demand. The system should be ecologically sound and provide recycled waste water for irrigation in parks and gardens. A detailed study was carried out to compare different options and determine the best suitable technique. The proposed design consists of a sewer system which connects to a single treatment plant. The treated water undergoes further purification and is then pumped back into the communities to be used for gardening. The sludge, separated during the treatment is post- processed at the treatment plant and can be used as compost in parks and gardens. In the first phase communities along the Vikas Radial are connected to a main sewer that runs along this Radial. A second sewer will be built along the Samasti-Solar Kitchen Radial and the remaining communities are connected in the following phases. The project is expandable to serve the entire planned population of these two sectors of the Residential Zone.
Sigrid, gave a very thought provoking presentation on situation of lands within the Auroville masterplan. As part of the presentation were 3 films, which give details about current and past circumstances regarding land. In one of the films, pioneers of Aurovillians are seen sharing their views and actual circumstance of lands when Auroville was getting ready to begin. The Crust of the presentation was to install a sense of urgency as mentioned, around 100 new private developments have emerged in past few years. These private developments not only plan to cash in on the popularity and good will of the community but also pose as an imminent threat to the lifestyle and basic functioning of Auroville at large. This presentation is an attempt to reach out to the world and stress upon all existing relations of goodwill with Auroville. The time to step up and act is now, what is slowly turning into a crisis can be avoided only if the entire community can come together and put forth an ingenious plan of action. Land will play a decisive role in manifesting the ideal Auroville we all dream of. With Sri Aurobindho and mother looking upon us, we must act diligently.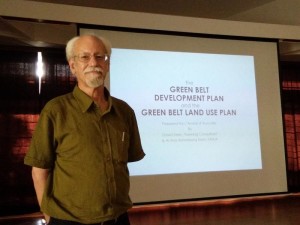 David Stein made a presentation to people of Auroville on his green belt land use plan. This plan is available on auronet and is waiting for an approval from Aurovillians. In near future a general meeting is being organized to understand and take a decision about action to be taken. The key note David Stein emphasised on was, by adopting the land use plan, we can start the process of getting legal status for Auroville buildings. David Stein along with the priority of adopting the plan, highlighted on the situation of increasing salinity in the ground water in Auroville and urged the people of the city to take urgent action to avoid dire situations in future. David said he is available for further comments and feedback , regarding the green belt land use plan.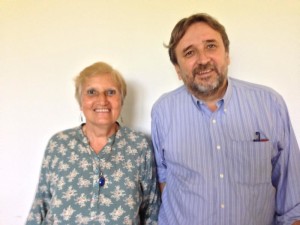 Susmita, working at Accessible Auroville, and Sauro, working at l''Avenir d''Auroville, received a donation from Italy to purchase a bus for public transport in Auroville. They are telling us how they have changed it into an Accessible Public Bus' first one in Tamil Nadu: everyone will be able to use it. This bus will be a model for the future ones. Accessibility creates an inclusive society where would pave the way for equal rights and participation of people with temporary or permanently reduced mobility in all community activities. Access and Accessible refer to the freedom of choice to enter approach, communicate or make use of a situation or environment without assistance and undue difficulties. Accessibility means to create an inclusive community: to embrace the ideals of all people living together harmoniously in a barrier – free world without fear of exclusion and discrimination. Nowadays in all countries the accessibility has become compulsory. http://www.auroville.org/contents/131