Category Archives:
Economy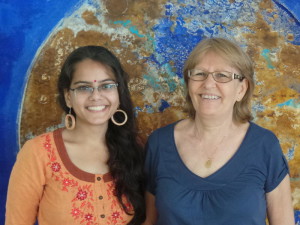 A new study group has been inspired, to brainstorm and create a resolute economy structure for Auroville of the future. Spearheading this endeavor is Jaya and Divyanshi, in collaboration with other team members. We have a tendency of approaching economy in a very logic frame of mind, based on financial rules and principles and tend to have rigid parameters, here we have a refreshing new approach to economy with spirituality at its base, guided by the principles of only The Mother, and fundamentals derived from interpretation of the Matri-Mandir gardens. Yes! the Matrimandir gardens is like a matrix in its own, gifted to us by the Mother and can bring enormous insights into designing of lifestyles and ecosystems, as Jaya elaborates in this interview. They propose, for an out-of-the-box solution is required to shape an economy, which should have no parallel in the world, as it should very well be like an invention, such is the theme set for Auroville. It is an interesting and thought provoking point-of-view where you have flowers, gardens, spirit and feelings as a vocabulary to design an economy which serves the people rather than an economy designed to enslave the talent and power humans can produce. This group has started off with small steps but with great intensity into research and problem solving methods, starting right from the micro level and building up the economy story. Anyone listening to this interview and is related to Auroville economy must consider offering time and energy to this special group, determined to achieve The Mother's Dream, "Money is no longer the sovereign lord of people"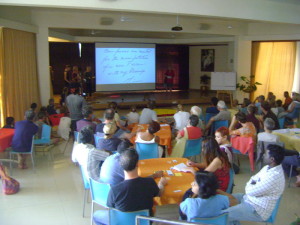 Well attended 2nd CAT (Create Auroville Together) yesterday at Unity Pavilion with the title "Where we are to Where we can be... " has brought forward some fresh and "new" ideas. Partialy meeting, partially barnstorming workshop in groups, has united different members of the community in the quest to look at our vital part of our life - economy.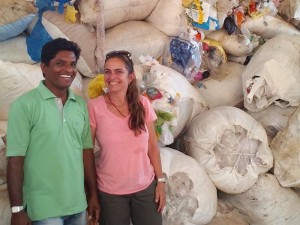 "Your 5 minutes of attention can save the planet 500 years of decomposition time, WASH YOUR PLASTICS BEFORE YOU THROW" Auroville is full of Culture, Education and Celebration, one of the few places on earth where not only we deal with our waste consciously but can create ways to have fun with it. Auroville radio met up with Palani and Kali who took charge of Ecoservice Unit from January 2016, keeping Auroville 'LitterFree' every single day. In this program Palani and Kali share with us real-time facts and figures from last year, speak about the recent Kottakrai clean up campaign, share with us various myth and truths about the Ecoservice, draw comparison with their peers from Pondicherry, Villupuram and Chennai and bring our awareness to various DO's and DONT's that we can follow in order to minimizing "Our Waste" ending up in landfill. The Ecoservice was segregating the community waste into 60 categories last year, have now upgraded their process and are capable of segregating the total waste collected into 82 categories. No one else does that. The unit is working relentlessly and is coming up with unique and creative solutions to tackle the challenges of waste management. One of the main tools they are employing is to stop waste at it's source, by educating the community to make conscious choices in a way which will enable them to consume healthily and demand recyclable packaging for products. It can seem like just a job but what makes it successful is when your passion can make it into a challenge to do better. Encouraging the community to literally "talking thrash" to have a better future for all of us.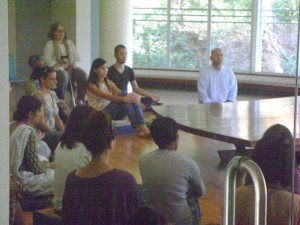 Nipun! Just as the name means, 'a clever man', Nipun Mehta was like a Santa Claus with fresh ideas. In an introduction meet, organized by Manoj Pavitran and friends. The Participating Aurovilians got a treat this christmas when Nipus, whose name literally means Rishi, talking about 'Gift Economy'. As Nipun suggests, we have many kinds of capital amount, to trade and deal in, money need not be the only option. Nipun along with his wife and brother started an organization, leading successfully in the world, 'Service Space'. The core principles of this organization are: 1. Totally volunteer operated 2. No fund-raising 3. Focus on small He emphasis on the point of positive volition is what is required to create the desired ripple effect. When we create the correct atmosphere, the desired mind set within society can be achieved. The meet ended with a BIG group hug and people signing up for the 21 day kindness challenge. Smile cards and other positive symbols where distributed amongst Auroville as a gesture of love, for all of us to Pay-It-Forward.