Category Archives:
Service Units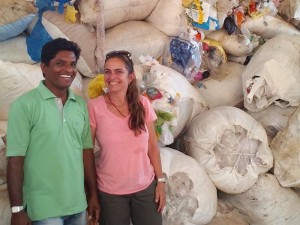 "Your 5 minutes of attention can save the planet 500 years of decomposition time, WASH YOUR PLASTICS BEFORE YOU THROW" Auroville is full of Culture, Education and Celebration, one of the few places on earth where not only we deal with our waste consciously but can create ways to have fun with it. Auroville radio met up with Palani and Kali who took charge of Ecoservice Unit from January 2016, keeping Auroville 'LitterFree' every single day. In this program Palani and Kali share with us real-time facts and figures from last year, speak about the recent Kottakrai clean up campaign, share with us various myth and truths about the Ecoservice, draw comparison with their peers from Pondicherry, Villupuram and Chennai and bring our awareness to various DO's and DONT's that we can follow in order to minimizing "Our Waste" ending up in landfill. The Ecoservice was segregating the community waste into 60 categories last year, have now upgraded their process and are capable of segregating the total waste collected into 82 categories. No one else does that. The unit is working relentlessly and is coming up with unique and creative solutions to tackle the challenges of waste management. One of the main tools they are employing is to stop waste at it's source, by educating the community to make conscious choices in a way which will enable them to consume healthily and demand recyclable packaging for products. It can seem like just a job but what makes it successful is when your passion can make it into a challenge to do better. Encouraging the community to literally "talking thrash" to have a better future for all of us.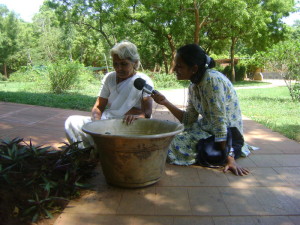 While Susheela was on her usual morning ritual of grooming the plants outside Town hall, I had an opportunity to hear her story of how she came to Auroville and she opens up on how happy and contented she is here.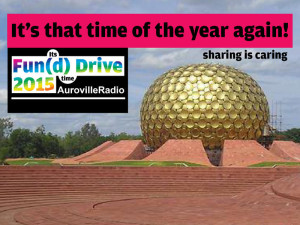 Progress report of the Radio Fund Drive; a big thanks to the many donors that have contributed so far. You have helped us reach close to 20% of our targeted goal.
Our aim for the upcoming year is to raise 850,000 Rs or 13,000 US $ and every amount small or large helps us to get closer. Thank you for your support and for lending another kind of "voice" to the radio!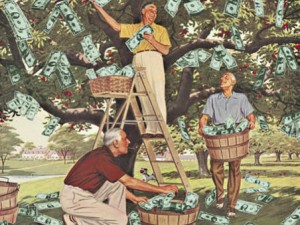 Gijs gives us an update on the new Resource Mobilization Team (Gijs, Taranti and Marieke). What they want to do, how they do it and who does what.
A service unit for fund-raising!