Category Archives:
Organic Farming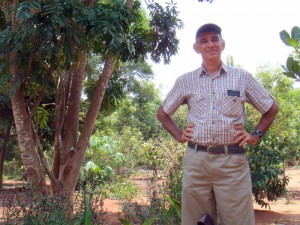 Five years ago with FAMC funding, the entire Auroville Agriculture was evaluated and a five year play was developed - ASAP 2011.
Five years on, Jeff, the farm manager at Discipline Farm in Auroville, talks about where we are from the perspective of a farmer and contributor to this plan: Discipline Farm in the cycle of the year, Auroville Sustainable Agriculture in the cycle of ASAP 2011 and over the next five years.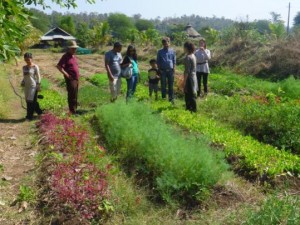 After her presentation at the Freeland bookshop Nina gave us a special interview on her book explaining where, how and why "Organic food marketing in urban centres of India". She is actually in Auroville working at Solitude farm to get some practical farming experience. She finds that Auroville would need help to know how to manage more successfully organic food in order to make it more available. She also finds Auroville is a great place to learn because of the amount of organic farms and the good eco system it offers.
Through her research and knowledge about organic food marketing and more she would be pleased to meet people and consult aurovillian farmers in this sense as she also works as a freelance consultant. She studied at University of Freiburg, Germany as a Geographer and came to work on a research project in Hyderabad in 2009 and got stuck in India till now. Nina Osswald practises what she preaches about organic food, sustainable living and reducing ecological footprint.
Terra Soul is a new farm project. They are making possible, combining the farm with a rich community life. Thanks to the workshops they are doing, attracts many volunteers, and can make possible a harmonious sustainability. Juan is one of the stewards of Terra Soul.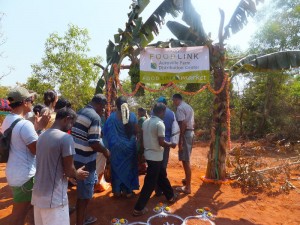 March 22 was the day the new FoodLink complex held its formal opening ceremonies.
FoodLink is the marketing connection for Auroville's 19 farms. Beginning with a blessing and song and ending with a walk through the FoodLink Farm, Auroville Radio is bringing it to you.
Interviewees are, Dorle, the architect; Lakshmi, who packages at the current facility; Jeff, a long time farmer; Adit, Raji and Gino, who were enjoying the procedings; Thomas who gives a historical background; Christian and Flore from Auro Orchard, and Vivek, doctor of organic farming who is insuring healthy and productive growings at FoodLink Farm.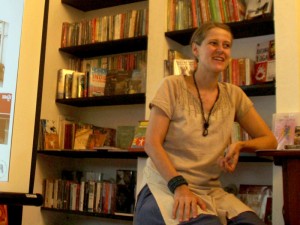 Last Wednesday night, Nina Osswald, who co-authored "Organic food marketing in urban centres of India" together with Manoj K. Menon, gave us a very interesting and instructive presentation at the Freeland bookshop. Her research is based on how organic food is being marketed and sold in Indian cities. The presentation focused on key challenges and success strategies for this. Organic food is becoming more readily available in Hyderabad, Mumbai and Bangalore. Osswald is currently working on an organic farm in Auroville in order to gain some practical farming experience.
Nina found that Auroville has logistical problems hindering the successful supply of organic produce from the farms, via a distribution center, to consumers. She suggests that the creation of economies of scale is needed, in order to help Aurovilian farmers and retailers make organic food more readily available. That, and a better management of stock, may help make products longer-lasting and available in larger quantities. Says Nina, "Auroville has a good eco system and there are many organic farms. This makes Auroville a wonderful laboratory for research into improving the supply of organic produce". '
AuroAnnam Farm is among Auroville's oldest parcels of land. Most recently it was a demonstration site for organic cashews. Mawite has been caring for AuroAnnam and putting energy into making it a lively yet peaceful green entryway into Auroville. There is a question whether Auroville will keep the land or exchange it, making future plans for the place somewhat tenuous. Hear Mawite explain the situation at AuroAnnam on Earth Day weekend - first with a walk around the land and chant led by Kaya, then a presentation back at the Farmers' Cafe.