Category Archives:
Health
We, Yona and Leela, are two Future School students who came to do their first week of volunteering in the AV Radio. We learned to make play lists, edit recordings and for the day before our last we went to two schools in order to ask a couple people the same questions about a hot topic in Auroville at the moment, SUMMER!
No one can escape the heat, not even with the latest rains (which we are all extremely grateful) so we decided that instead of trying to forget about or ignore the weather, we will bring it up and see what people have to say.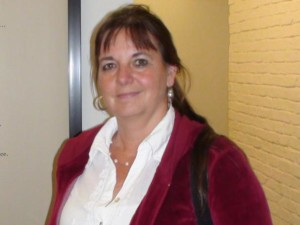 In conversation with Sigrid, speaking about her upcoming workshop in 18th Jan from 9 - 5 30 pm in 'Integral Health'. A vast array of expertise is available within this workshop covering from homeopathy to hypnotherapy and focus on trans-personal regression. What it means is, any issue or ailment you are dealing with cannot be addressed just by the surface, whole lot of activity goes on much deeper level which must be identified and only then an actually remedy can be diagnosed. The workshop is an opportunity to get introduced to topics like transpersonal regression which works on mental patterns through the body structure. Auroville emphasis about holistic health and well being of the individual and not just a quick fix approach. A unique workshop for everyone to participate and get expert guidance. For more information you can contact Sigrid or visit her website www.sigridlindamann.com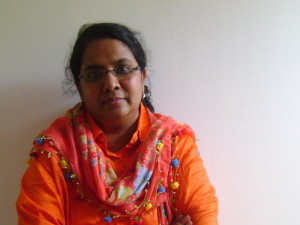 This morning we had an interesting conversation with Dr. Amina Ather who is visiting Auvorille just for couple of days. During her stays she is giving workshop at SLI to women of rural Tamil Nadu. Her knowledge and rich experience are empowering women wherever she goes. From the web: Dr. Amina Ather , Presently working as Scientific Director, TSM (Traditional System of Medicine), Medizin Park Ruhr, Dusseldorf, Germany. Done her Bachelors in Unani medicine and Surgery,MD (Pharmacology - Clinical trial with single herb of Unani medicine, PhD ( Empowerment of Muslim women through green pharmacy) and MCA (masters of computer Application) . She Has been nominated for guinness book of records for creating database of medicinal plants from 12 countries and recoding photography digital source. Has been working in the field of TCAM since 2001 , has been awarded by ford foundation to create 24 entrepreneurs from zakat money . Has covered more than 700 schools and 300 villages in india and around the world on educating women in health education , she has 17 patents of herbals cosmetic products with halal certification , and 2 from FDA . At present she is working with Medizin Park Ruhr , Castrop Rauxel , Dusseldorf , Germany as scientific director for TCAM to develop opportunities for TCAM fraternity in academics , research and training in Europe with the support of EMA and EPMA (European Medical Association and Association for predictive preventive and personalized medicine).She would be the first unani physician to start her practice in Europe as a physician with the support of MPR.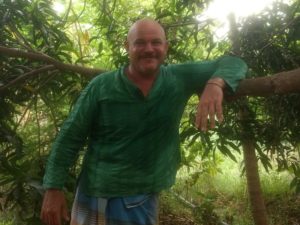 The idea of showing people how harvesting, cooking and celebrating your food can lead to a balanced community living led to the '6 Days of Hundred Percent Exploration of Nutritional Security' Project at Solitude Farm last week. In this interview with Krishna, we discuss how it all began, food as much more than just a functional necessity and how important it is to honour mother earth and the soil.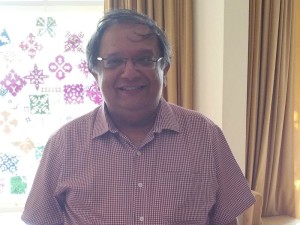 Auroville is a special place, it attracts special people with special interest. It was a great opportunity to meet Mr. Yuvraj Kapdia, a master hypnotherapist offering a talk on a transpersonal regression to all the students and practitioners of psychology in Auroville. Yuvraj's approach and belief is very refreshing and you cannot avoid to feel the joy in life, after your conversation. A spiritual person who after living through a remarkable transformational phase from being a master business man to masters in hypno therapy, decided to dedicate his life empowering the common Psychic within people. Some of his views are simple yet appealing when he says,"if you want to be happy, be happy!" CEO of EKKA an organization and institute working extensively on holistic healing or integral healing as Yuvraj says. The central idea that every individual is born with a blue print and when you deviate from the blue print is karma, brings deep knowledge from the vedas of India to forefront and can easily bare responsibility for all contemplations? Yuvraj speaks of his inspirations & mystical connections with Sri Aurobindo and the ashram, we can assure Yuvraj, there are no coincidences as far as Auroville is concerned, its part of the magic we live with. The entire convention with the students and therapists from Auroville was organized by Sigrid and more details can be sought with her as well. On ending notes Yuvraj says "enjoy your every moment, its beautiful to breathe, when you wont have the body, you will crave to come back to it!" www.ekaa.co.in to contact Yuvraj Kapdia
Centre for International Research for Human Unity (CIRHU) started 'Aurovilian Conversations'. a series of weekly reflections (not formal debates or lectures) on various subjects of human and societal growth and development. The conversation held on 6 Sep (thursday) 2016 at CIRHU, TownHall of Auroville on 'What is Health?' is an interesting and enthusiastic subject discussed by students, interns, new comers and people of Auroville. Linda Grace, from Sante (Intergral Health Services of Auroville) has chaired the discussion and she spoke on the importance of 'health and consciousness in todays's world. She emphasized mainly on the self-interest and self-reliance of an individual to keep up once health and therefore look for sustainable and divine living. The three pillars which shape the well-being of an individual and tune into a healthy life are described by Linda Grace. They are, Mental Health, Social Wellness and Private/personal time for oneself. Members of CIRHU: Giacomo, Luigi and other visitors and students have participated in the discussion.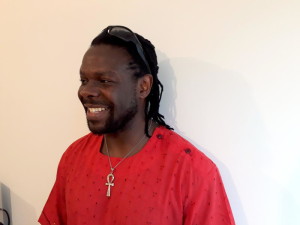 An interesting interview with Aunkh H. Chambalala, who visited us this morning to invite us to the first of his talks. The talk will be on African Astronomy and Cosmology, and was scheduled for today at the Unity Pavilion. Aunkh gave us an insight in ancient African knowledge of astronomy, cosmology, and affairs of life. Amongst others we were talking about today's youth, and his passionate involvement in education them.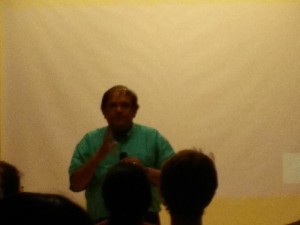 Every had the feeling of not belonging to this planet ?? Well dont suppress your feeling as Yuvraj Kapadia explains about transpersonal regression. Yuvraj Kapadia is here for 3 days in Auroville to meet with Psychologists and therapists to create sharing. Sigrid had organized a meet for Aurovillians with Yuvraj in order for everyone to get an introduction what is and what can transpersonal regression do for a person. His theory of creation and the cosmos was very intriguing and even if doesn't necessarily agree with our normal logic but from the psychic sense, there is a lot that Yuvraj had to illuminate within us, a rare treat for students and practicioners of psychology to have a open dialogue with him. A true knowledge bank of all that there exist, he was quite casual in delivering, what would be, life altering facts for some people. To contact or meet with Yuvraj you can contact Sigrid as she is facilitating him in Auroville as a guest. Also watch out for a exclusive interview with him in the radio to get deeper insights about deeper realms of our being.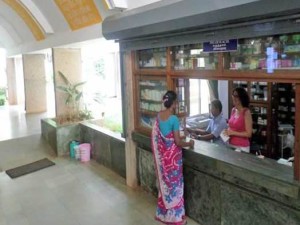 Health being the basic needs of every human being, its very important to know how much support is been shown towards the health issues faced by the Aurovillians. lets hear it directly from the authorities of the health center. a short and brief interview session with Dr.Sathish Kumar, senior nurse Valarmathi, Lab technician Marie and Pharmasy assistant Galil Imbrahim.