Category Archives:
Diet & Nutrition
A fundraising dinner had been organised at the Fun dimension restaurant in TLC(Traveling Learning Community), Auroville on 14th August, many thanks to the various restaurants and cafe which could make it possible. We had music and the theater performance by the kids. A short glimpse of it can be listened over here.
Food link is the connection between the farmers and the table where we eat. Is a service with a holistic point of view, the farmers who needs support for distribution, can use this service. Food is the basic that everybody needs, give the basis for our growing, is one of the main important path that it should be very clear and very honest Inge works like coordinator in this important task in Food Link.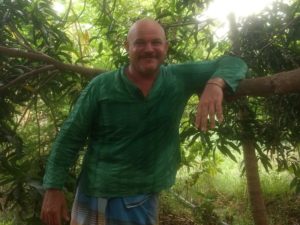 The idea of showing people how harvesting, cooking and celebrating your food can lead to a balanced community living led to the '6 Days of Hundred Percent Exploration of Nutritional Security' Project at Solitude Farm last week. In this interview with Krishna, we discuss how it all began, food as much more than just a functional necessity and how important it is to honour mother earth and the soil.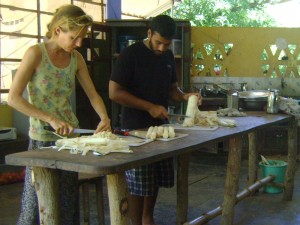 "There is no special season for Banana stem. They are available throughout the year., says Sarah.
Solitude Farm is conducting a workshop on Banana Stem. It is open to all who wants to learn to cook new dishes. You can also stroll around the farm where all the food on your plate in the Solitude Cafe comes from.
Listen to Sarah and Rishi as they share details about this workshop and of upcoming Summer workshops.
You can complete the trip with a delicious lunch at the Cafe.