Category Archives:
Diet & Nutrition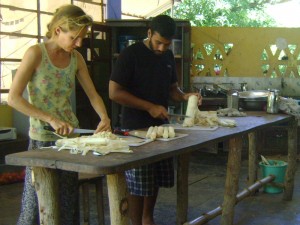 "There is no special season for Banana stem. They are available throughout the year., says Sarah.
Solitude Farm is conducting a workshop on Banana Stem. It is open to all who wants to learn to cook new dishes. You can also stroll around the farm where all the food on your plate in the Solitude Cafe comes from.
Listen to Sarah and Rishi as they share details about this workshop and of upcoming Summer workshops.
You can complete the trip with a delicious lunch at the Cafe.



Food link is the connection between the farmers and the table where we eat. Is a service with a holistic point of view, the farmers who needs support for distribution, can use this service. Food is the basic that everybody needs, give the basis for our growing, is one of the main important path that it should be very clear and very honest Inge works like coordinator in this important task in Food Link.