Category Archives:
The Mother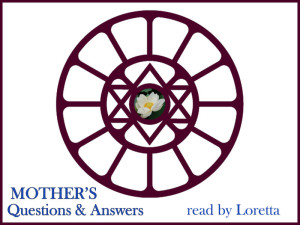 Mother's Questions and Answers, June 6, 1956, Part 2

In this second half of the class, Mother speaks about a very important aspect of the yoga practice; the "reversal of consciousness". When this happens, the true consciousness becomes stabilized in some part of our being. She says that we can use this to organize all the parts and elements of our being around our own Divine center, our psychic being, and that that this is the best thing we can do to be complete instruments of the Divine Will. She says, "This is truly the essential and original reason for physical life".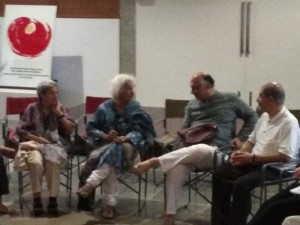 Ever wondered how it was be with The Mother, live in the ashram, under her watchful gaze and access to her unlimited supply of love and wisdom. As a rare treat, students from California Institute of Integral Studies got a chance to listen to the intimate sharing of Aster about her childhood in the ashram and with the mother. Aster is our connection to The Mother as she was brought up in the world practically holding The Mothers fingers. Daughter to great Psychologists parents, Mother had special plans for her and like a innocent child, all Aster had to do was believe and follow on Mothers chosen path for her. She shares great insights about the working and the atmosphere of the ashram, how the 1st school in the ashram started with 12 children and what was the premise of education in the ashram. It was truly a magical time and great beings came to pass from the ashram, living and learning with Sri Aurobindo and The mother. Aster does her best to summarize and relive memories which are most cherished and unique in nature. To live and grow up in The Mother's grace, a boon offered to few in life.
Mother's Questions And Answers, May 9, 1956

Mother explains that the true spiritual life begins when we are in conscious communion with our psychic being and when we are conscious of the Divine Presence in us, and it governs our life. She explains what Sri Aurobindo means when when he says that materially we are nothing, spiritually we are everything. Then she answers a question about being influenced and helped by the new Supramental force that has just manifested. In this class, Mother's sense of humor comes to the fore.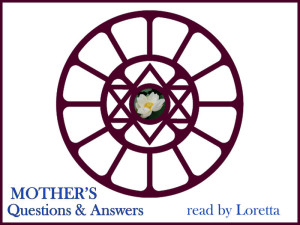 Mother's Questions And Answers, June 6, 1956, Part 1

Mother explains how to ask for the answers to spiritual questions by using books of revelation and spiritual knowledge. Then she explains how the process works and she demonstrates how to do it. Sri Aurobindo called this method "sortilege". He used it himself, and wrote about it often in his diary, the Record Of Yoga. This week there is no original French tape recording of the class.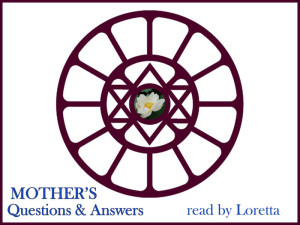 Mother's Questions And Answers - May 23, 1956

This week Mother explains the difference between Yoga and Religion and tells a story about herself and a clergyman. She says that those who have a spiritual destiny will follow it within a religion or outside religion. Then she asks a lot of questions about the real sounds of very ancient Egyptian heiroglyphs. We also have two other conversations relating to this subject which were not held in the class. In the first conversation, Mother explains that she asked these questions because she cannot remember the sounds from her past lives, although she has no problem with visual memory. In that conversation she speaks of a vision she had of her past life as the mother of the Pharoah Amenhotep IV. In the second conversation she gives more details about her vision. Amenhotep IV changed his name to Akhenaton. He was very much under the influence of his mother and he moved the capital of Egypt to another place to found a city which was to be very much like Auroville.
Mother's Questions And Answers, May 2, 1956

In this class, for the first time since the Supramental Manifestation of February 29, 1956, people begin to ask questions about it. Mother speaks about who can be aware of the new force in the atmosphere and why people might not be able to have any experience of the new force. She also speaks about what people can do to relate to and receive these forces which are now in the earth atmosphere. She explains the difference between a "descent" and a "manifestation".