Posts Tagged 'Alternative Housing'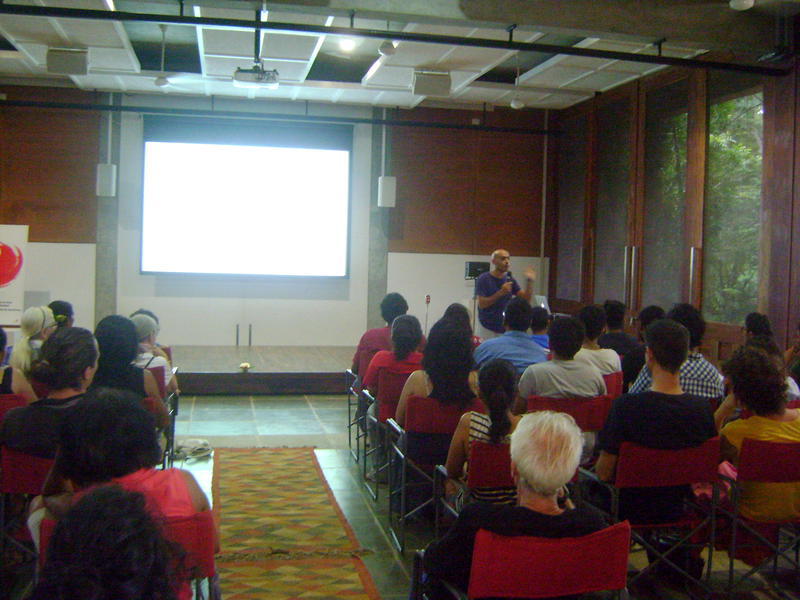 Environment plays an important role in the society we live in. In this presentation by Omar, get to know about environment dating from prehistoric times to the 21st century.

In conversation with Suhasini Ayer, we get to know about how she chose Architecture as a subject to study, what brought her to Auroville, her upcoming project Humanscapes, young architects and the future of India and Auroville in terms of architecture.

What is the Low-Tech Lab? Is it another business brand using trends such as "sustainable" and "environment friendly" to sell a product, or is this an innovative movement that wants to change the approach to global development?
Considering key words such as "do it yourself", "local manufacturing", "low environmental impact", "economic", "repairable", and "for all", how sustainable and environment friendly are some innovative inventions such as solar panels?
While working on technical solutions, how much do we ease our impact on the environment? Has Low-Tech Lab considered focusing on educating people to be more in tunes with nature?
A brief interview with Clement and Camille from Low-Tech Lab, and Mitia from Joy of Impermanence (Auroville).
An introduction of Kabir's philosophical poetry by Dr. Sehdev Kumar. Through the tale of the illiterate poet Kabir, we revisit the history and politics of India from the 15th century to the India of today.
The poetry and songs of the people, that has no particular religious attachment nor a cast. Still very popular to this days, Kabir's poetry remains rich with insight and philosophy.

Past Friday LFA2017 has successfully started, and Ribhu and Marc are talking about it.
As Ribhu says "a little campaign" of LFA or Litter Free Auroville 2017 is going on for next almost three weeks with the main purpose to engage the whole community on the topic of our trash. They are trying to center their efforts in the ways how to treat our garbage with the mission to come to the zero waste…
Wastless(educational part), Upcylcing Studio(take care of difficult waste stream) and Eco Service(picking our daily waste) are main players in those efforts, and they are trying to reach integral service, an approach to treat waste.
Marc and Ribhu founded their "heart" in garbage, and are passionately dealing with waste …. on the road of sustainability, which always starts with ourself, on daily basis.
Tuesday March 21st, 4 pm at Unity Pavilion CAT 13: A Journey through Volunteerland – Facilitated by the Savi team.
Friday 24th & Saturday 25th March at 8 pm at Visitors Center The French Pavilion Presents- "THE MENTAL FORTRESS"A selection of French Texts from Mother and Satprem, read in FRENCH Onlywith Céline, Christophe, Frédéric and Vers'Haut Directed by Céline
Thursday 23rd, March at 3:30 pm at Bhavishyate, Bharat Nivas CIRHU
Aurovilian Conversations -"Michael on "Sustainable community building and the Joy of Impermanence"
On Saturday 25th March from 9 am to 6 pm opening of the model apartment
at Kalpana Housing Project
Litter Free Auroville 2017 on 25th from 9am to 12 "PICK UP" trash at KK and Ganesh Bakery area.
To see, know, become, and fulfill this One in our inner selves and in all our outer nature, was always the secret goal and becomes now the conscious purpose of our embodied existence.
Sri Aurobindo The Synthesis of Yoga
Frequency of the week | ECHO
Our soul is constantly working for us. She shows us the way and wants to inspire us. Often we don't listen, because the signals from the soul sometimes seem illogical. They don't fit within the boundaries of our thinking. This is what you experience when you feel something is going to happen, but you are not sure exactly what.
At a subconscious level you pick something up, something that you cannot explain within your head. That 'something' feels like an echo. It's the reflection of what your soul transmits to give you information about where you are right now. Echoes can repeat frequently or not; it all depends on where you want to go. That is why it's important to give your soul the right information. Tune into exactly what you want, what makes you happy and which people or situations will help you further. Just like a radio station, your soul will transmit the exact signal to you at the right moment just before you reach your next station.
The frequency of Echo gives you insight into which energy you transmit and when it will echo back to you.
Affirmation of this week: Echoes from the soul give me insight to what I transmit and receive.

In today's news we are featuring Sanchita Agarwal, volunteer from DehraDun who invites us to a Permaculture Workshop at Sacred Groves.
Today 13th of February at 7pm at Unity Pavilion – Early Days in Auroville – Sharing by Frederick
On Friday 17th of Febuary at 6 pm and Saturday 18th at 6pm, Loretta will give two talks in the Unity Pavilion on Sri Aurobindo and Mother, The Coming of the New Force; followed by questions & answers session.
Meeting Tuesday 14th of Febraury at 12:30 pm at Dosa Cafe, Town Hall on new way of economic interactions where one for his service no longer request money but offer it in the spirit of generosity.
On Tuesday, 14ht of February at 4pm at SAIIER hall Abundance through Sharing Library of things whereby Earth&Us invites as all for an open discussion session on a 'sharing economy' model – the Library of Things (LoT)
On Wednesday 16th at 8pm at Solitude Farm Ilhaam Project concert.
At Savitri Bhavan Thursday 16th of February, 5:15pm "to see a World in a Grain of Sand"Poems of Small Things – Reading and Flute by Gordon.
Saturday, February 18th, 2 pm at the SAIIER Conference Hall Auroville Campus Initiative (ACI) and Department for Further Learning of SAIIER invite us to the presentation of students who participated in the second Swadharma Programme ( swadharma.auroville.org )
Friday 17th and Saturday 18th of February, at 8:00 pm at Bharat Nivas Auditorium Auroville Choirs & Ensemble In Concert – The Peacemakers by Karl Jenkins.
Friday 17th at 3:30 pm and on that Saturday 18th at 11.30 am. Deepam is 25 years old!
From 17th to 19th of February at 7:30pm at CRIPA in Kalabhumi – My Autopsy, a poetic dark comedy by writer and performer Hamish Boyd, directed by Fif Fernandes, musical director Jonathan Walton. This play is not for children under the age of 12!
There is nothing more beautiful than to unite with the divine Cosnciousness. One is sure to find what one seeks – if one seeks it in all sincerity; for what one seeks is within oneself.
The Words of The Mother, Vol.14

Tuesday, February 7th 4 pm at Unity Pavilion a bilingual session on: The City – We Forgot (CAT 01) by Anu, Shanker, Meenakshi, Partha in English and Tamil.
Today, Monday 6th of February at 5.30pm Reading Night: Aurovilian Writers
Reading night in English, at Citadines (next to the Art gallery) Organized by the French Pavilion for AUROLIRE festival
Tuesday, 7th February, 2017 – 8 pm sharp, CRIPA, AurovilleConcert of Western Music with Ladislav Puskhar
Tuesday, February 7 – Time: 4 pm at Bhavishyate, Sri Aurobindo Centre of Studies… India and the World Bharat Nivas, AurovilleCreative Intelligence – An introduction to collaborative problem-solving
Wednesday, February 8th @ 5 pm to 6:30 pm – at Cinema ParadisoARCOSANTI: an old connection, a new collaboration? PAOLO SOLERI's theory of compact city design, ARCOLOGY [ARCHITECTURE + ECOLOGY]
Do not aim at success. Our aim is perfection. Remember you are on the threshold of a new world, participating in its birth and instrumental in its creation. There is nothing more important than the transformation. There is no interest more worthwhile.
The Words of The Mother, Vol. 12


Here is the third reading (of 4) of Part One The Yoga of Divine Works, Chapter 4 The Sacrifice, the Triune Path and the Lord of the Sacrifice.
In this portion, Sri Aurobindo explains further the often confusing concept of duality; the biune duality of Brahman-Maya, of Purusha-Prakriti, stands revealed. This Duality although in aspect separate, is inseparable. Wherever there is Prakriti, there is Purusha. Wherever there is Purusha, there is Prakriti. In fact, the dynamic duality of Ishwari Shakti, divine consciousness and World-Mother, become a mediatrix between the eternal One and manifested Many.