Posts Tagged 'Auroville International'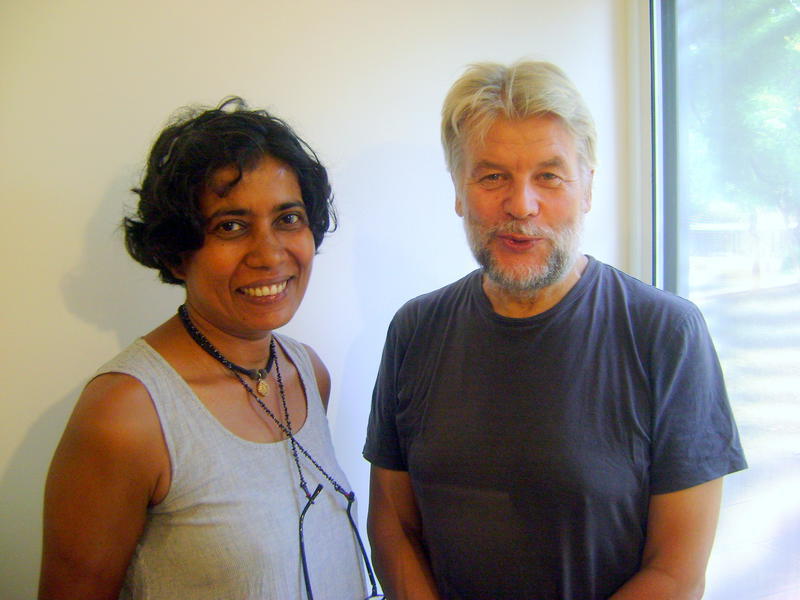 We were hosting Uma and Torkil this morning in our studio, and the talk was on PETRA. What is Petra, where it came from, where is aiming….
Out of Retreat in 2015 many (working) groups has emerged, and one of them was Integral Entrepreneurship Lab, from which group Petra was born. The group is growing, expanding, merging … because their member feels the need that Auroville moves from urban village toward sustainable township, offering enough support for the human resources to join.
Petra ( a working name, homage to late Petra) would not only be a gateway or filter, but also a place where economy should become a catalyst to turn things around, and develop the city of Dawn; it aspires to be a meeting pong, borderline with holistical approach with inbuilt possibilities and opportunities for residents and visitors alike.

Sarah arrived in Auroville as one of many Weltwaerts volunteers from Germany, and has decided to work with plants, since that is her passion, and maybe her future line of work with environmental science. Most of time here she spent at Botanical Garden continuing with the work of a garden someone started last year., and as she mentions, some one will continue after her …
Sarah compiled booklet, which supposed to be the first one in the series, on Local Medicinal Plants in Tamil Nadu. That one is focused on healing skin problems with local plants.
So many possibilities, and freedom to chose , would be high on the list of things Sarah like about Auroville, followed by her good relationship with Makachi, a Tamil woman with an enormous knowledge on plants and their uses, who generously shared her knowledge with Sarah…..

The informational General Meeting on guidelines, rules and regulations for Auroville Learning Activities (Alas) will be held in the Unity Pavilion on Saturday, 29th April, from 10am to 12pm.
Tuday, 27th at 7.30pm at Pavilion of Tibetan Culture KinGi invites us to a Poem Flow , an inner climate vocally performed.
On Saturday , 29th of April at 8pm at Pitanga An Evening of Classical guitar with Ashaman and special guest Vera.
On Firday 28th at 7.45pm at Bhavishyate, Bharat Nivas We are kindly invited to a special film projection" VELI" in the presence of Sashikanth, the Director.
Friday 28thApril – 6.30 pm to 9 pm behind Unity Pavilion SAVI team invites to *FOOD FUN FRIENDS* – volunteers putluck.
Saturday 29th April 2017 at 5 pm Cinema ParadisoThe French Pavilion presents "The nest of the wind: dystopian research" An exploration on living, utopia and dystopia. Conference Presented by Julie Beauté, student in eco-philosophy in Paris; only in French.
We are invited on Saurtrday 29th to Well Cafe at Sve Dame to a Reggae Night with dinner, movie screening of "Marley" 2012 and with DJ playing till midnight.
Issue 7 of  "The Squeak" , a magazine by the Media and Communications students of The Learning Community (TLC) kids aged 10-14, is out.
The integral Yoga is so called because it aims at a harmonised totality of spiritual realisation and experience. Its aim is integral experience of the Divine Reality, what the Gita describes in the words samagram mam, "the whole Me" of the Divine Being. Its method is an integral opening of the whole consciousness, mind, heart, life, will, body to that Reality, to the Divine Existence, Consciousness, Beatitude, to its being and its integral transformation of the whole nature.
SRI AUROBINDO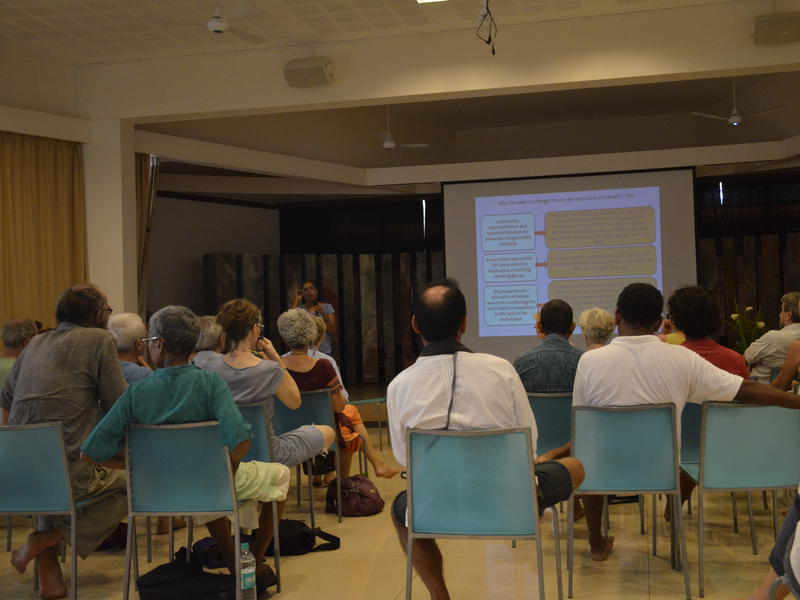 Therre was a general meeting held on Monday April 24 in Unity Pavilion which was a continuation of last months general meeting where the core group came up with fulfilling the task of restructuring Town Planning & Development Council (TDC)/L'Avenir d'Auroville. Last year, the Auroville council was asked to facilitate a process to restructure the TDC, the core group working on this comprised of Martin, Jesse, Sauro, Pashi, Shama, Suhasini, Mamta, Elvira, Lionel and Christiane. This meeting was a preparation for a Resident Assembly Decision-making Event (RAD) May 13 – June 10. The team proposed a revised structure of TDC and asked for the opinions of people present in the meeting on the same. A lot of healthy debate and constructive insights were offered by the members of the community attending the presentation. The feedbacks and comments for last month's meeting were also shared. Involvement of youths was an important point in the discussion. Meeting ended up on a positive note.
Follow the links for earlier meetings:
http://www.aurovilleradio.org/restructuring-tdc/
http://www.aurovilleradio.org/how-can-we-restructure-the-tdc/
There was a European House meeting as a part of regular meetings of International Zone on Monday (17 April) in Unity Pavillion. Main agenda of the meeting was to discuss building of European Pavilion. Meeting was of 30 minutes and it was joined by a few people from european house. A new improved design was proposed in the meeting for the building, various ideas were shared. Not many people participated in the meeting despite it being open for all was disappointing for a few present there. And the main concern was to build a managing team for the project including with making a plan and acting on it, and also the management of construction and the cost related details. The members of the meeting reached upto a conclusion of planning out the details and then immediately bringing it into action.
UNITING FOR AUROVILLE'S LAND – HIGHLIGHTS FROM THE RADIO
Auroville Radio brings you quick access to some of the special events held at the Unity Pavilion during February to raise money for buying Auroville's land. Mandakini, the original organizer of "Acres For Auroville" (A4A) and co-founder of its offshoot "Art For Land", is a dedicated full-time all-around worker for these large-scale fund raising efforts. She shares the latest results of the A4A campaign and the aims and results of the Art for Land auction. Mandakini tells us about many of the beautiful donors and about different solidarity actions for the land. She also explains the principles followed to make sure that the money donated to buy Auroville's land is never used for anything else. In this interview we feel Mandakini's deep, sincere, commitment to Auroville's growth, and we meet a beautiful soul, dedicated to serving the ideals of Auroville.
Auroville Radio has created a special web-link page for people who could not come to fund raising events. Click on the special web-link page below and you will have the links to give you immediate access to seven fund-raising events; three talks, three concerts, and an interview from the Unity Pavilion's February fund-raising program.
What is the Low-Tech Lab? Is it another business brand using trends such as "sustainable" and "environment friendly" to sell a product, or is this an innovative movement that wants to change the approach to global development?
Considering key words such as "do it yourself", "local manufacturing", "low environmental impact", "economic", "repairable", and "for all", how sustainable and environment friendly are some innovative inventions such as solar panels?
While working on technical solutions, how much do we ease our impact on the environment? Has Low-Tech Lab considered focusing on educating people to be more in tunes with nature?
A brief interview with Clement and Camille from Low-Tech Lab, and Mitia from Joy of Impermanence (Auroville).
Today, 6th of Paril at 4pm at Unity Pavilion – AV Women's Health Research Presentation
by Paula Murphy
Today, 6th. of April at 6pm C.A.L.I ( The House of Latino America) will have a Ceremony at the stone of America . We are going to put some soil from Ecuador that was missing at the inauguration of Auroville in 68 ,and it has arrived. It will be in the presence Consul General of Ecuador in Mumbai.
Today 6th of April at 4 pm at the SAIIER Conference Hall.Concerning the possibility of receiving scholarships to study at AURO University they would like to invite all interested students, parents and teachers to an information and Q&A session
On Saturday 8th of April at 6.30pm at Bharat Nivas Auditorium, Pavilion of India, International Zone we are invited by Auroville Youth Activities to a demonstration of about 100 children and youth with their progress in dance, sport, art and music.
YouthLink wants to invite you to our new monthly event called "COMM4UNITY".
Saturday 8th April between 5-9pm at Youth Centre
Within LFA2017campaign:
today at 4.30pm at Kalekendra talk by Ok, and talk by Ananid
on Saturday 8th at 5pm Performance by Bamboo Center. Mohanam Trashband and Parade By Unicorn Collective
What does the Divine what of me?
He wants that you first find yourself: that with your true being, your psychic being, you master and govern the lower being, and then you will quite naturally take your proper place in the great Divine Work.
Letters by the Mother to a Young Sadhak

Ok talks about how to make Auroville litter free by accumulating waste and using it innovatively. She talks about her workshop that involved making cushions out of plastic. In this interview Ok further talks about the idea behind Upcycling Studio, challenges faced and her aspirations.