Posts Tagged 'Biodiversity'
Book for children of all ages, written by Noel Parent, and read by Marlenka.
"…There once was magical land called Ayelen, where everyone smiled all the time.
They smiled while they worked,
they smiled while they played,
they smiled when it was sunny,
they smiled when it rained.
They even smiled while they were sleeping!…."
On Tuesday, 14th of November 4:30 pm at Unity Pavilion The Residents' Assembly Service encourages you to participate in a General Meeting to discuss YouthLink's Hive & The Pumphouse:Developing Systems fort he Harmonious Growth of the City.
RAS informs us on outcome of 3 days selection process for our working groups: Working Committee, Auroville Council and FAMC. In-depth report and Welcome Celebration are coming soon.
On Saturday 11th of November at 3pm at Anderooni Women's Retreat,Thaivazhi, Greenbelt Forest, near Auroville.a presentation Symptothermal method: cultivating your secret garden or How do you apply permaculture principles to being a woman? by Julia Schindler .
On Saturday 11th of November at 9am at Verite presentation of Holoenergetic from Dr Laskow with 3h introduction .
On Thrusday 16th of November Adishkati invites us for the start of the season to a concert We Got It Coming of Lail Arad and JF Robitaille, who would be offering solo songs, duo songs, some folk covers of Bob Dylan, Joan Baez, June Carter.
On Saturday 18th of November at 8pm at Pitanga – Cultural Centre Concert Tribute to Latin America.

From Monday November 13th to Wednesday the 15th at 8.30am at Minati gate- Action days in a future forest!. FS#252598, info Island at 7598103616.
All that is he, and he is the More than all that is, and we ourselves, though we know it not, are being of his being, force of his force, conscious with a consciousness derived from his; even our mortal existence is made out of his substance and there is an immortal within us that is a spark of the Light and Bliss that are for ever.
Kniga o cvetax i ix pomochi ludyam
spisok:
Avtor – Noel Parent
Illustrator – Pankhuri Singh
Design – Krupa Jhaveri

For Serena to be in Auroville it is a privilege. She "stumble" upon it on her journey all over the planet looking for intentional communities, searching for alternative, more truer lifestyle. And every community she has stopped, she would made a video which was donated to the members of it.
And how she ended here, in Auroville? As Serena laugh it off – the decision was made for her, she just went with the flow…. and The Mother Dream was also hers.
And now she make herself rather busy capturing "Glimpses of Auroville", where she is documenting, creating a bridge, creating highlights as we are quite fast approaching 50th anniversary. (and by the way, the OutreachMedia is in need of video makers, photographers, writers for the occasion).
Amongst so many other things, Serena recently initiate RAK – Random Act of Kindness, whereby group of people visit services and units and spread hugs, joy, smiles…..
Youtube: https://www.youtube.com/user/AurorasEyeFilms/videos
website: https://auroraseye.wordpress.com/
Facebook: https://www.facebook.com/AurorasEye

Yesterday's presentation of Lucas from EcoPro was trying to show what are the downfall of classical sanitation versus ecological sanitation.
Presentation was illustrated with power point slides with many examples of life cycle, and sanitation, either the one that is most commonly used, and the ecological, and field examples. Lucas , for the start, elaborated on the cycle of nutrient, on entrophication of water bodies and nutrient – poor wastelands, reflection current sanitation systems, on the purity – pollution gradient in a caste-based society.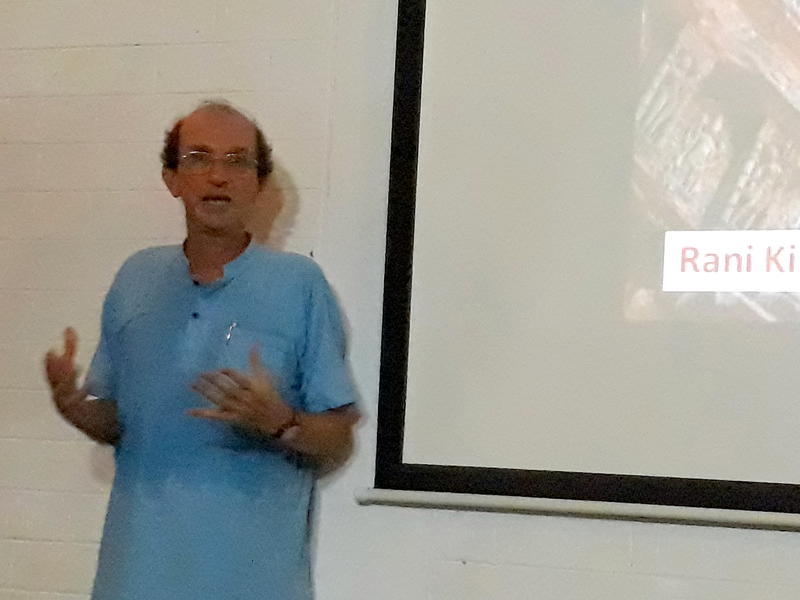 Yesterday afternoon the events room at Pavilion of Tibetan Cuture was fully packed with all those who wished to listen to an inspiring lecture by Michel Danino on "Can Ancient India help today's India?". In a very compact, yet packed with facts, lecture Michel offered some aspects of ancient (or not so) India in governance, environment management, education, ethics… and their applicability to today's lifestyle and polity. India, despite colonization, still stands firm in their uniqueness of enveloping the unity in diversity up to today; where concepts of minority and majority take it's own stand (or not take stand at all).
Since the audience was reluctant to leave, and thirsty for more, Michel Danino has answered some questions.
The event was made in collaboration of the French Pavilion and Pavilion of Tibetan Culture.
Michel Danino (born June 4, 1956) is an Indian author, originally from France.
He participated in the translation and publication of the works of Sri Aurobindo and of The Mother. Danino also edited India's Rebirth (a selection from Sri Aurobindo's works about India, first published in 1993) and India the Mother (a selection from the Mother's works about India). He engaged himself also for the preservation of tropical rainforest in the Nilgiri Hills. In 2001, he convened the International Forum for India's Heritage (IFIH) with the mission of promoting the essential values of India's heritage in every field of life.
At present, he's a guest professor at IIT Gandhinagar and a member of the Indian Council of Historical Research. On 25 January 2017, Government of India announced "Padma Shri" award for his contribution towards Literature & Education.
CAT – On Tuesday 19th at 4.30pm at Unity Pavilion – The Universal Mother according to Sri Aurobindo With Deepti Tewari .
Tuesday 19th September 2017 at 5pm Citadines – Centre d'Art -The French Pavilion presents LA VERTU HÉROÏQUE The French Pavilion presents LA VERTU HÉROÏQUE
On Saturday , 23rd of Spetmeber at CRIPA at 8pm RIP by Savit Rani – A funny touching deep monologue about being a Woman in India Today.
On Thursday 21st of September from 2.30 pm onward Unity Pavilion invites you all to International Peace day celebrations.
Action days in a future forest!Learn the basics of what forest stewards have to do to reforest the land in Auroville by working alongside them. meet them on 22nd of September at 7.50am at Minatti gate.
Controversial, yet very hot topic on use of hemp or cannabis (marihuana) …was in the spotlight  of today's interview with Viki Vaurora and Deblina Chowdhury. Fighting with his own illness,  Vicki got across with medicinal properties of cannabis, and amazed by results he dive into the topic. In 2014 The Great Legalization Movement was established, and along with others Viki also initiated Indian Hemp Research Institute which is in process to be supported by Indian government. However both, Deblina and Viki do see sustainability of the country in the use of industrial hemp which versatility could replace many materials , from our homes, clothing, food, to bio plastic, and fuel.
https://en.wikipedia.org/wiki/Hemp
Hemp or industrial hemp (from Old English hænep) typically found in the northern hemisphere, is a variety of the Cannabis sativa plant species that is grown specifically for the industrial uses of its derived products. It is one of the fastest growing plants and was one of the first plants to be spun into usable fiber 10,000 years ago. It can be refined into a variety of commercial items including paper, textiles, clothing, biodegradable plastics, paint, insulation, biofuel, food, and animal feed.
Although cannabis as a drug and industrial hemp both derive from the species Cannabis sativa and contain the psychoactive component tetrahydrocannabinol (THC), they are distinct strains with unique phytochemical compositions and uses.[6] Hemp has lower concentrations of THC and higher concentrations of cannabidiol (CBD), which decreases or eliminates its psychoactive effects. The legality of industrial hemp varies widely between countries. Some governments regulate the concentration of THC and permit only hemp that is bred with an especially low THC content
At Sunday's  talk at Sri Aurobindo Centre for Studies, Bharat Nivas we had an honor to listen to
professor Makarand Paranjape, starting with reading of Savitri as opening remarks on the topic of 'Sri Aurobindo and the Challenge of Post-humanism'. After his discourse into the topic a lively debate has emerge, dwelling in various directions. yet all revolving around hu-man, evolution, consciousness and super being…. humanism, and post-humanism.
Makarand R. Paranjape, Professor of English at the Centre at Jawaharlal Nehru University, New Delhi, earned his Masters and Doctorate from the University of Illinois at Urbana-Champaign (USA). Among his recent book publications are: Cultural Politics in Modern India: Postcolonial Prospects, Colourful Cosmopolitanism, Global Proximities (Routledge, 2016), The Death and Afterlife of Mahatma Gandhi (Penguin Random House, 2015), and Making India: Colonialism, National Culture, and the Afterlife of Indian English Authority (Springer, 2013).
Apart from books in criticism, Makarand has published six poetry collections and works of fiction (two novels and a collection of short stories). Among his latest creative writing publications are: Transit Passenger/Passageiro em Transito (Humanitas, 2016), and the novel, Body Offering (New Delhi: Rupa, 2013). His edited books include Swami Vivekananada: A Contemporary Reader (Routledge, 2015), and Healing across Boundaries: Biomedicine and Alternative Therapeutics (Routledge, 2015).
Makarand was the Inaugural DAAD Global South Visiting Fellow and Erich Auerbach Visiting Professor in World Literature, University of Tuebingen (May-July 2015 and July-December 2014), Visiting Senior Research Fellow, Asia Research Institute, National University of Singapore (January-April 2015), Inaugural ICCR Chair in Indian Studies, South Asian Studies Programme, National University of Singapore (2010-2011), CAPES Visiting Professor, University of Sao Paulo, Brazil (August-December 2011), and Shivdasani Visiting Fellow, Oxford Centre for Hindu Studies, University of Oxford (October-December 2009).
Makarand is also a columnist for Swarajya, DNA, and Mail Today.