Posts Tagged 'Business'
From November 22nd to November 25th.The first of many celebratory events on the occasion of the 50th Anniversary of Auroville will take place in Delhi, hosted by the Indira Gandhi National Center for the Arts and the Auroville Foundation. A large Auroville exhibition, panel discussion, activities, products, food, and interactive games and sessions.A Book sale and Auroville photography and literature book displays as well as a collection of Auroville products. Panel discussion on "Learning to Live Together"at 4:00 pm to 7:00 pm on the 24th of November At Unesco Auditorium1, San Martin Marg, Chanakyapuri, New Delhi.
On November 22nd at 5 pm At the Bhumika Hall – Aurobindo Centre for Studies India and the World – Bharat Nivas Dr. Marc Luyckx Ghisi, formerly member of the International Advisory Council, and our friend, will be with us to centre a 'conversation' around the theme: Is there a 'World-soul' of humanity in the making?
Savitri Study Camp in Tamil Savitri Bhavan is hosting a 3 days Savitri Study camp in Tamil on Canto 2 'The Issue' of Book One of Sri Aurobindo's Savitri. The study camp will be led by Buvana from 24-26th Nov. 2017 9am-12.30pm and 2.30-5.30pm .
Auroville – Tamil Nadu Seminar Under the auspices of the Arulvazhi Education Centre, a seminar will take place on 26th November at SAWCHU Circle, Bharat Nivas; with the theme: Spiritual significance of Auroville Speaker: G. Varadharajan.
Whatever work you do, do it as perfectly as you can. That is the best service to the Divine in man.
The Words of The Mother, Vol. 14

On the 23rd of October a general meeting was held to discuss the topic of "code of conduct for all trusts and units of the Auroville Foundation". There was a good presentation along with many questions and doubts being raised.

Controversial, yet very hot topic on use of hemp or cannabis (marihuana) …was in the spotlight  of today's interview with Viki Vaurora and Deblina Chowdhury. Fighting with his own illness,  Vicki got across with medicinal properties of cannabis, and amazed by results he dive into the topic. In 2014 The Great Legalization Movement was established, and along with others Viki also initiated Indian Hemp Research Institute which is in process to be supported by Indian government. However both, Deblina and Viki do see sustainability of the country in the use of industrial hemp which versatility could replace many materials , from our homes, clothing, food, to bio plastic, and fuel.
https://en.wikipedia.org/wiki/Hemp
Hemp or industrial hemp (from Old English hænep) typically found in the northern hemisphere, is a variety of the Cannabis sativa plant species that is grown specifically for the industrial uses of its derived products. It is one of the fastest growing plants and was one of the first plants to be spun into usable fiber 10,000 years ago. It can be refined into a variety of commercial items including paper, textiles, clothing, biodegradable plastics, paint, insulation, biofuel, food, and animal feed.
Although cannabis as a drug and industrial hemp both derive from the species Cannabis sativa and contain the psychoactive component tetrahydrocannabinol (THC), they are distinct strains with unique phytochemical compositions and uses.[6] Hemp has lower concentrations of THC and higher concentrations of cannabidiol (CBD), which decreases or eliminates its psychoactive effects. The legality of industrial hemp varies widely between countries. Some governments regulate the concentration of THC and permit only hemp that is bred with an especially low THC content
17 young participants from different parts of India participated in Swadharma #3, and following program is heartful presentation of each of them. What they have discovered in 5 weeks of intensive research, journey which connected their inner selves to outer reality, and their true potentials. Among all interesting presentations poems were recited, and song sung.
The Swadharma program is a response to the call for an education for our times. It offers young seekers – age 18 to 28 – the opportunity to embark on a transformative learning adventure with the goal of self-discovery. The program is based on the idea that helping young people discover who they are and what brings them alive is not only meaningful at an individual level, but also essential for building a socially just, environmentally sustainable and consciously awakened future.
read more on http://www.swadharma.auroville.org/programme
The Swadharma programme has been developed by the Auroville Campus Initiative (ACI), the department of further learning of the Sri Aurobindo International Institute of Educational Research (SAIIER) Auroville.
web: Swadharma is Values based on individual beliefs. Hindu faith is often known as "Sanaatana Dharma" (that which is ancient and eternal). Hindu Dharma requires Hindus to respect and sustain their surrounding and environment! Dharma is a pledge to lead a harmonious life without disturbance to peace in the nature!


Music industry, as we know it all over the world is falling apart. But Congo is an exception . Congolese musicians has invented "libanga". They're not relying on all the complex laws and technology, digital rights management . Use of "libanga" or shout out to rich and powerful people in their songs. For example Eternellement – This simple, poetic love song, "Eternellement," crooned by megastars Fally Ipupa and Koffi Olomide, is really an open appeal for sponsorship that's specifically addressed to a man named Laurent Lorenzo.
If the number becomes a hit, Lorenzo — and other elite members of Congolese society — will feel compelled to reciprocate with gifts of money, cars and even houses. So, in one of the poorest countries in the world, the use of "libanga" helps popular musicians to stay afloat.
Following musical podcast features Congolese Rumba pieces, made in "libanga" style.
tracklist
Fally Ipupa – Eternellement
Koffi Olomide – 13ieme Apotre
Fabregas Le Metis Noir – Autopsie
Madilu System – Colonisation
Mbilia Bel – Beyanga
Madilu System – Si je savais ca
Awilo Longomba – Coupe Bibamba
Moise Mbiye – Lipata Ya Kembo
Mike Kalambay – Azali Se Ye Moko
Ferre Gola – Pakadjuma
Fabregas Le Metis Noir – Greco
Moise Matuta – Toza Pepele
Mbilia Bel – Douceur
Papa Wembe – Penitence na ngai
Fally Ipupa – 1000%MAWA

Featured program is dramatized interview from 1899 of Tesla by Mr. Smith which has been hidden for 116 years. In it Tesla pulls no punches and reveals the great conspiracy of science that was well under way, the suppression of ether and the introduction of a new fake science to conceal it as well as to suppress the work of Tesla himself. Tesla among other said, "Everything is the light." In one of its rays is the fate of nations, each nation has its own ray in that great light source, which we see as the Sun.In this interview this greatest inventor and seer of modern time unravels a new vision of humanity ….Part of the interview is dedicated to Tesla's critics on Einstein's theory of relativity that discards the ether as energy. I have proved in the new Theory of the Universal Law why Einstein's theory of relativity is entirely wrong and why there is no vacuum (void), and that everything is energy. Thus I confirm Tesla's ideas as expressed in this interview.
While most people are unaware of this, Nikola Tesla is one of the greatest scientific minds and inventors the world has ever known. Even though he is entirely absent from most of history books, he is a man that created the foundation for today's technology and lifestyle. But in addition to all of his inventions, Nikola Tesla was among the first people on Earth who claimed to have intercepted alien messages from outer space.
Everything from radio to remote controlled vehicles, Nikola Tesla laid down the necessary foundation for NASA and many other scientific agencies around the world, not to mention that he wanted to give the world unlimited free energy a hundred years ago.
Nikola Tesla was a man far ahead of his time. Tesla envisioned a future on planet Earth where free energy was available for everyone, but his ideas and inventions went far beyond electricity, and energy.
If it wasn't for Tesla, we'd probably still have no idea about Radio, Television, AC electricity, Tesla coil, Fluorescent lighting, Neon lighting, Radio control devices, Robotics, X-rays, Radar, Microwaves and dozens of other amazing inventions.

Within Alpona Festival of Bengali Culture at Bharat Nivas, Pavilion of India, International Zone Saturday 19th a day of workshops, music and dinner from Bengal
Kolam workshop at 3,30pm at auditorium entrance
Saree draping workshop 5pm India Space
Bengali dinner at 6.30pm at SAWCHU
Bangla Gaan at 5pm at Bhavishyate following at 8pm by concert Bangla Gaan – Nandita-di&Auroville Singers are happy to offer Begali Songs. Tabla Sir Gauri Shankar Patnaik.
Saturday 19th of August at 3 pm. At EcoPro, Aurosarjan Complex Ecological Hygiene – presentation By Lucas, EcoPro
On Saturday 19th at Well Cafe – "Sea of Costumes" celebrating life.
The soul is that which comes out of the Divine without ever leaving Him and goes back to Him without ever ceasing from manifestation.
The Words of The Mother, Vol.14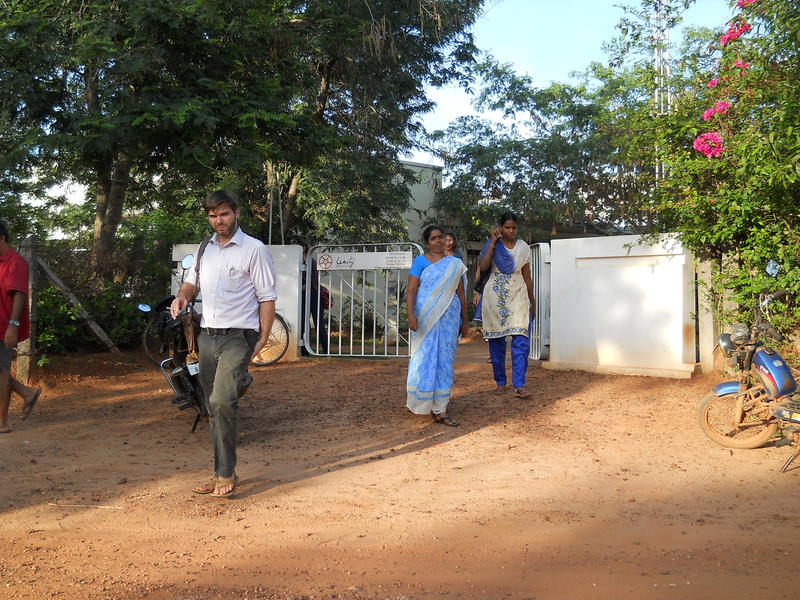 After the presentation at Unity Pavilion on GST held by CA. Rajendra Kumar P, (a practicing chartered accountant and senior partner of Sanjiv Shah & Associates, Chartered Accountants, Chennai, who is the Head-Indirect Taxation Practice of the firm) we stop some residents and ask their opinion about the new Goods and Service Tax for Auroville.