Posts Tagged 'City Life'
Friday, 17 March at 3.30pm at the Unity Pavilion BCC is going to hold a General Meeting.
International Women's Day CelebrationWe are celebrating the International Women's Day
On Saturday, March 18th, 2017, from 4 pm to 8 pm at SAWCHU building, Bharat Nivas.
The Litter Free Auroville 2017 Trashion Show needs YOU!
A shout out to all interested individuals, units and schools to take part in this exciting show with pieces (garments and accessories) created from waste.
The second Auroville Trashion Show will take place on the 1st of April! 
OPENING EVENING! on Friday 17 of March at 5pm at Kalakendra, Bharat Nivas.
Saturday 18th from 9am to 12 Litter Free Auroville Pick Up Campaign.
Cleaning up the Swaram area and Kottakarai Neighborhood.
The spiritual change is the established descent of the peace, light, knowledge, power, bliss from above, the awareness of the Self and the Divine and of a higher cosmic consciousness and the change of the whole consciousness to that.
Sri Aurobindo

In today's news we are featuring an excerpt of interview with Paula Murphy on Auroville Women's Health Survey presentation on Thrusday 16th of March at 10.30am at SAIIER conference hall.
Thursday 16th of March at 4:30 pm at Unity Pavilon General Meeting regarding the TDC restructuring.
Friday 17th of March at 3.30pm at Unity Pavilion BCC is going to hold a General Meeting
On March 14th, from 4 – 5pm,At Bhavisyate, Bharat Nivas,Presentation of "Auroville Education Survey: 1968-2013"By Deepti and Suryamayi
Wednesday, 15th of March at 5pm at Kalakendra Art Gallery – Vedic Chanting in Sanskritoffered by the Members of YogaVahini School, Students of Sri TKV Desikachar, Chennai.
Within lectures at Universtiy of Human Unity at Unity Pavilion March Thrusdays at 7.30pm this Thursday "How do we humans communicate with each other, and with the universe? The Birth of Science, Arts and the Languages" by Dr. Sedhev Kumar
The Litter Free Auroville 2017 OPENING EVENING!
Friday 17 of March – 5pm
at Kalakendra, Bharat Nivas.
After I knew that God was a woman, I learned something from far-off about love; but it was only when I became a woman and served my Master and Paramour that I knew love utterly.
– Sri Aurobindo


Friday, March 10th 4 pm at Unity Pavilion CAT 12 on Progressive Integral Economy by Yves, Micheal and the lotus group – They offer us a proposal :
A Progressive Integral Economy "Pour Tous"
GM on 16th of March at Unity Pavilion at 4:30 PM on proposal of TDC restructuring.
Within lectures at Universtiy of Human Unity at Unity Pavilion in March on Thrusdays at 7.30pm – A Series of Four Lectures About Man's Place in the Universe by Prof. Sehdev Kumar
 Session #1: Thursday, March 9th : "What is so unique about Human presence in the Universe?"
PONDICHERRY EQUESTRIAN CHALLENGE (PEC) 2017 at Red Eart Ridding School 9-12 March
On Saturday 11th at Solitude Farm Rotem Sivam Trio
Auroville Holi Tango Fescival from 8th to 12th of March at SAWCHU, Bharat Nnivas, Pavilion of India, International Zone.
On Saturday , March 11th at 4pm at Visitor Center book shop Just Imagine…Auroville children book release
Mobility –The Working Committee had circulated a survey to the community on the topic of Public Mobility for Auroville.
Shake off all narrowness, selfishness, limitations, and wake up to the consciousness of Human Unity. This is the only way to achieve peace and harmony.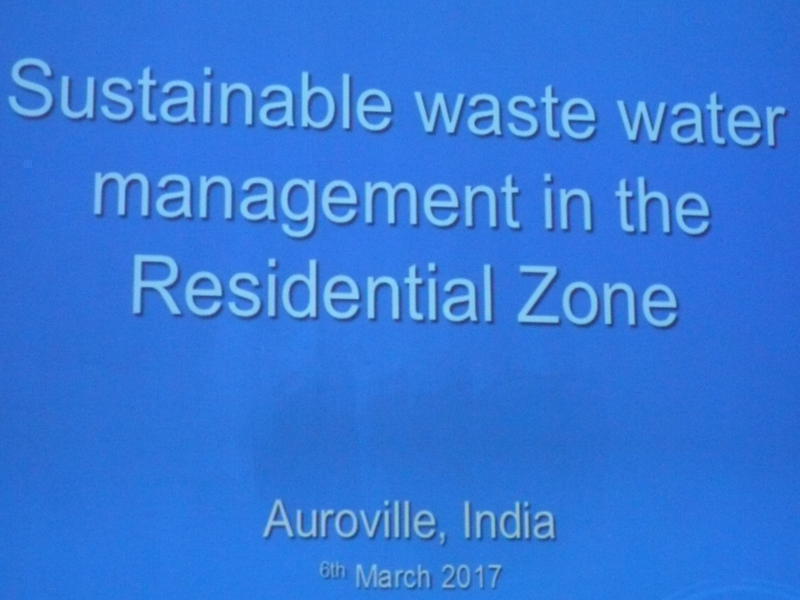 Monday 6th March we've recorded the debate on Auroville's Waste Water Treatment Plant International Meeting. This was the first time that waste water was handled collectively (for Residential Zones 1&2) instead of at the community level. The Town Developing Council shared information about the WWTP, including the route of the sewer lines, the dewat/vortex technology used at the plant how the purified water will be returned, about the laying of the pipes and the management plan of the WWTP. The TDC tryied to answer to concerns and questions the audience asked while we felt a certain amount of excitement in the hall.
From Water Group Ing-Marie has visited us in the studio, and we talked on few different topics revolving around the ground necessity of our life – WATER.
Since we do live in a city with water sensitivity, how do we perceive it as a community?
Current Water Group started in 2015 (not the first, and most likely not the last) as an advisory body to TDC, consisting of members of different walks of life. They are trying to put together an integrated water management for the city. They are trying to raise the awareness on water sensitivity of the ground reality in our city. In whole this process they would like community to be deeply involved, they would like to increase the water "literacy", they are trying to put up an interactive web page….
As one of the recent attempts to reach out to each member of the community is a call for photo contest with – What could depict the essence of Auroville Water? whereby any format or size …. are welcomed, and the author of winning photo will be fully credited for it. Deadline 15th of March.

Set in the imaginary City of Neotopia, the play tells a story of a government frustrated by their city's lack of growth. In an attempt to identify the main obstacles to the city's progress, a group of politicians invite in a team of foreign consultants to identify the problem.
After an exhaustive study, the consultants conclude that the main obstacle to the city's growth is the citizens, recommending the introduction of a new kind of citizen – Citizen One. Free from the inconvenience of emotion and opinion, Citizen One promises to get things moving again, but things do not go as planned.
Photographs by Marco Saroldi here
—-
The Office of Progress has been made aware of the presence of a subversive theatrical production.
DO NOT WATCH THIS PERFORMANCE
SUBVERSIVE MATERIAL TITLE: CITIZEN ONE
Citizens are advised to avoid this performance at the following coordinates:
WHEN: 8pm, SATURDAY MARCH 4
WHERE: KALABHUMI AMPHITHEATRE
You are at risk of being reprogrammed.
GRAPHIC MATERIAL WARNING!
This post also contains attached graphic material.
Do not look at it, do not listen!
Friday March 3rd at 4pm at Unity Pavilion – What is Education in Auroville? (CAT 11). The first of two sessions in March and April starts with a presentation by four Auroville students – Aloe, Amara, Leela and Tara who will share the children of Auroville vision on education based on a questionnaire across schools.
Followed by an interactive process and an exploration on:
– The Sharing of Resources
– The Equality and Variety of Subjects
– The Students Voice
Saturday, March 4th at 8pm at Kalabhumi amphitheater – You are Warn NOT TO WATCH Citizen One.
Saturday March 4th at 8pm Well Cafe at SveDame – Live Concert – Optymistic French , contribution required.
Two things you must never forget: Sri Aurobindo's compassion and the Mother's love, and it is with these two things that you will go on fighting steadily, patiently, until the enemies are definitively routed and the Victory is won for ever. Courage outside, peace inside and a quiet unshakable trust in the Divine's Grace. -The Mother19 May 1933
frequency of the week – ABUNDANCE
Everything we need in life on Earth has been created for us in abundance. We often have difficulty accepting this, because we are prone to think in terms of lack. We cling onto the idea of security because we are afraid of having nothing. Energy is everywhere and everlasting.
Do not restrict yourself by thinking too small, because with the proper intentions everything is possible. You just need to believe.
The frequency of Abundance shows you that you already have everything you need to realise your dreams, no matter how big your ambitions are.
Janosh
We've been to a small ceremony of consecration and celebration at the new Language Lab building in the International Zone on Auroville's birthday. Here's a short interview to Mita, one of the two founders, explaining us about their activity.