Posts Tagged 'collaboration'
In continuation of their exploration through the body reconnecting to the nature Philippe and Thierry with many, many others created Bhu/ Earth dance performance which will be staged on 18th, 19th and 20th of August at 8pm at Kalarigram.
We hosted Nikhil Varagiri, Philippe and Thierry in our studio, and they talk about this performance in the connection to ancient art of Kalaripayattu. As Nikhil, who practices it for a long time, this is the mother to all martial arts on the planet.
" In this show they invoke the spirit of the BHU element (earth). The Kalari warrior carries, in his body, the memory of the earth. Through this process, they are able to reconnect to the pure origin that keeps him in motion with the heartbeat of the earth."…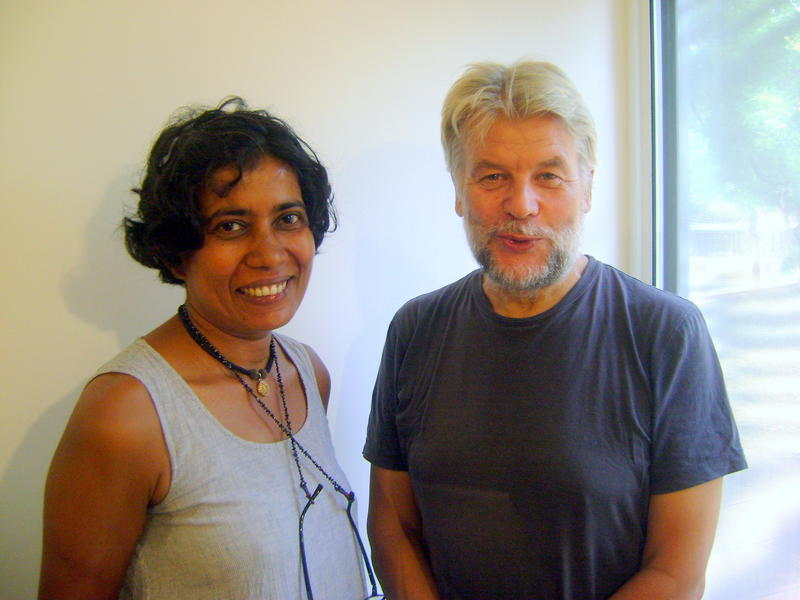 We were hosting Uma and Torkil this morning in our studio, and the talk was on PETRA. What is Petra, where it came from, where is aiming….
Out of Retreat in 2015 many (working) groups has emerged, and one of them was Integral Entrepreneurship Lab, from which group Petra was born. The group is growing, expanding, merging … because their member feels the need that Auroville moves from urban village toward sustainable township, offering enough support for the human resources to join.
Petra ( a working name, homage to late Petra) would not only be a gateway or filter, but also a place where economy should become a catalyst to turn things around, and develop the city of Dawn; it aspires to be a meeting pong, borderline with holistical approach with inbuilt possibilities and opportunities for residents and visitors alike.

Unusal post in News and Notes leaded us to an interesting interview with Josh, who currently volunteers at outreach school and researches ways and possibilities of how the community could collaborate better. His long time passion of trying to support the projects which could work together, collaborate better has leaded him to Auroville, where he has found bigger complexity of ways and relationships that he anticipated.
We All are invited to fresh fruit putlock – meeting to start to talk about All the topics…. on Friday 9th of July at 3pm at Town Hall first floor meeting room of Avcouncil.

In today's news we are featuring Josh inviting us on Friday 9th of July at 3pm at Town Hall 1st floor meeting room to a meeting – fresh fruit putlock – All for all
On Saturday 9th at 8pm at VC we are invited to a Creative Traveling School Concert..
Special Course Bamboo Building & Self Awareness Camp 11th of July to 30th of July.
You must never forget that the outer person is only the form and the symbol of an eternal Reality, and that, passing through the physical appearance, it is to this higher Reality that you must turn. The physical being cannot become truly expressive of the Eternal Reality until it is completely transformed by the supramental manifestation. And until then, it is by it passing through it that you must find the Truth.
The Mother
Vol.15

In today's news we are featuring Ashika, Arvind , Bindu, Vedanth, and Rajiv Krishnan  who are inviting us for the events of the last weekend of a month long festival "Remebering Veenapani Chawla " at Adishkati. Bindu and Vedanth even shares Kabir song, and a song from the play How to skin a Giraffe.
Friday 29th at 6pm Kabir songs, at 7.30pm Odissi Dance performance and on Saturday 29th and Sunday 1st of May How to Skin a Giraffe, a play by Perch from Chennai.
Saturday, 30th at 5 pm at Sacred Groves a peaceful meeting at the Energy Centre in SacredGroves site at the end of Earth Week in Seeking a truer Collaboration.
Today at 5pm at Pavilion of Tibetan Culture, international Zone – True Stories of Volunteers.
Saturday, 30th of April at 5.30pm the Mohanam Kindergarten Open House.
On Sunday 1st of May World Laughter Day at Africa House, Pavilion of African Culture, international Zone.
When the inertia comes up the old movements which the subconscient is prepared to supply always can mechanically come up with it. In a certain sense this inertia and the peace are the bright and dark counterparts of each other , tamas and sama -the higher Nature finding repose in peace, the lower seeking it in a relaxation of energy and a return towards the subconscient, tamas.
Sri Aurobindo
Letters on Yoga
The educational research network of Auroville is being set up with 15km of Optical Fibre Cable (OFC) to 17 building clusters. This will be completed by December 2015 but covers about 15% of Auroville.
The next part of the project is to connect other buildings, units and residences and provide community services such as:
· Community wide (intercom) telephony
· Broadcast of AV Radio & TV, meetings, seminars and events
· Tele-services in education, health care and outreach
· Audio/ Video/ Web conferencing / Community browsing centres to make the services available to one and all
· E-surveillance of sensitive mobility areas
· Digital archives
The goal of this project is to create a platform to:
1. Enable borderless participation and collaboration in manifesting the Dream
2. Provide eco-friendly alternatives to travel within Auroville and outside
3. Expand the presence of Auroville beyond the geographical area of the City
Implementing this project by 2018 creates a new window to make Auroville belong to the whole of Humanity during the 50th Anniversary of Auroville.
Network Team: Anand, Chandresh, Dyuman, JV (Remote Participation) and Manu
To download the Power Point presentation Click Here.