Posts Tagged 'consciousness'
At Sunday's  talk at Sri Aurobindo Centre for Studies, Bharat Nivas we had an honor to listen to
professor Makarand Paranjape, starting with reading of Savitri as opening remarks on the topic of 'Sri Aurobindo and the Challenge of Post-humanism'. After his discourse into the topic a lively debate has emerge, dwelling in various directions. yet all revolving around hu-man, evolution, consciousness and super being…. humanism, and post-humanism.
Makarand R. Paranjape, Professor of English at the Centre at Jawaharlal Nehru University, New Delhi, earned his Masters and Doctorate from the University of Illinois at Urbana-Champaign (USA). Among his recent book publications are: Cultural Politics in Modern India: Postcolonial Prospects, Colourful Cosmopolitanism, Global Proximities (Routledge, 2016), The Death and Afterlife of Mahatma Gandhi (Penguin Random House, 2015), and Making India: Colonialism, National Culture, and the Afterlife of Indian English Authority (Springer, 2013).
Apart from books in criticism, Makarand has published six poetry collections and works of fiction (two novels and a collection of short stories). Among his latest creative writing publications are: Transit Passenger/Passageiro em Transito (Humanitas, 2016), and the novel, Body Offering (New Delhi: Rupa, 2013). His edited books include Swami Vivekananada: A Contemporary Reader (Routledge, 2015), and Healing across Boundaries: Biomedicine and Alternative Therapeutics (Routledge, 2015).
Makarand was the Inaugural DAAD Global South Visiting Fellow and Erich Auerbach Visiting Professor in World Literature, University of Tuebingen (May-July 2015 and July-December 2014), Visiting Senior Research Fellow, Asia Research Institute, National University of Singapore (January-April 2015), Inaugural ICCR Chair in Indian Studies, South Asian Studies Programme, National University of Singapore (2010-2011), CAPES Visiting Professor, University of Sao Paulo, Brazil (August-December 2011), and Shivdasani Visiting Fellow, Oxford Centre for Hindu Studies, University of Oxford (October-December 2009).
Makarand is also a columnist for Swarajya, DNA, and Mail Today.
Sri Aurobindo: the Synthesis of Yoga, continuing with Part One, The Yoga of Divine Works, Chapter 11, The Master of the Work, resuming on page 248.
In this chapter, Sri Aurobindo points out the trickery of the ego, how it can disguise itself, and therefore the attitude of our mind must become a conscious attitude, saturated with this knowledge:
"A Divine Power works in this mind and body and it is the same that works in all men and in the animal, in the plant and in the metal, in conscious and living things and in things apparently inconscient and inanimate."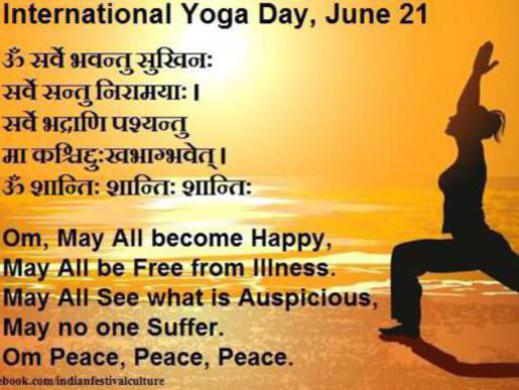 On Monday,19th June 4-5 pm we are invited to a Presentation at SLI. On re-design training process For Rural Development Institutes of Tamil Nadu Government..
International Yoga Day, Auroville, organized by Youth link includes whole Wedensday events, starting at 5.15am with Meditation & Surya Namaskar at Matrimandir Amphitheatre…
On June 24th – June 25th at : Unity Pavilion and Upasana Design Studio – DESI COTTON WORKSHOP AT UPASANA or Importance of growing local cotton seed varieties.
Acres for Auroville is happy to inform all its friends and donors that campaign donations have helped the Land Board in meeting the cost of the recent land purchase and exchange that brought 10.37 new acres in the immediate Greenbelt of Auroville at the end of May. 
Angeli's fabulous fundraiser! Sunday the 18th of June at 4:00 -6-30 pm at Mukta, Auroson, Amara and Milla's House in Certitude to raise funds fro Angeli's further education. You may contribute on FS# (10) 3432 .
Consciousness is not only power of awareness of self and things, it is or has also adynamic and creative energy .It can determine its own reactions or abstain from reactions; it can not only answer to forces, but create or put out from itself forces. Consciousness is Chit but also Chit Shakti.
SABCL Vol 22 page 234 , Sri Aurobindo

Thie weekend (5th, 6th, 7th) Auroville Theatre Group presents Arturh Miller's play All My Sons at CRIPA's garden in Kalabhumi.
The play is Miller's first great play about family, ethics, money, and love.
Being set at the back of CRIPA, and story is going on at the backyard of family's house in Ohio, to audience brings a certain intimacy , closeness to the family, and involvement to the story.
Despite that is set in years after War II , play does draw the parallel on what is going on at the moment on the planet, and we can easily translate it in every day situations, where the question of responsibility of conscious choice play a vital role.
Amazing acting of Swar, Jill, Shilpi, Vinu Karthick, Nishant Saini, Ahmed, Myrta, Manjula Selvam, Satyendra Kumar, Satish T; under the direction of Jill.
All the actors, regardless being old "cats" or new ones, proved their acting maturity.

Une série hébdomadaire de lectures par Gangalakshmi (en Français) de sélection d'oeuvres sur ou de la Mère et Sri Aurobindo, qui lui semble La Manifestation Supramentale.
A weekly series of readings by Gangalakshmi (in French) from selected works by or on the Mother and Sri Aurobindo.
This week an excerpt from Supramental Power by Satprem – Pouvoir Supramental, Satprem Sri Aurobindo: Ou l'Aventure de la Consience
On the special request from listeners this edition is un cut!!!
Yesterday early afternoon we had a chance to listen to Dr. Aunkh Chablala talking about the Core of African Spirituality – Consiciounsess and Energy and 13 Whispers.
Presetnation took place at International Zone at the space of Africa House, Pavilion of African Culture.
After the presentation was a time for questions and answers session.
Dr Aunkh Chabalala, Amen-Ra Institute and Infinite Earth, Pretoria, South Africa
This recording is the second part of Chapter 4 The Sacrifice, the Triune Path and the Lord of the Sacrifice, picking up on page 112. In this part, Sri Aurobindo continues to reveal the practice of this Yoga, which demands a constant inward remembrance of the one central liberating knowledge: in all is the one Self, the one Divine is all; all are in the Divine, all are the Divine and there is nothing else in the universe, – this is the whole background ….. becoming the whole substance of the consciousness. Realization of this enables self-surrender; self-giving progresses and sacrifice becomes easier, more powerful ….. opposing forces lose much of its strength …..

On the 16th December 2016 a group gathered at Bhavishyate, Bharat Nivas, to discuss, share and deeply reflect on "how to recognize psychic discernment", the Intuitive guidance of the Psychic Being. What unfolded that evening was very interesting indeed.

Divyanshi Chugh presents the first session of a seminar series at Savitri Bhavan, which will cover Integrality in all Spheres of Life. This weeks theme was Integral Philosophy based on the handouts by Matthys Cornellisen, Indian Psychology Institute, Pondicherry.