Posts Tagged 'Cultural Center'
Ok talks about how to make Auroville litter free by accumulating waste and using it innovatively. She talks about her workshop that involved making cushions out of plastic. In this interview Ok further talks about the idea behind Upcycling Studio, challenges faced and her aspirations.

We've been to a small ceremony of consecration and celebration at the new Language Lab building in the International Zone on Auroville's birthday. Here's a short interview to Mita, one of the two founders, explaining us about their activity.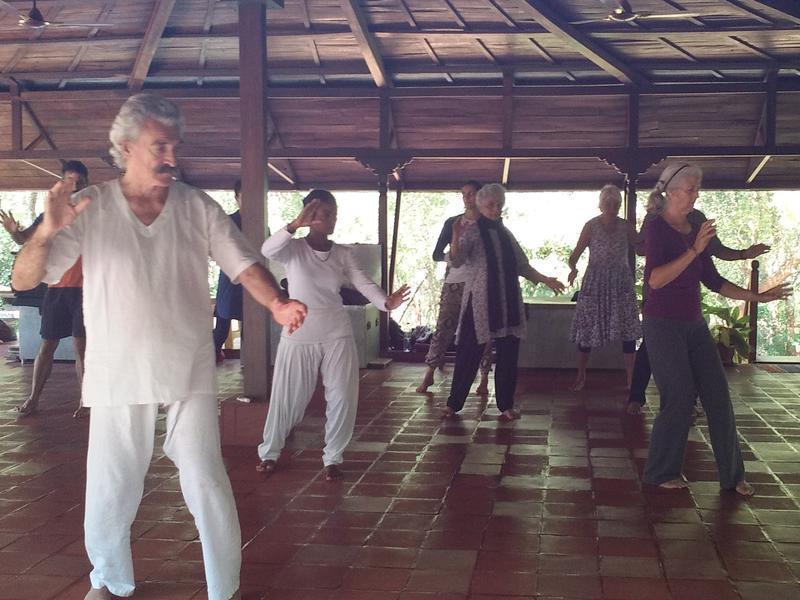 Marco and Krishna offered a valuable workshop for beginners in Tai-Chi-Chuan.
The workshop was held at the famous Tai-Chi hall in Sharanga community, in Auroville. The workshop attracted guest and residents of Auroville. The workshop was conducted for 18 days for 3 hours session each morning. One half of the session were dedicated for mediation and Chi techniques and the other half for learning and practicing the 24-forms of Tai-Chi. In an incredible module of teaching, Marco shared his knowledge and guided the students with a masters touch and was very gentle yet vigilant for people's slightest of errors. The workshop was an insight not only to learning of the method but an understanding of Chi which exist in and outside our body, which the Chinese referred to as vital force behind each movement.
The Tai-Chi school offers its space every morning throughout the week for people to come and practice Tai-Chi with the masters. Such workshops are unique and life changing for some, as the students attending the workshop give their sharing of experience about the workshop at the end of the interview with Marco.
Auroville is truly at the receiving end of a gift the Tai-Chi school and masters like Marco represent.
Svaram is a Musical Instrument Research and Development center that makes innovative musical instruments. The center 's creative director is Aurelio (http://www.auroville.org/contents/4021) who believes in the ability of music to transcend spiritual barriers.
According to the people at Svaram, the lowest use of music is merely aesthetic. The second is intellectual and the third and highest is spiritual.
The use of music to heal is an ancient art, and it has been revived here in Auroville.
Using many of their fabulous instruments, the sound bath was literally a flow of harmony and music through the body. Aurelio started by guiding the audience into a state of relaxation. The 50- 60 attendees, some meditating, some laying down to relax, all witnessed the language of pure sound.
The performance was not guided by a temporal harmony, beats and measures, but rather by the sound of sound itself. The whole body was a large ear.
To know more, give them a listen. Live, if possible.
You can get more information on Svaram, Auroville from the link below.
Students from California Institute of Integral Studies is visiting Auroville to learn and share what it means to live Integral Yoga. A rich course of events have been planned for them to explore different aspects of Auroville and interactions are organized for mutual learning.
One such occasion was today when they were at Bharat Nivas engaged in a spiritual discussion which was very rich in knowledge and of deep insights. They are here for two weeks and its an opportunity for everyone in Auroville to have a unique kind of cultural exchange with students of the same subject, Integral Yoga, inspired by the same master Sri Aurobindo and carry the same aspirations.
Students from California Institute of Integral Studies, are visiting Auroville to learn and share more about Sri Aurobindo, Integral yoga and overall development of Auroville as a center of Integral studies. Aster hosted the students to a knowledge sharing session at Bhavishyate Hall, Bharat Nivas. The group of students were presented with lot of vital writings by Sri Aurobindo and the mother, to enable them to get an insight into deep philosophical and fundamental theories. The group had quite a good sharing of ideas and showed keen interest to resolve pondering questions of their own. Auroville welcomes the group and looks forward to more cultural sharing opportunities.
Last night they have started the performing season at Adishkati with a jazz&neo-soul concert "3Musicians".
Kirtana Krishna on guitar and vocals, Karina Colins on drums and Ragu Ramasubramaian on bass shared with enthusiastic audience some jazz and neo soul songs such as Jill Scott "A Long Walk" , Charles Mingus – Goodbye Pork Pie Hat , Robert Glasper feat. Norah Jones – Let It Ride , Wes Montgomery – how insensitive, Tsunami….
All three musicians are coming from Swarnabhoomi Academy of Music either as teacher or former students.

An evening of wonderful performances, fun activities and joyous conversations for kids and grown-ups on Saturday, 3rd September 2016.
Create synergy with Mantra chanting
Sway to Krishna's music
Art activities
Face painting
Beat time to African drums
Dinner by Wells cafe

We went to ask a few people about the mobility in Auroville, and this is what has come out of it.