Posts Tagged 'development'
The Low-Tech Lab, an initiative of young ingenious inventors working together to meet basic needs of humanity in a creative sustainable and environmental friendly approach.
One of the main focuses of Low-Tech Lab is working on a global collaborative research program and open-source documentation.
Their next step is to locate a suitable common ground for these inventors and engineers to gather and work together. Could this common space be offered by Auroville?
UNITING FOR AUROVILLE'S LAND – HIGHLIGHTS FROM THE RADIO
Auroville Radio brings you quick access to some of the special events held at the Unity Pavilion during February to raise money for buying Auroville's land. Mandakini, the original organizer of "Acres For Auroville" (A4A) and co-founder of its offshoot "Art For Land", is a dedicated full-time all-around worker for these large-scale fund raising efforts. She shares the latest results of the A4A campaign and the aims and results of the Art for Land auction. Mandakini tells us about many of the beautiful donors and about different solidarity actions for the land. She also explains the principles followed to make sure that the money donated to buy Auroville's land is never used for anything else. In this interview we feel Mandakini's deep, sincere, commitment to Auroville's growth, and we meet a beautiful soul, dedicated to serving the ideals of Auroville.
Auroville Radio has created a special web-link page for people who could not come to fund raising events. Click on the special web-link page below and you will have the links to give you immediate access to seven fund-raising events; three talks, three concerts, and an interview from the Unity Pavilion's February fund-raising program.
Create Auroville Together or CAT will conclude this year season with "resonating " together with Russian Singing Bells on 21st at 4pm at Unity Pavilion.
Mita, Inge and Sandyra talks with us, reflect on the past season and 13 different Cats which has happened over the past seven months, touching many areas and levels of Auroville.
Cats were created to offer a platform on which collective could meet, act and collaborate on the way forward, to build the city of Dawn.
Tangible thoughts, all backed by subtle spiritual energy (The Mother), conscious grounding in this space looking within, deep and go forward.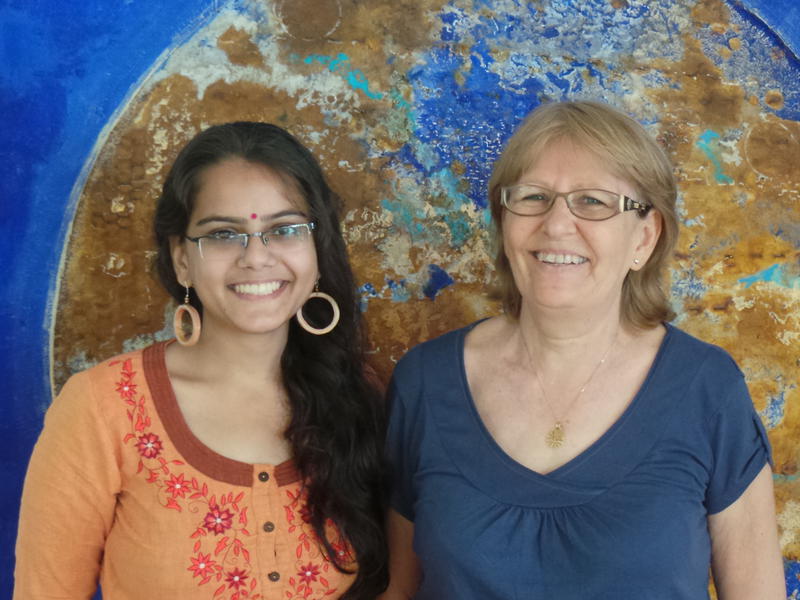 A new study group has been inspired, to brainstorm and create a resolute economy structure for Auroville of the future. Spearheading this endeavor is Jaya and Divyanshi, in collaboration with other team members. We have a tendency of approaching economy in a very logic frame of mind, based on financial rules and principles and tend to have rigid parameters, here we have a refreshing new approach to economy with spirituality at its base, guided by the principles of only The Mother, and fundamentals derived from interpretation of the Matri-Mandir gardens. Yes! the Matrimandir gardens is like a matrix in its own, gifted to us by the Mother and can bring enormous insights into designing of lifestyles and ecosystems, as Jaya elaborates in this interview. They propose, for an out-of-the-box solution is required to shape an economy, which should have no parallel in the world, as it should very well be like an invention, such is the theme set for Auroville. It is an interesting and thought provoking point-of-view where you have flowers, gardens, spirit and feelings as a vocabulary to design an economy which serves the people rather than an economy designed to enslave the talent and power humans can produce. This group has started off with small steps but with great intensity into research and problem solving methods, starting right from the micro level and building up the economy story.
Anyone listening to this interview and is related to Auroville economy must consider offering time and energy to this special group, determined to achieve The Mother's Dream, "Money is no longer the sovereign lord of people"
Whilst no-one questions the position of the fiddler in any kind of folk band, the jazz violinist constantly has to justify himself in the face of sceptics who believe that they should stick to either Bach or barndances. The violin is still not widely seen as being a natural instrument for swing, despite a history going back to the early days of Jazz.
We are featuring some of great jazz violin players starting with Joe Venuti, Stuff Smith, Ray Nance, Stephane Grappelli, Billy Bang, Jean-Luc Ponty, Regina Carter….
tracklist
Joe Venuti – Sweet Lorraine rare
Joe Venuti & Eddie Lang – I've Found a New Baby
Ray Nance – Come Sunday
Regina Carter – Kothbiro
Billy Bang – All Blues
Stephane Grappelli – Souvenir de Vilingen
Django Reinhardt, Stephane Grappelli – I Saw Stars (1934)
Michel Petrucciani, Stéphane Grappelli – Flamingo
Maner-Phillips– Angles Of Repose Number One
Regina Carter – Pavane
Billy Bang – Doi Moi
Zach Brock – Common Ground
Christian Howes with Robben Ford – Groove Merchant
Jean-Luc Ponty, Stephane Grappelli, & Stuff Smith – This Can't Be Love