Posts Tagged 'development'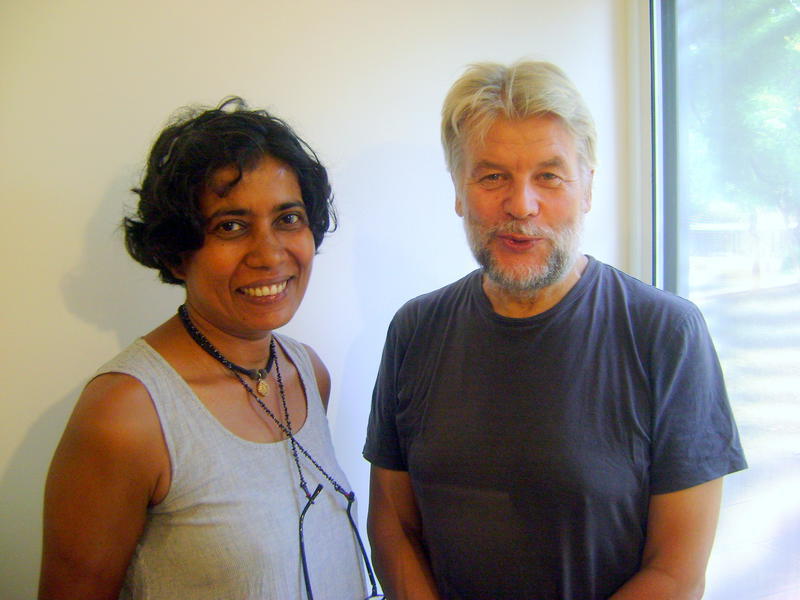 We were hosting Uma and Torkil this morning in our studio, and the talk was on PETRA. What is Petra, where it came from, where is aiming….
Out of Retreat in 2015 many (working) groups has emerged, and one of them was Integral Entrepreneurship Lab, from which group Petra was born. The group is growing, expanding, merging … because their member feels the need that Auroville moves from urban village toward sustainable township, offering enough support for the human resources to join.
Petra ( a working name, homage to late Petra) would not only be a gateway or filter, but also a place where economy should become a catalyst to turn things around, and develop the city of Dawn; it aspires to be a meeting pong, borderline with holistical approach with inbuilt possibilities and opportunities for residents and visitors alike.

On 21st April, in unity Pavillion last session of CAT14 was held and it was all about creating harmony. Russian Bells were used to demonstrate how harmony can be developed among various individuals and that too with minimal efforts, all you need is balancing between receiving and giving. Vera with her Russian bells showed us how with just a bit of practice the sound vibrations can be harmonised.
The 2 hour of ringing bells session was so soothing and relaxing, people meditated with the sounds. They shared the joy of sound and silence and to tune with others' vibrations.
With the music, CAT 14 ended leaving everyone present there totally spaced out, still feeling the vibrations passing through them.
Travelling on the winds of the change through landscapes, reaching out for light, and sun which conjures the new day … languages of the world remembering the future, holding still their breath in silence knowing that the end is not near….
tracklist
Hawkwind – Wind of Change
Brian Crain – One Morning in June
Luciano Berio – Thema
Pink Floyd – Sysyphus
Psychic TV – Set The Controls For The Heart Of The Sun
Entheogenic – Body of Light
The End's Not Near by The New Year
Delerium – Eternal Odyssey
Tipper – Dead Soon
Delerium – Returning featuring Kristy Thirsk
Conjure One – The Garden
Delirium – Silence
Steven Wilson – And End to End
Steven Wilson – Twilight Coda
Brian Eno – An Ending (Ascent)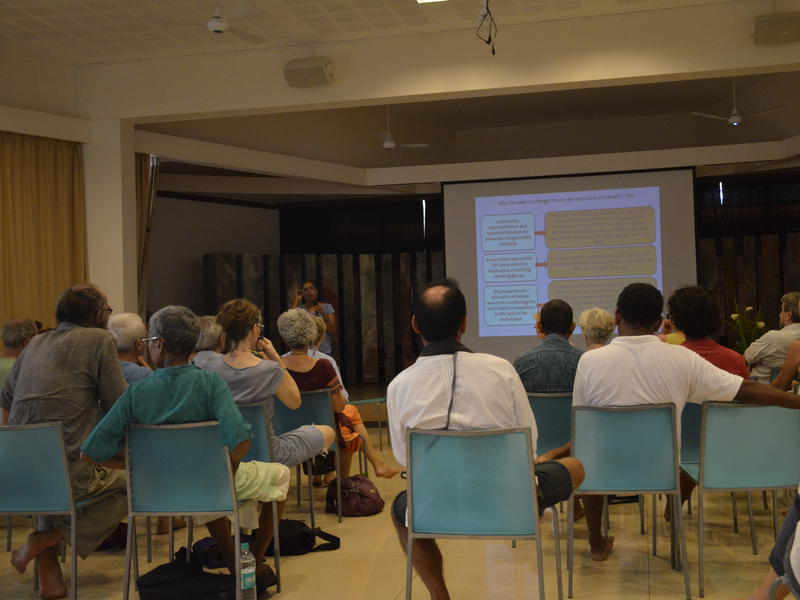 Therre was a general meeting held on Monday April 24 in Unity Pavilion which was a continuation of last months general meeting where the core group came up with fulfilling the task of restructuring Town Planning & Development Council (TDC)/L'Avenir d'Auroville. Last year, the Auroville council was asked to facilitate a process to restructure the TDC, the core group working on this comprised of Martin, Jesse, Sauro, Pashi, Shama, Suhasini, Mamta, Elvira, Lionel and Christiane. This meeting was a preparation for a Resident Assembly Decision-making Event (RAD) May 13 – June 10. The team proposed a revised structure of TDC and asked for the opinions of people present in the meeting on the same. A lot of healthy debate and constructive insights were offered by the members of the community attending the presentation. The feedbacks and comments for last month's meeting were also shared. Involvement of youths was an important point in the discussion. Meeting ended up on a positive note.
Follow the links for earlier meetings:
http://www.aurovilleradio.org/restructuring-tdc/
http://www.aurovilleradio.org/how-can-we-restructure-the-tdc/
The Low-Tech Lab, an initiative of young ingenious inventors working together to meet basic needs of humanity in a creative sustainable and environmental friendly approach.
One of the main focuses of Low-Tech Lab is working on a global collaborative research program and open-source documentation.
Their next step is to locate a suitable common ground for these inventors and engineers to gather and work together. Could this common space be offered by Auroville?
UNITING FOR AUROVILLE'S LAND – HIGHLIGHTS FROM THE RADIO
Auroville Radio brings you quick access to some of the special events held at the Unity Pavilion during February to raise money for buying Auroville's land. Mandakini, the original organizer of "Acres For Auroville" (A4A) and co-founder of its offshoot "Art For Land", is a dedicated full-time all-around worker for these large-scale fund raising efforts. She shares the latest results of the A4A campaign and the aims and results of the Art for Land auction. Mandakini tells us about many of the beautiful donors and about different solidarity actions for the land. She also explains the principles followed to make sure that the money donated to buy Auroville's land is never used for anything else. In this interview we feel Mandakini's deep, sincere, commitment to Auroville's growth, and we meet a beautiful soul, dedicated to serving the ideals of Auroville.
Auroville Radio has created a special web-link page for people who could not come to fund raising events. Click on the special web-link page below and you will have the links to give you immediate access to seven fund-raising events; three talks, three concerts, and an interview from the Unity Pavilion's February fund-raising program.
Create Auroville Together or CAT will conclude this year season with "resonating " together with Russian Singing Bells on 21st at 4pm at Unity Pavilion.
Mita, Inge and Sandyra talks with us, reflect on the past season and 13 different Cats which has happened over the past seven months, touching many areas and levels of Auroville.
Cats were created to offer a platform on which collective could meet, act and collaborate on the way forward, to build the city of Dawn.
Tangible thoughts, all backed by subtle spiritual energy (The Mother), conscious grounding in this space looking within, deep and go forward.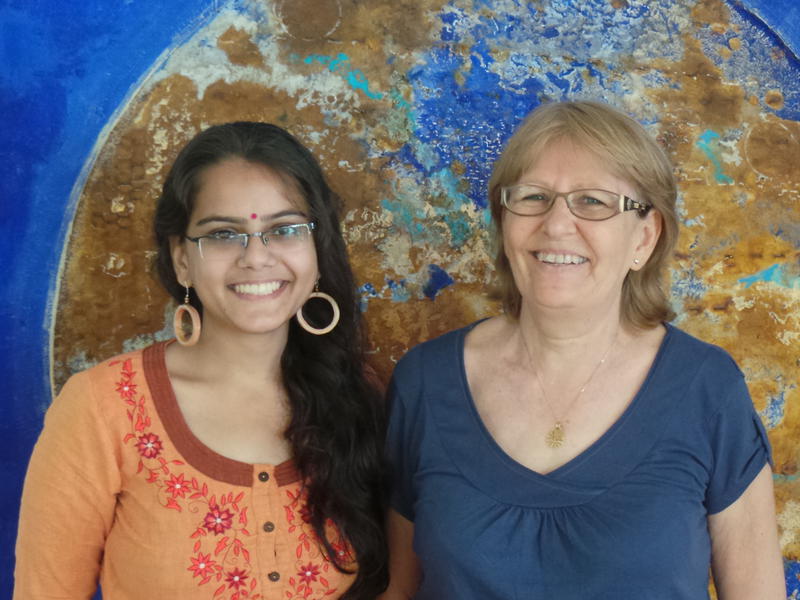 A new study group has been inspired, to brainstorm and create a resolute economy structure for Auroville of the future. Spearheading this endeavor is Jaya and Divyanshi, in collaboration with other team members. We have a tendency of approaching economy in a very logic frame of mind, based on financial rules and principles and tend to have rigid parameters, here we have a refreshing new approach to economy with spirituality at its base, guided by the principles of only The Mother, and fundamentals derived from interpretation of the Matri-Mandir gardens. Yes! the Matrimandir gardens is like a matrix in its own, gifted to us by the Mother and can bring enormous insights into designing of lifestyles and ecosystems, as Jaya elaborates in this interview. They propose, for an out-of-the-box solution is required to shape an economy, which should have no parallel in the world, as it should very well be like an invention, such is the theme set for Auroville. It is an interesting and thought provoking point-of-view where you have flowers, gardens, spirit and feelings as a vocabulary to design an economy which serves the people rather than an economy designed to enslave the talent and power humans can produce. This group has started off with small steps but with great intensity into research and problem solving methods, starting right from the micro level and building up the economy story.
Anyone listening to this interview and is related to Auroville economy must consider offering time and energy to this special group, determined to achieve The Mother's Dream, "Money is no longer the sovereign lord of people"