Posts Tagged 'Economy'
General Meeting to present the Entry Policy final draft for a Resident's Assembly Decision-making process n 26th of August at 4.30pm at Unity Pavilion
AVAG Annual Women's Festival is an annual collaboration between the Udhayam Women's Federation and Auroville Village Action Group. 5,000 men and women will gather to honour and celebrate women on Sunday, October 1st at the AVAG campus in Irumbai. Pre events – Cultural Performances – Tuesday August 29th , 10.am-3pm for traditional song, drama and dance.
Traditional Games – Tuesday, September 5th, 10am-3pm – enjoy and take part in Koko and Kubadi and many other outdoor traditional games and competitions.
Art Break Day at Sanaklapa on 1st of September behind Dreamer's Cafe in Visitors Centre.
O Lord … may Thy Beauty spread through all the earth, may Thy Love be kindled in every heart and Thy Peace reing over all.
The Mother

Music industry, as we know it all over the world is falling apart. But Congo is an exception . Congolese musicians has invented "libanga". They're not relying on all the complex laws and technology, digital rights management . Use of "libanga" or shout out to rich and powerful people in their songs. For example Eternellement – This simple, poetic love song, "Eternellement," crooned by megastars Fally Ipupa and Koffi Olomide, is really an open appeal for sponsorship that's specifically addressed to a man named Laurent Lorenzo.
If the number becomes a hit, Lorenzo — and other elite members of Congolese society — will feel compelled to reciprocate with gifts of money, cars and even houses. So, in one of the poorest countries in the world, the use of "libanga" helps popular musicians to stay afloat.
Following musical podcast features Congolese Rumba pieces, made in "libanga" style.
tracklist
Fally Ipupa – Eternellement
Koffi Olomide – 13ieme Apotre
Fabregas Le Metis Noir – Autopsie
Madilu System – Colonisation
Mbilia Bel – Beyanga
Madilu System – Si je savais ca
Awilo Longomba – Coupe Bibamba
Moise Mbiye – Lipata Ya Kembo
Mike Kalambay – Azali Se Ye Moko
Ferre Gola – Pakadjuma
Fabregas Le Metis Noir – Greco
Moise Matuta – Toza Pepele
Mbilia Bel – Douceur
Papa Wembe – Penitence na ngai
Fally Ipupa – 1000%MAWA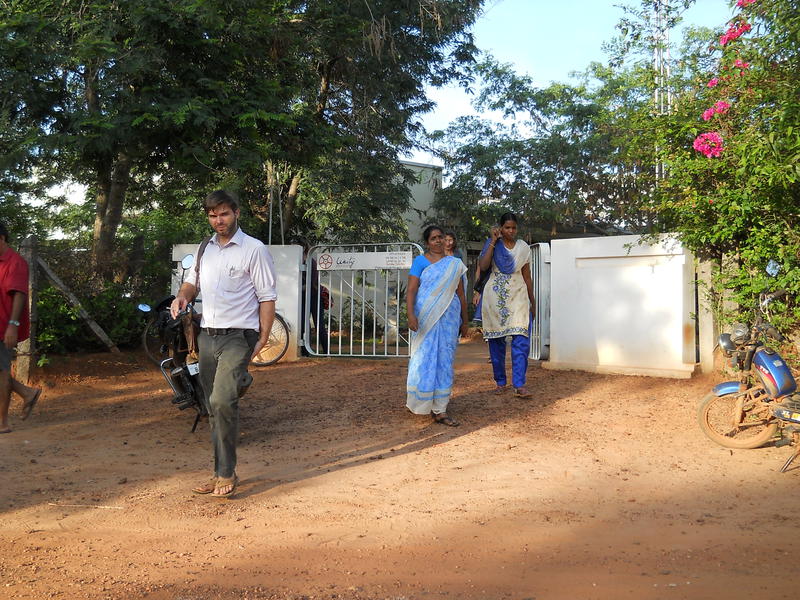 After the presentation at Unity Pavilion on GST held by CA. Rajendra Kumar P, (a practicing chartered accountant and senior partner of Sanjiv Shah & Associates, Chartered Accountants, Chennai, who is the Head-Indirect Taxation Practice of the firm) we stop some residents and ask their opinion about the new Goods and Service Tax for Auroville.

International Youth Day gathered a lot of youngsters as well as the mentors from Auroville at Mahalakshmi Park to explore Peace and Prosperity. A lot of fun activities organised by YouthLink along with the live music, food stalls and fire dance were to be seen and heard. For those of you who could not make it to the event, here is a short recording of the event as well as the talk with the vibrant youth of Auroville. See you next year!
Mr. Rajendra Kumar P, an expert on GST from Chennai shared his insights at Unity Pavillion.

Brahamanaspati Kshetram, The Mother and Sri Aurobindo Centere On Sunday 6th: reading "The Mother" and "Savitri" led by Bhuvana Sundari and Sudarshan in Tamil and English at 5:30 pm. On Monday 7th: Full Moon meditation at 6:00 pm and as usual on any Thursday at 6 pm Meditation!
Alpona – Images and Sounds of Bengal August 12th to 22nd at Bharat Nivas A panorama of events focusing on the culture of Bengal – Films, music, exhibitions, art and textile workshops and food (book in advance) For further details and information please see image and PDF
Saturday, 5th August, from 4 pm onwards at Container opposite PTDC. Giving/Exchanging Things at the Auroville Library of Things (AloT) in celebrating abundance and generosity.
Friday 4th of August at Auroville's Visitor Center, 5.30pm onward Open Capoeira Roda for all.
Monday 14th of August at The Learning Community Base Camp at 6pm – fund raising Fun Dimension
Friday 4th of August from 2.00 pm to 5.00 pm at Saiier Building Infoday from the German Consulate General Chennai


I am putting peace in your heart; but to become conscious of it, you should repeat, as often as possible, mentally turning to me:"You have put Peace in my heart; make me aware of its presence." With all my love.
Letters by the Mother to a Child

The Sustianable Livelihood Institute hosted a seed festival on the 26th of July, 2017. The Festival's aim was to connect farmers in Tamil Nadu to each other though the exchange, selling and purchasing of seeds. The festival focused on promoting local, organic and non-GMO varieties of seeds. In this recording I talk with Ram who works with the institute about the aim as well as the significance of the festival and threats facing small farmers in India.

FAMC informs Trustees and Executives, that timely submission of balance sheets is critical for Auroville and deeply affects our relationship with the Auroville Foundation and the Government of India in general.
On Saturday 8th of July Damien passed away in the morning in Canberra, Australia surrounded by his sons Misha, Ry and Peter. Our love and sympathy go out to Damien's family and Paula,
Today at 5pm at New Colors (Edayanchavady)we are invited to attend A Grand Opening of "The Mother Kindergarten" (A real kindergarten in a garden)
The Proskills Cooking Program La Cuisine – Season 2 Auroville one year Introduction to Cooking for the youths of Auroville (15 to 25). Introduction presentation will be Thursday the 13th of July in PTDC kitchen at 2:30 pm
Absence of love and fellow-feeling is not necessary for nearness to the Divine; on the contrary , a sense of closeness and oneness with others is apart of the divine consciousness into which the sadhak enters by nearness to the Divine and the feeling of oneness with the Divine. …In this yoga the feeling of unity with others, love, universal joy and Ananda are an essential part of the liberation and perfection which are the aim of the sadhana.
SRI AUROBINDO, On Yoga. II, tome I. part II, 8. 

For Shriya, our internship student from Dehli, was today her last day in Auroville, and at that occasion, and to say goodbye to her, we talked about her experience along with Ishana(who is still staying with us).
Shriya mentioned that none of the blogs she has read prior to coming, has not talk about the energy of the space, and if one wants to understand it, would need to stay here for longer period….
Ishana experience in life is not to expect too much in order not to be disappointed, but is amazed over the Auroville , which she sees as testament to sheer determination ; she met people who gave up "old" (material) life to come to AV to dedicate their life to a cause …
Both are joyfully talking about their experiences in past month, and we can add that they were helpful, and also inspiring addition to our team.