Posts Tagged 'Economy'
The Low-Tech Lab, an initiative of young ingenious inventors working together to meet basic needs of humanity in a creative sustainable and environmental friendly approach.
One of the main focuses of Low-Tech Lab is working on a global collaborative research program and open-source documentation.
Their next step is to locate a suitable common ground for these inventors and engineers to gather and work together. Could this common space be offered by Auroville?
UNITING FOR AUROVILLE'S LAND – HIGHLIGHTS FROM THE RADIO
Auroville Radio brings you quick access to some of the special events held at the Unity Pavilion during February to raise money for buying Auroville's land. Mandakini, the original organizer of "Acres For Auroville" (A4A) and co-founder of its offshoot "Art For Land", is a dedicated full-time all-around worker for these large-scale fund raising efforts. She shares the latest results of the A4A campaign and the aims and results of the Art for Land auction. Mandakini tells us about many of the beautiful donors and about different solidarity actions for the land. She also explains the principles followed to make sure that the money donated to buy Auroville's land is never used for anything else. In this interview we feel Mandakini's deep, sincere, commitment to Auroville's growth, and we meet a beautiful soul, dedicated to serving the ideals of Auroville.
Auroville Radio has created a special web-link page for people who could not come to fund raising events. Click on the special web-link page below and you will have the links to give you immediate access to seven fund-raising events; three talks, three concerts, and an interview from the Unity Pavilion's February fund-raising program.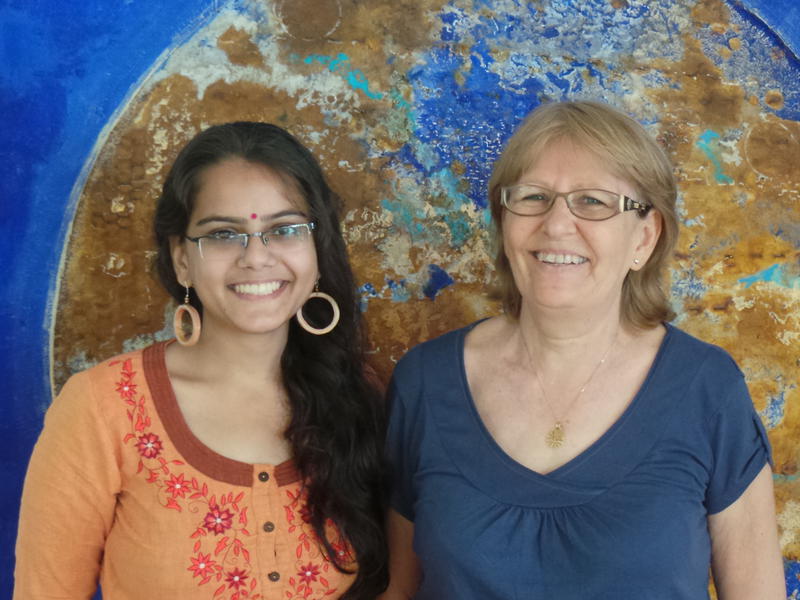 A new study group has been inspired, to brainstorm and create a resolute economy structure for Auroville of the future. Spearheading this endeavor is Jaya and Divyanshi, in collaboration with other team members. We have a tendency of approaching economy in a very logic frame of mind, based on financial rules and principles and tend to have rigid parameters, here we have a refreshing new approach to economy with spirituality at its base, guided by the principles of only The Mother, and fundamentals derived from interpretation of the Matri-Mandir gardens. Yes! the Matrimandir gardens is like a matrix in its own, gifted to us by the Mother and can bring enormous insights into designing of lifestyles and ecosystems, as Jaya elaborates in this interview. They propose, for an out-of-the-box solution is required to shape an economy, which should have no parallel in the world, as it should very well be like an invention, such is the theme set for Auroville. It is an interesting and thought provoking point-of-view where you have flowers, gardens, spirit and feelings as a vocabulary to design an economy which serves the people rather than an economy designed to enslave the talent and power humans can produce. This group has started off with small steps but with great intensity into research and problem solving methods, starting right from the micro level and building up the economy story.
Anyone listening to this interview and is related to Auroville economy must consider offering time and energy to this special group, determined to achieve The Mother's Dream, "Money is no longer the sovereign lord of people"
This year campaign of Litter Free Auroville was to bring the community together , to look at our trash. And we might not have done it in big scale past few weeks, but surely Trashion Show brought most of us into Visitor's Centre.
We were dazzled, amazed by creation , a transformation of material  which in other circumstances might be considered as a  trash, yet we saw wonderful "high cotoure" design of individuals and units.
Auroville has witnessed this kind of transformation 7 years back, and after intensive work of Wastelss, Upcycling Studio and Eco Service….was about time to be reminded again that the attitude we have to our trash matters.
On the stage we saw many models of all ages, some even designers of the dress that was worn.
Before the beginning of Trahsion Show Unicorn Collective shared a dance of a giant couple(puppets), and recycling rap group tuned us into the show.
For uplifted spirit of the event we can also thank unstoppable Jesse as MC , and Matthia in charge of sound.
Past Friday LFA2017 has successfully started, and Ribhu and Marc are talking about it.
As Ribhu says "a little campaign" of LFA or Litter Free Auroville 2017 is going on for next almost three weeks with the main purpose to engage the whole community on the topic of our trash. They are trying to center their efforts in the ways how to treat our garbage with the mission to come to the zero waste…
Wastless(educational part), Upcylcing Studio(take care of difficult waste stream) and Eco Service(picking our daily waste) are main players in those efforts, and they are trying to reach integral service, an approach to treat waste.
Marc and Ribhu founded their "heart" in garbage, and are passionately dealing with waste …. on the road of sustainability, which always starts with ourself, on daily basis.
Tuesday March 21st, 4 pm at Unity Pavilion CAT 13: A Journey through Volunteerland – Facilitated by the Savi team.
Friday 24th & Saturday 25th March at 8 pm at Visitors Center The French Pavilion Presents- "THE MENTAL FORTRESS"A selection of French Texts from Mother and Satprem, read in FRENCH Onlywith Céline, Christophe, Frédéric and Vers'Haut Directed by Céline
Thursday 23rd, March at 3:30 pm at Bhavishyate, Bharat Nivas CIRHU
Aurovilian Conversations -"Michael on "Sustainable community building and the Joy of Impermanence"
On Saturday 25th March from 9 am to 6 pm opening of the model apartment
at Kalpana Housing Project
Litter Free Auroville 2017 on 25th from 9am to 12 "PICK UP" trash at KK and Ganesh Bakery area.
To see, know, become, and fulfill this One in our inner selves and in all our outer nature, was always the secret goal and becomes now the conscious purpose of our embodied existence.
Sri Aurobindo The Synthesis of Yoga
Frequency of the week | ECHO
Our soul is constantly working for us. She shows us the way and wants to inspire us. Often we don't listen, because the signals from the soul sometimes seem illogical. They don't fit within the boundaries of our thinking. This is what you experience when you feel something is going to happen, but you are not sure exactly what.
At a subconscious level you pick something up, something that you cannot explain within your head. That 'something' feels like an echo. It's the reflection of what your soul transmits to give you information about where you are right now. Echoes can repeat frequently or not; it all depends on where you want to go. That is why it's important to give your soul the right information. Tune into exactly what you want, what makes you happy and which people or situations will help you further. Just like a radio station, your soul will transmit the exact signal to you at the right moment just before you reach your next station.
The frequency of Echo gives you insight into which energy you transmit and when it will echo back to you.
Affirmation of this week: Echoes from the soul give me insight to what I transmit and receive.

The BCC has taken an initiative to hold open meeting with the members of the community, in their effort to make matters more simpler. The presentation speaks about the accounting performance for the year 2016-17 in comparison to the previous year, 2015-16.
The presentation was given jointly by members of Budget Cordination Commitee, BCC, which is a sub group of the FAMC, member from Human Resource Team, HRT, which is subgroup to BCC.
This is seen as a healthy move and generally in a good direction as during the presentation it was noticed, community members were able to share their grievances but also were able to seek relevant information, thus strengthening the notion of transparency of the systems.
Many suggestions were provided to the presenting group by the members attending the presentation which indicates such presentations act as a bridging instruments and should be encouraged. A major topic of the discussion was the status quo of maintenance and the policies surrounding it, a notion was passed around to have a study group formed which can formulate and help finalize maintenance policies which the community at large can comprehend and are in line with the ideals of Auroville.
Friday, 17 March at 3.30pm at the Unity Pavilion BCC is going to hold a General Meeting.
International Women's Day CelebrationWe are celebrating the International Women's Day
On Saturday, March 18th, 2017, from 4 pm to 8 pm at SAWCHU building, Bharat Nivas.
The Litter Free Auroville 2017 Trashion Show needs YOU!
A shout out to all interested individuals, units and schools to take part in this exciting show with pieces (garments and accessories) created from waste.
The second Auroville Trashion Show will take place on the 1st of April! 
OPENING EVENING! on Friday 17 of March at 5pm at Kalakendra, Bharat Nivas.
Saturday 18th from 9am to 12 Litter Free Auroville Pick Up Campaign.
Cleaning up the Swaram area and Kottakarai Neighborhood.
The spiritual change is the established descent of the peace, light, knowledge, power, bliss from above, the awareness of the Self and the Divine and of a higher cosmic consciousness and the change of the whole consciousness to that.
Sri Aurobindo