Posts Tagged 'Entry'
For Serena to be in Auroville it is a privilege. She "stumble" upon it on her journey all over the planet looking for intentional communities, searching for alternative, more truer lifestyle. And every community she has stopped, she would made a video which was donated to the members of it.
And how she ended here, in Auroville? As Serena laugh it off – the decision was made for her, she just went with the flow…. and The Mother Dream was also hers.
And now she make herself rather busy capturing "Glimpses of Auroville", where she is documenting, creating a bridge, creating highlights as we are quite fast approaching 50th anniversary. (and by the way, the OutreachMedia is in need of video makers, photographers, writers for the occasion).
Amongst so many other things, Serena recently initiate RAK – Random Act of Kindness, whereby group of people visit services and units and spread hugs, joy, smiles…..
Youtube: https://www.youtube.com/user/AurorasEyeFilms/videos
website: https://auroraseye.wordpress.com/
Facebook: https://www.facebook.com/AurorasEye

85% of 222 residents voted YES to a proposed new Entry Policy, in a two-week voting process that ended at 2pm on Saturday, Sept 23., hereby the New Entry Policy is ratified.
Today 25th at 4pm at Unity Pavilion workshop by 50 team on 50th Auroville anniversary.
On Tuesday the 26th of September at 4.30pm at Unity Pavilion General Meeting on FAMC – updates, and Q&A session.
On Thursday 28th of September at 4.30pm at Unity Pavilion we are cordially invited to the launch of Auroville: A City for the Future By Anu Majumdar Published by HarperCollins India In conversation with Inge van Alphen & Mandakini Gupta Book release by Deepti Tewari Tea & Cake Books will be available courtesy Wild Seagull Bookshop With special thanks to the Unity Pavilion team
From step to step, from truth to truth, we shall climb ceaselessly until we reach the perfect realisation of tomorrow.
The Mother

On the 26th August 2017 a general meeting was held at the Unity Pavillion to try to finalize the new draft for the Entry Policy. The main concerns seemed to be about the wording changes, which were Entry to Admission and Exit to Termination, which got resolved, and also what to do if the majority decide not to go ahead with the new policy, which also was resolved.

Tomorrow, 25th August, Ganesh Pooja, PTDC will be open from 9 to 13:30.
PT Purchasing Servoce(stall& snack bar) will be closed on 25th &26th for Ganehs Pooja.
AV Bakery & Bakery Cafe will be closed on 25th.
Brahmanaspati Kshetram team invites you to: An exhibition (gulu) dedicated to Ganesha as the Divine Collaborator of the Supreme. Opening on Ganesh Chaturdi 25th of August 5:30 pm for 7 days!
General Meeting to present the Entry Policy final draft for a Resident's Assembly Decision-making process on 26th of August at 4.30pm at Unity Pavilion .
On Firday 25th of August at 5pm at Sri Aurobindo Centre for Studies, Bhumika Hall, (Bhavishyate) Bharat Nivas we can listen to The Environmental Experience, a lecture by Omar Rabie..
KALABHUMI GOES LIVE Concert in the small amphitheater Saturday 26th of August At 7:30 pm. Blues, Jazz, Reggae and more…
Monday the 29Th. at 5p.m C.A.L.I ( House of Latinoamerica ) and the Youth Link invite you to the : PACHAMAMA ( Mother Earth ) Celebration, as the People from the Andes of South America do during the month of August .We will thanks for the things got it from Her this year , offering food and drink , incense candles and flowers . At the American Site -International Zone- Opposite to the Matrimandir , taking the Nursery road . Entrance from the Darkali Fitness Track , go to your right. Please bring your offerings for the Mother Earth.
It is indispensable that each one finds his psychic and unites with it definitively. It is through the psychic that the supramental will manifest itself.
The Words of The Mother, Vol. 14

In today's news awe are featuring Letter from IAC members to the community – saying that a new Governing Board for the Auroville Foundation is in the process ofbeing nominated. They are all delighted that Dr. Karan Singh will continue as the Chairman of the
new Board. As is the practice, a new IAC will also be constituted soon thereafter and they felt this might be an appropriate time to write to us and share a few thoughts.
IAC are Mark Tully Vishakha Desai Shaunaka Rishi Das Kabir Shaik Julian Lines
We have another 2 days left for feedback on new Entry Policy .
On Monday,19th June 4-5 pm we are invited to a Presentation at SLI. On re-design training process For Rural Development Institutes of Tamil Nadu Government..
You are immortal; you exist for billions of years in different manifestations, because you are Life, and Life cannot die.
Don Miguel Ruiz

RAD on restructuring TDC/L'Avenir d'Auroville was ratified by 81% of votes.
RAS shares that on 11th May, 2017, an information-sharing General Meeting (GM) was held, where the Entry Task Group (ETG) presented the proposed changes to the Entry Policy 2015. We are invited to answer some questions on this topic (the feedback period will run for two weeks until Wednesday, June 14)
Auroville Institute of Applied Technology signed MOU with 6 companies in Tamil Nadu 
and Pondicherry to be partner; and thus aquired industry stipend for 96 students under the Dual System of Training.
The Matrimandir Team informs us that Matrimandir will be closed to visitors for urgent renovation and repair works from 5.6.2017 to 5.7.2017. For Aurovilians, concentration the Matrimandir will be open from 6 – 8 am and from 5.30 to 8 pm only.
Be honest towards yourself -(no self-deception). Be sincere towards the Divine – (no bargaining in the surrender). Be straightforward with humanity -(no pretence and show).
The Mother, 25th of June 1963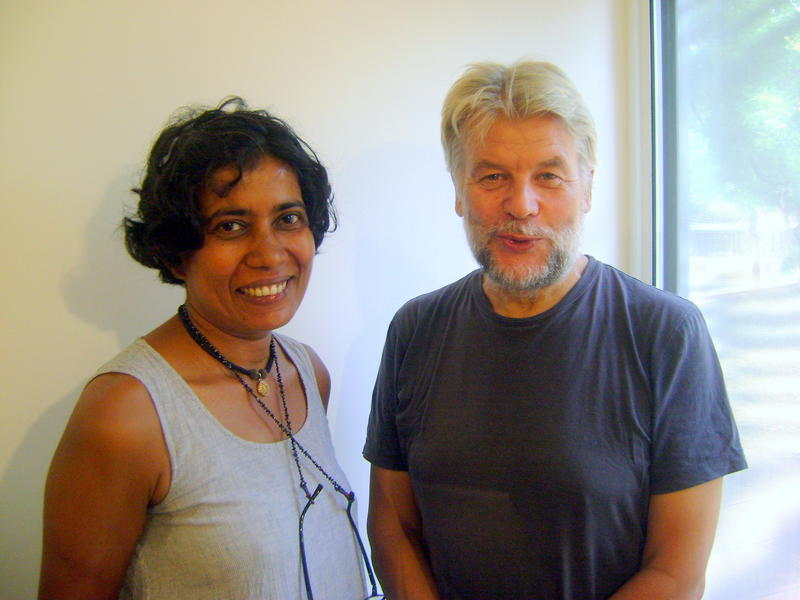 We were hosting Uma and Torkil this morning in our studio, and the talk was on PETRA. What is Petra, where it came from, where is aiming….
Out of Retreat in 2015 many (working) groups has emerged, and one of them was Integral Entrepreneurship Lab, from which group Petra was born. The group is growing, expanding, merging … because their member feels the need that Auroville moves from urban village toward sustainable township, offering enough support for the human resources to join.
Petra ( a working name, homage to late Petra) would not only be a gateway or filter, but also a place where economy should become a catalyst to turn things around, and develop the city of Dawn; it aspires to be a meeting pong, borderline with holistical approach with inbuilt possibilities and opportunities for residents and visitors alike.

In today's news we are featuring an excerpt of interview with Partha who invites us to an opening of new – Neem Tree Eatery on Wednesday, 10th of May at 6pm at the entrance of Mahalakshmi Park, just behind the library.
full interview with Partha you can hear here : https://www.aurovilleradio.org/affordable-healty-eatery/
On Thursday the 11th of May, at 4:30pm at Unity Pavilion we are invited to a postponed General Meeting on Entry Policy.
RAD on restructuring TDC/L'Avenir d' Auroville starts on 13th of May.
Consciousness is a reality inherent in existence. It is there even when it is not active on the surface, but silent and immobile; it is there even when it is invisible on the surface, not reacting on outward things or sensible to them, but withdrawn and either active or inactive within; it is there even when it seems to us to be quite absent and the being to our view unconscious and inanimate.
SABCL
Vol 22 page 234