Posts Tagged 'Environment'
CAT – On Tuesday 19th at 4.30pm at Unity Pavilion – The Universal Mother according to Sri Aurobindo With Deepti Tewari .
Tuesday 19th September 2017 at 5pm Citadines – Centre d'Art -The French Pavilion presents LA VERTU HÉROÏQUE The French Pavilion presents LA VERTU HÉROÏQUE
On Saturday , 23rd of Spetmeber at CRIPA at 8pm RIP by Savit Rani – A funny touching deep monologue about being a Woman in India Today.
On Thursday 21st of September from 2.30 pm onward Unity Pavilion invites you all to International Peace day celebrations.
Action days in a future forest!Learn the basics of what forest stewards have to do to reforest the land in Auroville by working alongside them. meet them on 22nd of September at 7.50am at Minatti gate.
Controversial, yet very hot topic on use of hemp or cannabis (marihuana) …was in the spotlight  of today's interview with Viki Vaurora and Deblina Chowdhury. Fighting with his own illness,  Vicki got across with medicinal properties of cannabis, and amazed by results he dive into the topic. In 2014 The Great Legalization Movement was established, and along with others Viki also initiated Indian Hemp Research Institute which is in process to be supported by Indian government. However both, Deblina and Viki do see sustainability of the country in the use of industrial hemp which versatility could replace many materials , from our homes, clothing, food, to bio plastic, and fuel.
https://en.wikipedia.org/wiki/Hemp
Hemp or industrial hemp (from Old English hænep) typically found in the northern hemisphere, is a variety of the Cannabis sativa plant species that is grown specifically for the industrial uses of its derived products. It is one of the fastest growing plants and was one of the first plants to be spun into usable fiber 10,000 years ago. It can be refined into a variety of commercial items including paper, textiles, clothing, biodegradable plastics, paint, insulation, biofuel, food, and animal feed.
Although cannabis as a drug and industrial hemp both derive from the species Cannabis sativa and contain the psychoactive component tetrahydrocannabinol (THC), they are distinct strains with unique phytochemical compositions and uses.[6] Hemp has lower concentrations of THC and higher concentrations of cannabidiol (CBD), which decreases or eliminates its psychoactive effects. The legality of industrial hemp varies widely between countries. Some governments regulate the concentration of THC and permit only hemp that is bred with an especially low THC content
At Sunday's  talk at Sri Aurobindo Centre for Studies, Bharat Nivas we had an honor to listen to
professor Makarand Paranjape, starting with reading of Savitri as opening remarks on the topic of 'Sri Aurobindo and the Challenge of Post-humanism'. After his discourse into the topic a lively debate has emerge, dwelling in various directions. yet all revolving around hu-man, evolution, consciousness and super being…. humanism, and post-humanism.
Makarand R. Paranjape, Professor of English at the Centre at Jawaharlal Nehru University, New Delhi, earned his Masters and Doctorate from the University of Illinois at Urbana-Champaign (USA). Among his recent book publications are: Cultural Politics in Modern India: Postcolonial Prospects, Colourful Cosmopolitanism, Global Proximities (Routledge, 2016), The Death and Afterlife of Mahatma Gandhi (Penguin Random House, 2015), and Making India: Colonialism, National Culture, and the Afterlife of Indian English Authority (Springer, 2013).
Apart from books in criticism, Makarand has published six poetry collections and works of fiction (two novels and a collection of short stories). Among his latest creative writing publications are: Transit Passenger/Passageiro em Transito (Humanitas, 2016), and the novel, Body Offering (New Delhi: Rupa, 2013). His edited books include Swami Vivekananada: A Contemporary Reader (Routledge, 2015), and Healing across Boundaries: Biomedicine and Alternative Therapeutics (Routledge, 2015).
Makarand was the Inaugural DAAD Global South Visiting Fellow and Erich Auerbach Visiting Professor in World Literature, University of Tuebingen (May-July 2015 and July-December 2014), Visiting Senior Research Fellow, Asia Research Institute, National University of Singapore (January-April 2015), Inaugural ICCR Chair in Indian Studies, South Asian Studies Programme, National University of Singapore (2010-2011), CAPES Visiting Professor, University of Sao Paulo, Brazil (August-December 2011), and Shivdasani Visiting Fellow, Oxford Centre for Hindu Studies, University of Oxford (October-December 2009).
Makarand is also a columnist for Swarajya, DNA, and Mail Today.
Luca from Eco-Pro gives a presentation on the cycle of food and compost. Firstly he talks about urine, its properties and its various uses, and later in his talk he presents his new project about a new type of waterless toilets.

After tea break presentation continues…..
17 young participants from different parts of India participated in Swadharma #3, and following program is heartful presentation of each of them. What they have discovered in 5 weeks of intensive research, journey which connected their inner selves to outer reality, and their true potentials. Among all interesting presentations poems were recited, and song sung.
The Swadharma program is a response to the call for an education for our times. It offers young seekers – age 18 to 28 – the opportunity to embark on a transformative learning adventure with the goal of self-discovery. The program is based on the idea that helping young people discover who they are and what brings them alive is not only meaningful at an individual level, but also essential for building a socially just, environmentally sustainable and consciously awakened future.
read more on http://www.swadharma.auroville.org/programme
The Swadharma programme has been developed by the Auroville Campus Initiative (ACI), the department of further learning of the Sri Aurobindo International Institute of Educational Research (SAIIER) Auroville.
web: Swadharma is Values based on individual beliefs. Hindu faith is often known as "Sanaatana Dharma" (that which is ancient and eternal). Hindu Dharma requires Hindus to respect and sustain their surrounding and environment! Dharma is a pledge to lead a harmonious life without disturbance to peace in the nature!

Following musical podcast is a collection of solo flute pieces from Navajo-Ute musician R. Carlos Nakai is an evocative delight. The album consists of mostly original material, from the composition "Canyon Reverie," to the improvisational "In Media Res," to "Athabascan Song," an arrangement of a traditional song. The latter in particular stands out, with a faster rhythm and more lifting melody than most of the other pieces. There's also "Ancient Dreams," performed on a bone whistle; the instrument almost exceeds the upper range of human hearing, and Nakai occasionally sounds like he's imitating bird calls. A classically trained musician, Nakai blends musical traditions to create a whole that reminds one, on occasion, of Japanese shakuhachi music. 
This album best captures the timeless serenity of the solo Native American flute. R. Carlos Nakai's music speaks to the spirit with a simplicity that transcends place and time. Includes original compositions, traditional Athabascan and Omaha melodies.
Ray Carlos Nakai (a.k.a. R Carlos Nakai ) was born in Flagstaff Arizona on April 16, 1946 and now resides in Tucson, Arizona. He is a Native American of Navajo-Ute heritage who began his musical career as a freshman at Northern Arizona University studying brass instruments.
Nakai says that most of his inspiration comes from the expressions of native communities and his desire to preserve his own Native American heritage. In addition, he likes to blend his native music with that of other cultures thereby helping to preserve their heritage as well.
tracklist
Shaman's Call
Canyon Reverie
In Media Res
Gateway
Athabascan Song
Coyote Animus
Song Of The Evening Star
Ancient Dreams
Catfish Muse
Star Chant
Aura Aurealis
Crystal Canyon
Omaha Song
Nemi
Earth Spirit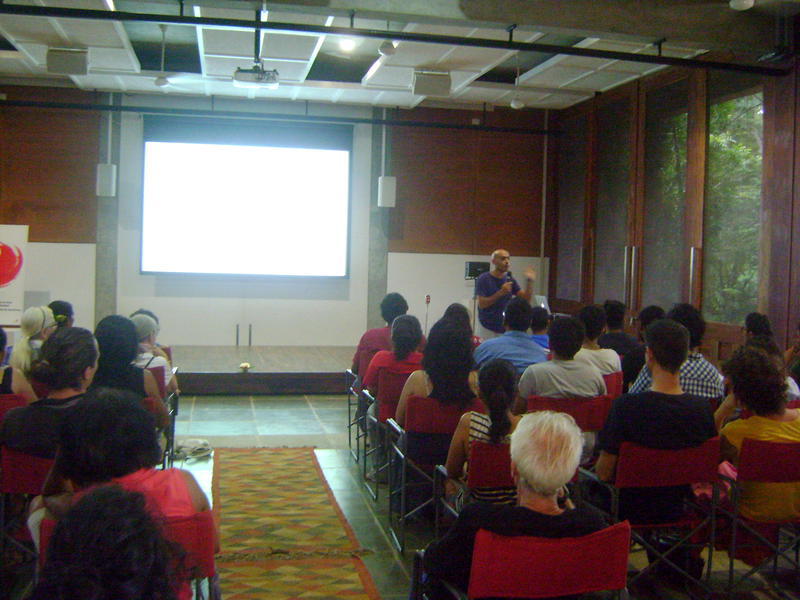 Environment plays an important role in the society we live in. In this presentation by Omar, get to know about environment dating from prehistoric times to the 21st century.

Monday the 28th. at 5p.m C.A.L.I ( House of Latinoamerica ) and the Youth Link invite you to the : PACHAMAMA ( Mother Earth ) Celebration to thank the mother Earth.
CAT – Tuesday 5th September: 4.30 pm to 6.30 pm at the Unity Pavilion "Exploring Prosperity" by Pashi, Luigi and Exploring Prosperity team .
AVAG Annual Women's Festival on 1st of Ocotober at Irumbai . pre events – Cultural Performances – Tuesday August 29th , 10.am-3pm for traditional song, drama and dance.
Traditional Games – Tuesday, September 5th, 10am-3pm – enjoy and take part in Koko and Kubadi and many other outdoor traditional games and competitions.
1st, 2nd and 3rd of September at 7.30pm at Kalarigram, Udyam, next to Adishkati – dance performance Bhu/Earth.
Friday 1st of September at Visitor's Centre, next to Dreamres Cafe – Art Break Day, organized by Sankalpa.
On Saturday, September 2nd Sadhana Forest invites to a SPIRIT – Conscious Living; Nature outing for children, come and enjoy nature and mud pool with departure from Solar Kitchen at 3.30pm, returning at 7.30pm.
Saturday 2nd September 2017 at 5 pm Cinema Paradiso Presentation in French of the audio book: «Sita et la forêt chantée» An ornitho-radio tale by Chloé Sanchez.
On Saturday, 2nd of September at 3pm at EcoPro The Life of Pee – Almost Everything about Urine. A presentation by Lucas, EcoPro
Desire takes a long time to get rid of entirely. But, if you can once get it out of the nature and realise it as a force coming from outside and putting its claws into the vital and physical, it will be easier to get rid of the invader. You are too accustomed to feel it as part of yourself or planted in you – that makes it more difficult for you to deal with its movements and dismiss its ancient control over you. 
Sri Aurobindo 
(Letters on Yoga, P – 1399)