Posts Tagged 'Environment'
Soulful Afrohouse – tribal house music in appreciation of Black Coffee, Boddhi Satva, Black Motion, Afrikan Roots, Xoli M…
tracklist
Black Coffee – Ziph Inkomo
Black Motion & Dj Shimza – Ngoja
Afrikan Roots Feat. Xoli M – Angel
Dj Choice & Afrikan Roots ft BK – My Window
Dj Lopez Feat Black Motion- Fortune Teller
BlackCoffee feat Bantu Soul – Even Though
DJ Nascent, Stones & Bones – Supernatural (Epitome Resound Afro Bless)
Etu Beats & Tseko feat. John Moabi – Love Is You [Duma West].
Boddhi Satva – Nankoumandjan
Afrikan Roots – Dance of the Tribe (feat. Tlokwe Sehume)
Black Motion (feat. Black Coffee & Xelimpilo) – Thamokuro
Black Coffee – Gardens of Eden
Da Vynalist, King Mshivo, Luyanda Makapela – Space Fantasy
At Savitri Bhavan Thursday 16 February, 5.15 pm ."To see a World in a Grain of Sand"Poems of Small ThingsReading and Flute by Gordon
Tonight at 8pm at Solitude Farm Ilhaam Project.
On Friday, 17th February. at SAWCHU- Bharatnivas Oddissi and Kathank Dance Performance by Rekha & her students
CAT10 on Tuesday, February 21st 4.30 pm with Discussion panel of Aurovilians from various backgrounds: Luigi (presentation), Marti, B, Louis, Jaya, Suzie
followed by an open dialogue with the audience on the relation between green city and green belt.
Friday 17th and Saturday 18th of February,At 8.00 pm at Bharat Nivas AuditoriumAUROVILLE CHOIRS AND ENSEMBLE IN CONCERT THE PEACEMAKERS
From 17th to 19th of February at 7.30pm at CRIPA in Kalabhumi – MY AUTOPSY , a poetic dark comedy by writer and performer Hamish Boyd, directed by Fif Fernandes, musical director Jonathan Walton .
Saturday, February 18th, 2.30pm at the SAIIER Conference Hall Auroville Campus Initiative (ACI) and Department for Further Learning of SAIIER invite us to the presentation of students who participated in
On Sunday 19th of February from 10am onward at Well Cafe in SveDame Hibiscus Art Festival.
If earnestly you say to the Divine « I want only Thee », the Divine will arrange the circumstances in such a way that you are compelled to be sincere.
The Words of The Mother, Vol. 14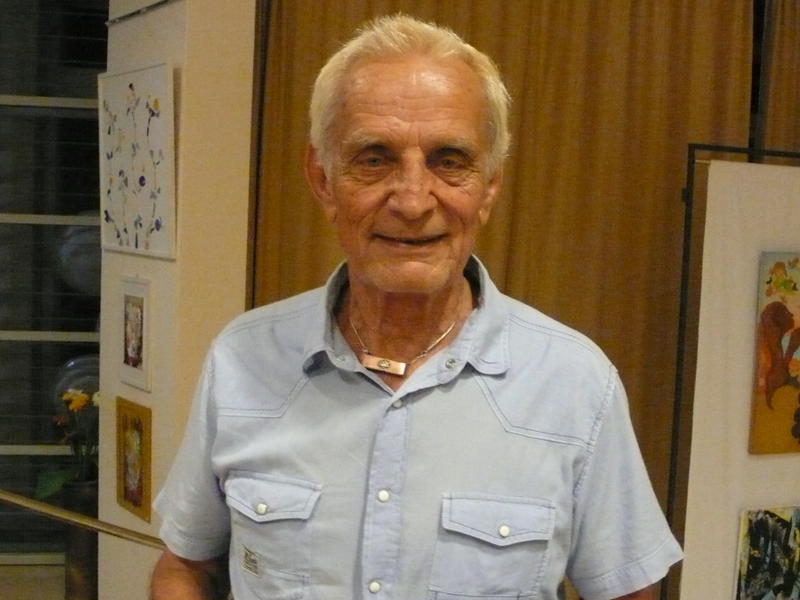 Frederick share about the early days in Auroville, his relationship with the mother and the land, the complexity and the joy to live the creation of the city the earth needs.

Through the art of the Architectural Instrument – A presentation of Paolo Soleri's theory of compact city design by David and Nadia (long term Acrosanti residents & friends of Auroville).
Sometimes the recording has a noise coming from the electromagnetic fields of the room, we apologize for it.
The science of the environment: Architecture's influence on health and well-being. Dr. Jan Golembiewski, a global though-leader on the link between architecture and neuroscience, discuss some of the mechanism at play and make recommendations on how we can make our homes and building healthier.
Yesterday early afternoon we had a chance to listen to Dr. Aunkh Chablala talking about the Core of African Spirituality – Consiciounsess and Energy and 13 Whispers.
Presetnation took place at International Zone at the space of Africa House, Pavilion of African Culture.
After the presentation was a time for questions and answers session.
Dr Aunkh Chabalala, Amen-Ra Institute and Infinite Earth, Pretoria, South Africa
We are cordially invited to attend Flag Hoisting Ceremony to celebrate the Indian Republic Day:
Thursday, 26th January at 8.15 am at the :Entrance campus space of Auditorium and Kalakendra Building.Bharat Nivas
Unity Pavilion, Friday Friday January 27th, 4 pm traditional African Medicines and its Role in Today's Health Challenges , A presentation by Dr Aunkh Chabalala
Sunday 29th January 4 pm at Unity Pavilion African Astronomy and Cosmology by Dr Aunkh Chabalala.
From 26th to 28th of January between 11:00 am and 6:00 pm at the Visitor's Centre, Auroville Auroville International Potters' Market
Visitors' Center, on Saturday 28th of Jan at 7:30 pm Jazz-Café ConcertPresents in collaboration with the Potter's Market"The funky side of life"
Saturday 28/1/17 at WELL CAFE. Love the dance floor 7.00 PM – DINNER8.30 PM TILL MIDNIGHT -Rock the show with D.J JESSE on the decks. Groovy beats to move your funky feet
Sunday January 29th or Monday January 30thAt 7 pm at The Matrimandir Garden of Unity we are invited to the "Man, sole awake …
On Saturday 28th and 29th January, 2017 (Saturday & Sunday)Time: Play starts at 7 pm at Adishakti TheatreMonkey and The Mobile
Sunday 29th of January at 4pm we can witness New Darkali Sports Track inauguration
Sunday 29th at 4pm at Skate Park near Dehashakti sports ground we are invited to inaguration of the new ramp brought from Aurovelo.
29th January at Solitude Farm at 8pm FUNKY DANCE MUSIC
Capoeira GINGA SAROBA FESTIVAL (27th to 29th of January)Open to regular practitioners only, 3 days of events….With the presence of Mestre Branco, Prof. Pezao, Pé de Bode, Inst. Cameleao, Pierre,… info 9488328435]
Consciousness is a fundamental thing, the fundamental thing in existence -it is the energy , the motion, the movement of consciousness that creates the universe and all that is in it -not only the macrocosm but the microcosm is nothing but consciousness arranging itself. …
SABCL 
Vol 22 236-37

The French movie director speaks about the making of her documentary Heritage Fight. It tells the story of the Australian Aboriginal tribe Goolarabooloo who fought against a company that intended to build the world's largest gas plant on the land they have been living on and protecting over millenia. Through a tight knit community culture and the practice of dreaming as a collective the Goolarabooloo managed to defend their holy land against corporate interest and destruction. Heritage Fight will be screened on Saturday, January 28 at 5 pm at Cinema Paradiso. Eugenie Dumont, the French director of the movie, will be at the screening for a discussion afterwards.
The event was organized by the French Pavilion.
An interesting interview with Aunkh H. Chambalala, who visited us this morning to invite us to the first of his talks. The talk will be on African Astronomy and Cosmology, and was scheduled for today at the Unity Pavilion.
Aunkh gave us an insight in ancient African knowledge of astronomy, cosmology, and affairs of life. Amongst others we were talking about today's youth, and his passionate involvement in education them.