Posts Tagged 'Food'
We did of VOX POP on water shortage in Auroville., trying to find out the level of awareness amongst the population.
Most are aware that we are facing sever water scarcity, and they do perform small steps to conserve water in their houses,
Somebody said. "…humanity tends not to look at the conservation until it is a disaster …"

A Korean boy and the American have more Incoment then what you think, Listen to our story and tell us what you think. Thank you hope you enjoy it

In this episode of The Auroville Film Festival, we talk to Tlaloc who is a part of the main team of AVFF. He moved to Auroville from Miami in the 70s and has been a part of various activities and projects in and around Auroville ever since. We discuss many aspects of the Auroville Film Festival including food, music and all the art installations, as well as the new advancements in the crowd funding process.

An interactive session with Mr. Anathoo at Sustainable Livelihood Institute (SLI)
– An activist with deep commitment towards sustainability and involved in setting up several amazing ventures related to organic farming including ReStore (www.restore.org.in),OFM (www.ofmtn.in) and Tula (tula.org.in), an orgnaic cotton initiative. He has also been recently involved with the anti-GM Mustard campaign as well as the force behind organising the National Seed Savers & Diversity Festival at Anna University, Chennai.
Mr. Anathoo clearly states how commercialization of the agriculture industry is literally poisoning our food and our lives. In his talk in SLI, he presented with some serious facts and figures clearly pointing out the trend the agriculture industry in adopting by allowing practices like genetically modifies seeds which is a great fraud to our nutritional needs but also encourages the culture of heavy fertilizer and pesticide use. He stresses on the urgency on the consumers to become aware and start demanding for standardized and organic produce which is not only healthy to human but also keep the natural cycle of cultivation in check which supports the entire biosphere connected to producing and harvesting crops.

The idea of showing people how harvesting, cooking and celebrating your food can lead to a balanced community living led to the '6 Days of Hundred Percent Exploration of Nutritional Security' Project at Solitude Farm last week. In this interview with Krishna, we discuss how it all began, food as much more than just a functional necessity and how important it is to honour mother earth and the soil.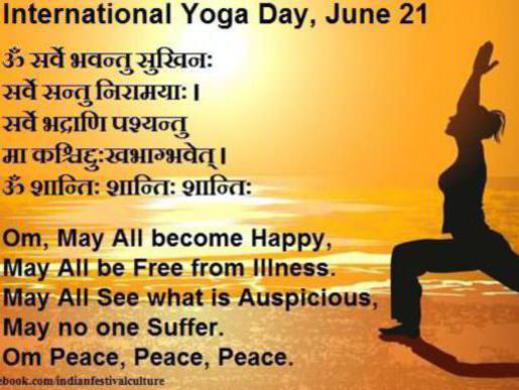 On Monday,19th June 4-5 pm we are invited to a Presentation at SLI. On re-design training process For Rural Development Institutes of Tamil Nadu Government..
International Yoga Day, Auroville, organized by Youth link includes whole Wedensday events, starting at 5.15am with Meditation & Surya Namaskar at Matrimandir Amphitheatre…
On June 24th – June 25th at : Unity Pavilion and Upasana Design Studio – DESI COTTON WORKSHOP AT UPASANA or Importance of growing local cotton seed varieties.
Acres for Auroville is happy to inform all its friends and donors that campaign donations have helped the Land Board in meeting the cost of the recent land purchase and exchange that brought 10.37 new acres in the immediate Greenbelt of Auroville at the end of May. 
Angeli's fabulous fundraiser! Sunday the 18th of June at 4:00 -6-30 pm at Mukta, Auroson, Amara and Milla's House in Certitude to raise funds fro Angeli's further education. You may contribute on FS# (10) 3432 .
Consciousness is not only power of awareness of self and things, it is or has also adynamic and creative energy .It can determine its own reactions or abstain from reactions; it can not only answer to forces, but create or put out from itself forces. Consciousness is Chit but also Chit Shakti.
SABCL Vol 22 page 234 , Sri Aurobindo

In the very early hours of morning 6th of June our Ethiopian friend and brother Tekeste B.G. Kidan Zerhanes quietly left his body in his flat in Courage, with his great-nephew at his side
Funeral will take place on .Friday, 8.30am, at Adventure's burial grounds.~ follow the flowers
Thank you, Tekeste, for your crucial persistence and drive.
The Auroville Council and the Working Committee inform us on daily operations at Entry Service
Water Group says : " So saving water is critical. It is NOT the time to plant anything new. It is NOT the time to refill your massive swimming pools. It is NOT the time to water the roads, as much as it helps to keep the dust down. It is NOT the time to water your lawns, or keep your ornamental gardens lush and green. It IS the time to prioritize your water usage, and have honest conversations within your communities about water usage in communal spaces. It IS the time to save water in every possible way, and to encourage respectfully others in the community to do the same."
We know the Divine and become the Divine, because we are That already in our secret nature.
Sri Aurobindo, The Synthesis of Yoga
Solitude Farm invites us on 12th of June to experience a week of eating food only grown in Auroville. Participants will be invited to learn how to use the local ingredients, will also be able to get involved with harvest and we will touch on how to make our own gardens and explore how to bring our community together to create change.
Auroville Institute of Applied Technology signed MOU with 6 companies in Tamil Nadu 
and Pondicherry to be partner, and consolidated industry stipend for 96 students under the Dual System of Training. That way Auroville youth have a unique opportunity to learn technology in various disciplines in the Dual System of Training at Auroville Institute of Applied Technology.
WC informs us that for the full month of June 2017, the Working Committee Secretariat will be open only in the mornings from 9:30am to 12:30pm
When you awake, you cross a line of no return, and you never see the world in the same way. You are still dreaming—because you cannot avoid dreaming, because dreaming is the function of the mind–but the difference is that you know it's a dream.
Don Miguel Ruiz