Posts Tagged 'Forest'
Internship and discovering this beautiful place are two of the many reasons many interns and volunteers come here and spend time at Mitra youth hostel where they get to meet a lot of architectural as well as designer students. In conversation with few of the interns, we get to know more about their life in Auroville.

Horses and Humans share a special relationship with each other through love and understanding. In conversation with Achilles and Mahi from Baraka and Priyamvada from Horse-Friends at Deha Shakti, we get to know more about the horses and their activities at the farm.

Yesterday, at the Sustainable Living Institute in Kottakarai was a workshop conducted as a part of a Reasearch program between Heriot Watt Univeristy, Findhorn Foundation College, Scene Connect, CSR, Buddha Garden and Auroville Consultancy. The workshop was meant to learn from the local farmers about the challenges and opportunities in the Tamil Nadu farming community.
This interview is with Micheal and Andrew who are visiting academics from Findhorn Foundation College and Herriot-Watt university. They are developing sustainable agriculture and energy conserving practices . They talk about the technology being tested here could potentially be implemented at a mass scale, and help drastically reduce the unbridled consumption of natural resources. The irrigation systems being developed could result in a 60% reduction in water consumption of irrigation, reduction in compost input, increase in yield and increase in nutrient content of the harvest.

Poppo Pingel is a celebrated architect, who came to Auroville in 1968 for the inauguration as the German delegate. In this interview, Pingel talks about his passion for archeology that stayed with him throughout his life, but found an outlet in Auroville. He describes his various findings from his very first excavation attempt to his recent discoveries as well as the challenges that accompanied them. Additionally, he discusses the archeological park he established (which is situated on Crown Road between Solar Kitchen and Visitors Centre) and explains why he chose to create a 'park' instead of a conventional historical site.

UNITING FOR AUROVILLE'S LAND – HIGHLIGHTS FROM THE RADIO
Auroville Radio brings you quick access to some of the special events held at the Unity Pavilion during February to raise money for buying Auroville's land. Mandakini, the original organizer of "Acres For Auroville" (A4A) and co-founder of its offshoot "Art For Land", is a dedicated full-time all-around worker for these large-scale fund raising efforts. She shares the latest results of the A4A campaign and the aims and results of the Art for Land auction. Mandakini tells us about many of the beautiful donors and about different solidarity actions for the land. She also explains the principles followed to make sure that the money donated to buy Auroville's land is never used for anything else. In this interview we feel Mandakini's deep, sincere, commitment to Auroville's growth, and we meet a beautiful soul, dedicated to serving the ideals of Auroville.
Auroville Radio has created a special web-link page for people who could not come to fund raising events. Click on the special web-link page below and you will have the links to give you immediate access to seven fund-raising events; three talks, three concerts, and an interview from the Unity Pavilion's February fund-raising program.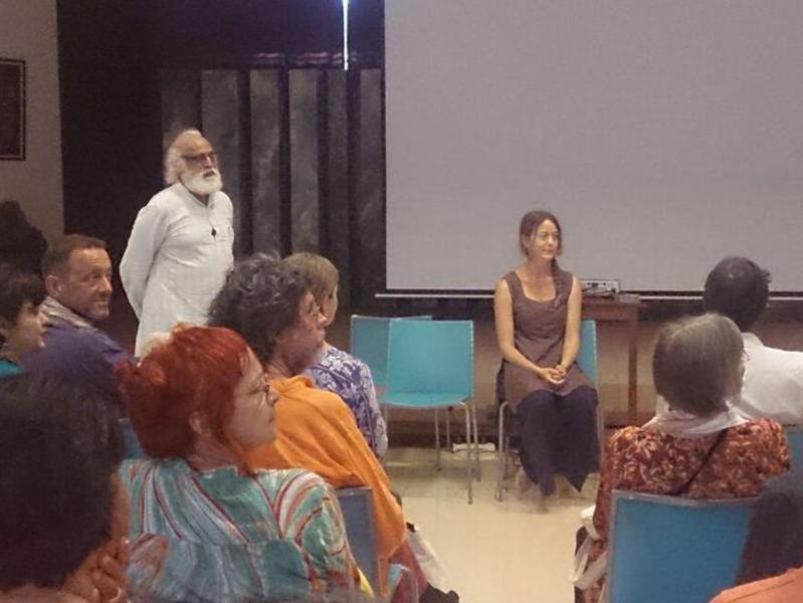 Anna Bohlmark, a film maker from Sweden is in Auroville, to experience Auroville and give an experience to people for Auroville through her film, Fog of Bwindi. It is a very heart touching short film, which is more of documentary of events which occurred in 1991, when the Uganda government decided (with the backing of World Bank) to convert the Bwindi forest area into a protected national park. And in order to make successful this decision, the government had to evacuate and literally remove the indigenous people of that region, the pygmies of the Batwa tribe. The national park is a big tourist attraction, paying 500US$ per person to observe and engage with the endangered species of guerrilla. The government completely undersighted the relationship of the Batwa pygmies who have inhabitated those regions for 1000's of years. The pygmies now find themselves, without their home nor land to basically survive upon. No help, support or rehabilitation plan was prepared for evacuation of nearly 6000 pygmies. Anna through her film, ventures deep into the lives of these unique and indigenous people to tell state of what occurred in their lives, when their own government abandoned them with any show or cause.
On the 20th December 2016 at Deepanam school the children of the Light class presented a play called "Auroforest" to a gathering of parents, friends and also students from the Transition school. The play and performance was absolutely heart melting.
Wednesday, 15th of June at 4.30 pm at SAIIER conference room (Lavenir invites the community for an open discussion on the Solar Kitchen roundabout.
Thursday, 16th of June at 5..pm in Pavilion of Tibetan Culture
"The true Stories of Volunteers" with Svaram and Insturment making in Auroville by SAVI.
Friday, 17th of June at 8pm at Visitors' Centre " Intimate Revelations" – Wazo Solo Show
Sunday 19th of June between 9 am and 4 pm at Auroville health Center a free Cardiology Camp.
The Divine gives itself to those who give themselves without reserve and in all their parts to the Divine. For them the calm, the light, the power, the bliss, the freedom, the wideness, the heights of knowledge, the seas of Ananda.
Sri Aurobindo