Posts Tagged 'GB'
The Working Committee informs that the next meeting of the Governing Board of the Auroville Foundation is scheduled for August 13 and 14.
The Working Committee share The former members of the International Advisory Council sent us the attached letter to all Aurovilians.
Water Groupn informs that we are in the worst Tamil Nadu Drought in 140 Years, Reservoirs 81% down. Auroville Water Table Falling at 50cm a month.
What each of us can do to save the water……
Wednesday 19th July at 5 pm Hall of Peace, Unity Pavilion Korean Tea Ceremony With Tea-master Jeong Ok. Kim from Korea together with Kyong Hyon Lee, Mi Kyung and Jeon.
This soul of desire is a separative soul of ego and all its instincts are for a separative slef-afirmation; it pushes always openly or under more or less shining masks, for its own growth, for possession, for enjoyment, for conquest and empire.
The Synthesis of Yoga by Sri Aurobindo

Presentations by working groups organized by the Working Committee for public review prior to GB and IAC meetings on 15 March. Presentations included: Auroville Theatre Festival, Volunteers and Interns, SVARAM Campus, New Era Secondary School, Koodam, Sustainable Livlihood Institute, Land Matters and Town Development. The audience offered many useful suggestions. Only the first part of Koodam is presented here; while the presentations for Sustainable Livlihood Institute, Land Matters and Town Development were not recorded.

In today's news we are featuring Lucas from Water Maintenace Service talking about water, and the drilling of new well next to "elephant tower" in Residential Zone.
Today inauguration of Teachers' Center at SAIIER at 4pm , later on two dance performances – at Adishkati Libertas – A dance performance from Korea
directed by Sin Cha Hong Performed by Sin Cha Hong and Young Ah Choi at 7pm , and at Sri Aurobindo Auditorium, Bharat Nivas, at 7pm
Pavilion of India, International Zone Yatra, a tribute to Odissi Dance beginnings.
The Big Bang on Sunday and Monday at Visitor Centre at 7.30pm.
O Lord, awaken in me an ardent desire to know Thee. 
I aspire that my life may be consecrated to Thy service.
– The Mother
Today at 4.30pm at Unity Pavilion, International Zone General Meeting with Auroville Council on Chennai festival, and Entry Service with updates on their work.
January 21st, 22nd and 23rd, 8 pm at the Visitor's Centre The Auroville Theatre Group invites us to their exciting new production of "The Merchant of Venice" by William Shakespeare.
Thursday 22 January, from 4-5pm at The Teachers' Center, SAIIER building an informal inauguration of the teachers' center, with a slide-show on education from the early years in Auroville.
On Tuesday 20th at 4.30pm at Solitude farm meeting regarding the volunteers' tax.
Any name, any form, any symbol, any offering has been held to be sufficient if there is the consecration along with it; for the Divine knows himself in the heart of the seeker and accepts the sacrifice. But still the greater and wider the moving idea-force behind the consecration, the better for the seeker; his attainment is likely to be fuller and more ample.

The Synthesis of Yoga , Sri Aurobindo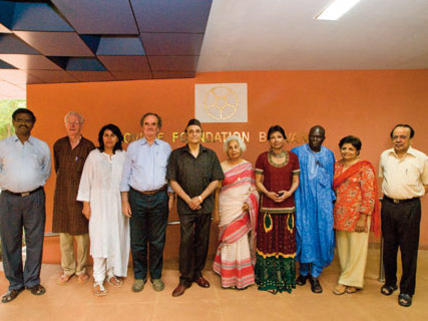 All the residents of Auroville are invited to two gatherings with the members of the Governing Board and the International Advisory Council to thank them for their continuous support to Auroville during the last two terms: Interaction with the GB/IAC on Saturday, 8 September, at 7.30 pm at La Terrace on the roof of the Solar Kitchen and silent gathering at the Matrimandir Banyan Tree on at 10am. On Saturday at 5.30 at Savitri Bhavan Ladislav Brozman on violin, Ahsaman at 7pm at Pitanga on classical guitar, Quiz Show at 8pm at Visitor Centre
Sweet Master of Love, grant that all my consciousness may be concentrated in Thee so that i may live only by love and light.The Mother
"Set Fire to the Rain"concert at Pitanga at 7.30 pm presented by Lisa, Holger, Martin, Matt, Jonas and Tina. On Thursday Morning at Multi Media Center in Town Hall Auroville Green Practice starts with three days hands-on workshop, plenary talks and sessions on Energy Positive Habitats with over 70 participants from Auroville as well from outside.Working Meeting of the the Residents on Thursday, 30th at 5pm at Unity Pavilion. The agenda of this meeting will be to work out and agree on specific changes to the proposed document.
Always keep in touch with the Divine Force. The best thing for you is to do that simply and allow it to do its own work; wherever necessary, it will take hold of the inferior energies and purify them; at other times it Will empty you of them and fill you with itself. But if you let your mind take the lead and discuss and decide what is to be done, you will lose touch with the Divine Force and the lower energies will begin to act for themselves and all go into confusion and a wrong Movement.Sri Aurobindo
Lights on Yoga