Posts Tagged 'Guests'
This program is about teenagers that travel the world ad perform. For the 11th time we had a chance to see performance of group of students of Creative School, based in South Korea. Children travel around the world, and try to learn, and interact with people, wherever they go.

A fundraising dinner had been organised at the Fun dimension restaurant in TLC(Traveling Learning Community), Auroville on 14th August, many thanks to the various restaurants and cafe which could make it possible. We had music and the theater performance by the kids. A short glimpse of it can be listened over here.
At Cinema Paradiso, we have a number of people coming to watch the movies where they spend their evenings delightfully. In this conversation with few of the participants, we get to know more about their liking to the cinema and in the end, we ask with a pinch of humor whether it would be good to bring snacks to the cinema, surprisingly most of us would want this place to be clean and kept just as the way it is for the cinema lovers.
From the last performance within Remembering Veenapani, a month long Festival at Adishakti we have witnessed Massive Vibe Live! concert.
As a ground breaking music production, produced and with lyrics by Queen Be.
The global tour "Perfect as You Are" they use powerful lyrics, music, magnetizing visuals and dance for a power packed performance. With lively sax, harmonica and hang solos, uplifiting percussion and stunning visual running throughout the show, bringing and atmosphere world-changing lyrical and visual magic.
And as the members saying they are the people of the world, who came together and claim their birthright to be powerful… to be of benefit to all.
Band
John – lead singer, YUK
George – sax, US
Pete – keys, UK
Niketa – dancer, Sweden
Arun – percussion, India
Vlad – harmonica, trombone, Bulgari, UK
Kyle – Visual, Asutralia
Crew:
Katharina Raysz – direction , Germany, US
Asaf Chenner – tour manager, Australia
Lizzie Keates – PR and live stream, UK
Sonic Omar – PR and social newtoworking, UK
Celine Smith – band manager, France, UK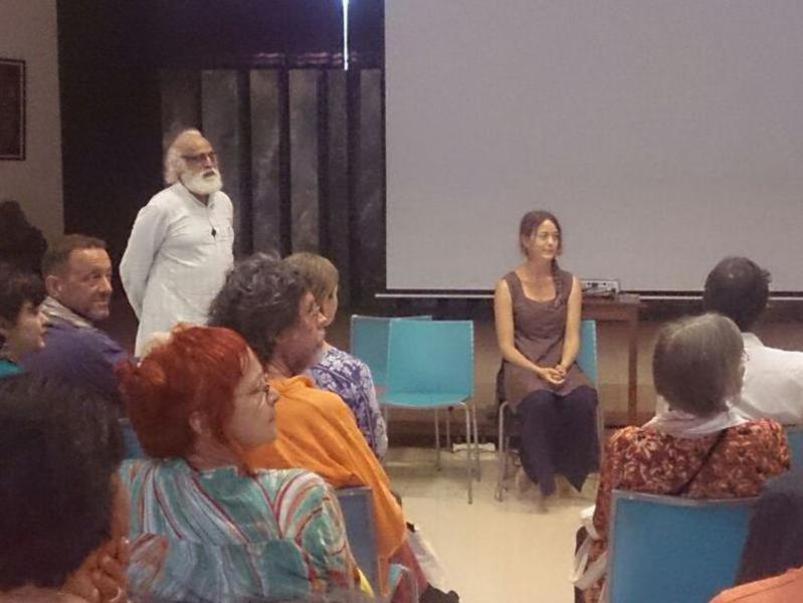 Anna Bohlmark, a film maker from Sweden is in Auroville, to experience Auroville and give an experience to people for Auroville through her film, Fog of Bwindi. It is a very heart touching short film, which is more of documentary of events which occurred in 1991, when the Uganda government decided (with the backing of World Bank) to convert the Bwindi forest area into a protected national park. And in order to make successful this decision, the government had to evacuate and literally remove the indigenous people of that region, the pygmies of the Batwa tribe. The national park is a big tourist attraction, paying 500US$ per person to observe and engage with the endangered species of guerrilla. The government completely undersighted the relationship of the Batwa pygmies who have inhabitated those regions for 1000's of years. The pygmies now find themselves, without their home nor land to basically survive upon. No help, support or rehabilitation plan was prepared for evacuation of nearly 6000 pygmies. Anna through her film, ventures deep into the lives of these unique and indigenous people to tell state of what occurred in their lives, when their own government abandoned them with any show or cause.
It is moving to see child's sincere and deep gratitude….it does touch one's heart…
And last night at Pavilion of Tibetan Culture in Internatinal Zone we have witnessed that by 15 children from Tibetan Children's Village who have stayed in Auroville for 6 weeks as exchange students. They have learned many new thing, they have been involved in daily life, even volunteered at the 10th AV Marathon, and more. Colorful exhibition with their products, pottery works, and with written letters from each of them clearly express it.
Part of what they have been doing, they presented: from humble invocation song to dance performances (where their playfulness on the transition to adulthood, showed that they are children, youth, as any other)
This year exchanges were fully supported by ex TCV students, Kalsang explained after the presentation.