Posts Tagged 'Human Unity'
This new segment features tête-à-têtes with Auroville Film Festival's key members. The episodes constitute master classes, cinematic analysis, and behind the scenes of the upcoming biennale.
In this episode (#1) Sasikanth, filmmaker, photographer and teacher visits the AV Radio studio to talk about how it all began, submission guidelines, the Educational Outreach Program and the importance of good cinema.

In today's news we are featuring an excerpt of interview with Paula Murphy on Auroville Women's Health Survey presentation on Thrusday 16th of March at 10.30am at SAIIER conference hall.
Thursday 16th of March at 4:30 pm at Unity Pavilon General Meeting regarding the TDC restructuring.
Friday 17th of March at 3.30pm at Unity Pavilion BCC is going to hold a General Meeting
On March 14th, from 4 – 5pm,At Bhavisyate, Bharat Nivas,Presentation of "Auroville Education Survey: 1968-2013"By Deepti and Suryamayi
Wednesday, 15th of March at 5pm at Kalakendra Art Gallery – Vedic Chanting in Sanskritoffered by the Members of YogaVahini School, Students of Sri TKV Desikachar, Chennai.
Within lectures at Universtiy of Human Unity at Unity Pavilion March Thrusdays at 7.30pm this Thursday "How do we humans communicate with each other, and with the universe? The Birth of Science, Arts and the Languages" by Dr. Sedhev Kumar
The Litter Free Auroville 2017 OPENING EVENING!
Friday 17 of March – 5pm
at Kalakendra, Bharat Nivas.
After I knew that God was a woman, I learned something from far-off about love; but it was only when I became a woman and served my Master and Paramour that I knew love utterly.
– Sri Aurobindo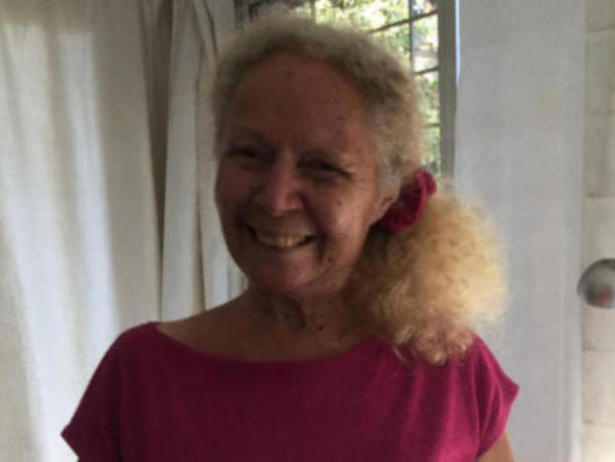 Bhaga arrived in Auroville in 1972 and since then has been a pioneering force in Auroville's various aspect. We met up with Bhaga, a day before her birthday which is on 23 February to chat with her and wish her best wishes for the coming year. In a delightful exchange of thoughts, Bhaga chose to speak more about her favorite topic 'Auroville' than her personal being. She speaks about her life in Aurovile past, present, future and deeply reflects upon what it means to have true collaboration between people who have come to Auroville, to manifest Auroville. Bhaga as always speaks her heart out frankly and courageously to not overlook her own participation in bringing the change in human consciousness. Many sweet memories of the past were also cherished and future aspiration mentioned, listening to her helps in going into deep awareness of presence of the divine and brings consciousness into our being, much like her work, workshops on cellular consciousness, Labarotary of Evolution or the publication of her books.
We wish many more delightful years to come for us, with Bhaga. OM!!!

The monsoon rains continue to fall, reported flooding areas in Chennai, here in Auroville its muddy roads with grateful greenery sprouting abundantly changing the customary route to our office to share an Off the Cuff on what we have been up to and what we observe and who gets to talk when.
To support Off the Cuff and the Auroville Radio please visit the page: http://www.aurovilleradio.org/donate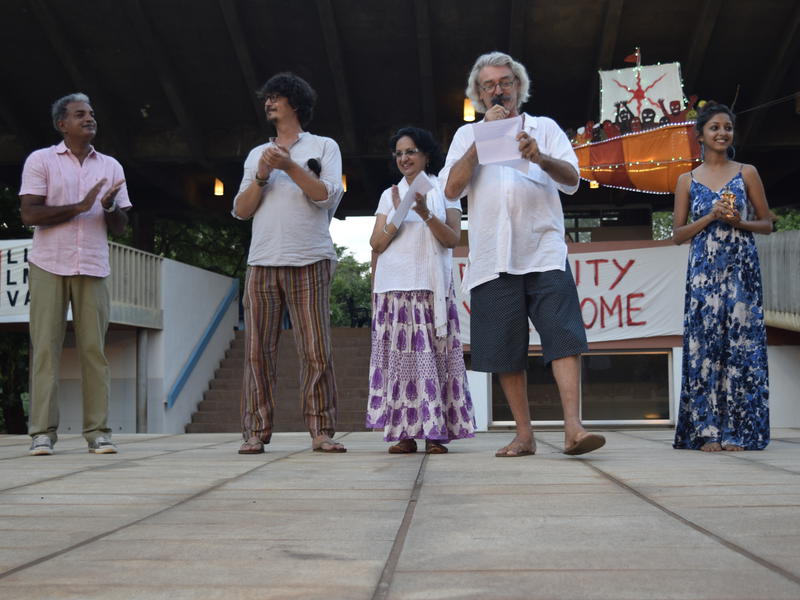 As the 2015 Auroville Film Festival drew to a close, Svaram drummers Marco and Tlaloc performed for the crowd and, with the help of jurors, gave the prizes in all four categories. The Drupad mime act kept the crowd entertained during the intermission, and the evening ended with the Tamil play of Yatra students which was interrupted by rain at the opening ceremony last Friday.
Creativity and passion for film and other art forms in the community is growing, as proven by the excellent films submitted by and about Aurovillians, and especially those created by students. Every festival gets better and better as the quality of the movies reaches new highs.
We enjoyed five days of interesting, funny and thought-provoking films, discussions on the theme of human unity. We have socialized, listened to brilliant music performances, and feasted on some good food. Thanks to Auroville Film Festival organizers, and all the volunteers!
http://aurovillefilmfestival.org/award-winners-2015
https://www.facebook.com/AurovilleFilmFestival/posts/1096111337065759
Contributing to Human Unity is the theme and of the Auroville Film Festival 2015 and every day there are moderated discussions, or round tables, discussing the films that are being screened in the category of films that develop the theme of human unity. These will happen every day at the SAIIER Conference Room between 2.30 to 3.30pm, from 3rd to 7th of October. This year Sasi, along with Suresh Jayaram, will be leading those discussions.
The following is the recording of today's round-table panel discussion where Phillipe Borrel, Mr. Ramanam, and Doris joined Sasi, and Suresh.