Posts Tagged 'india'
As every year, Aurovilians gathered at the Amphitheatre besides the Matrimandir at dawn for a collective meditation, in honor and memory of The Mother, the founder of Auroville.
This year, a reading was given from Mother's meditation; an event which took place between 2-3 in the afternoon, and in which she saw an undisturbed vision of the supramental consciousness, and how people travelled to and from that land on a great city-sized ship.
The dawn chorus accompanied the subsequent concentration, and the daylight seemed to appear as if from nowhere.
Christine. a French citizen is a guest at Auroville. Its only been two months since her arrival here and she feels so comforted at Auroville. She expressed that the climates in India and especially in Pondicherry and Auroville are quite amazing. She was in quiet amusement on how the place and people of Pondicherry and Auroville would be like, but the atmosphere here puts her amusement to an end and she starts enjoying the place. She is thankful to her friend who has invited her to Auroville and is glad to be a part of the Auroville community.
One should visit the Auroville to enjoy the climate and surroundings, she later added

Last night at Sri Aurobindo Auditorium, Bharat Nivas, Pavilion of India, International Zone we had a chance to listen to a collaborative stage performance hosted by visiting Yuhei Motoyama from Japan, with Grace & Terra, Oskar & Idoia, Prakash, Anandi, Tahir & Eric and more. The event itself was organized by Japan Foundation, New Delhi within ONE ASIA project – Bharat Nivas – Svaram.
As the evening was going on the rhythms were developing into a new story – dialog between different parts of the Earth.
An incredible energy that was released left numerous audience speechless.
https://en.wikipedia.org/wiki/Taiko
Today Andrea met with Manu, Yahalom, Chandresh and Dyuman to discuss the implementation and the use of the fiber optic network in Auroville.
In the coming weeks some testing will start at the AurovilleRadio/TV in order to provide live audio video content.
Some events happening in public buildings will be visible in a dedicated video channel.
Actually some schools and about 5 public buildings are served but this service will be enlarged soon.
The next phase of the fiber infrastructure is to connect some missing communities, other public buildings and later also housing settlements will be reached by the fiber.
In the coming 2/3 years around 500 residents may avail of the hi speed network and associated services.
The ICITI project was initiated by JV Avadhanulu and Chandresh Patel.
https://en.wikipedia.org/wiki/Optical_fiber
In today's news we are featuring Lucas from Water Maintenace Service talking about water, and the drilling of new well next to "elephant tower" in Residential Zone.
Today inauguration of Teachers' Center at SAIIER at 4pm , later on two dance performances – at Adishkati Libertas – A dance performance from Korea
directed by Sin Cha Hong Performed by Sin Cha Hong and Young Ah Choi at 7pm , and at Sri Aurobindo Auditorium, Bharat Nivas, at 7pm
Pavilion of India, International Zone Yatra, a tribute to Odissi Dance beginnings.
The Big Bang on Sunday and Monday at Visitor Centre at 7.30pm.
O Lord, awaken in me an ardent desire to know Thee. 
I aspire that my life may be consecrated to Thy service.
– The Mother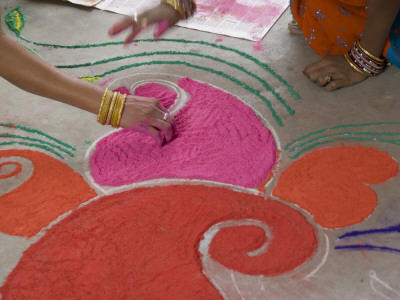 The Residents Assembly Service invites us tomorrow at 4.30pm, to the Unity Pavilion (International Zone), for a General Meeting on the Water Maintenance Service. The Entry Service invites us on Saturday at 3pm, also to the Unity Pavilion, for a brainstorming / work session on the different possible ways of being associated with Auroville. Today, the 8th Festival of Tibetan Culture starts, at 6.45pm, at the Pavilion of Tibetan Culture (International Zone), with a film on Milarepa. Tomorrow, at 7pm, TSAM will share a Cultural Dance performance with us. Also, Happy Pongal to all, from AurovilleRadio!
Our research will not be a search effected by'mystic means. It is in life that we wish to find the'divine." Mothers Agenda,
'