Posts Tagged 'international Yoga Day'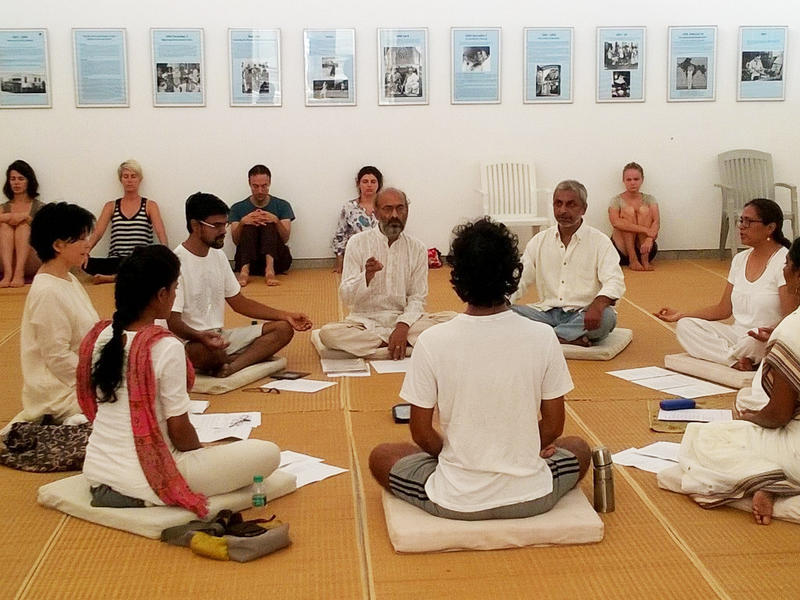 On the occasion of the third International Yoga Day (June 21st 2017), the Dakshina chanting group of Auroville brings you some sonic excerpts of their hour long Sanskrit shloka chants from Savitri Bhavan, Auroville, 7-8 AM.
Let's enrich ourselves and intensely aspire in the Light of Integral Yoga as we listen to Sri Aurobindo's Gayatri mantra and mantras dedicated to The Divine Mother — Devi Stuti and Aum Anandamayi and the beej mantra.
Om Namo Bhagavatey Sri Aravindaya.
Dakshina Chanting Group of Auroville received 12 weeks of 'Know Your Rhythm' training programme from Arnab B. Chowdhury before we went onto this special chanting session.
members of the Dakshina chanting group:
Aravind, Bom, Di, Hemant, Meera, Mona, Renu, Siddhartha and Arnab
Here are some sonic excerpts (3:22 minutes) from the Vedas, Bhagavad Gita and specific Mantras dedicated to Sri Aurobindo and the Divine Mother
On the occasion of International Yoga Day, I talk with Ashesh Joshi who released his new book 'Introduction to Integral Yoga' in Savitri Bhavan. In this interview, Joshi discusses why he felt compelled to pen this book, his work in Auroville and the world running workshops and finally, the power of Integral Yoga.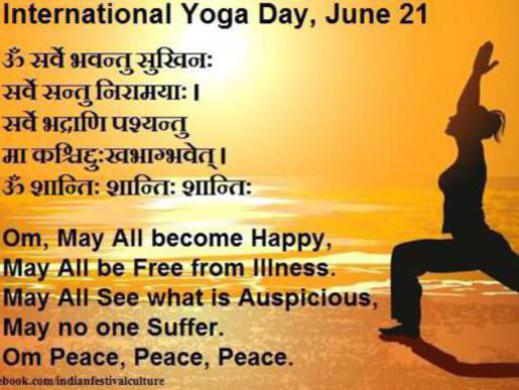 On Monday,19th June 4-5 pm we are invited to a Presentation at SLI. On re-design training process For Rural Development Institutes of Tamil Nadu Government..
International Yoga Day, Auroville, organized by Youth link includes whole Wedensday events, starting at 5.15am with Meditation & Surya Namaskar at Matrimandir Amphitheatre…
On June 24th – June 25th at : Unity Pavilion and Upasana Design Studio – DESI COTTON WORKSHOP AT UPASANA or Importance of growing local cotton seed varieties.
Acres for Auroville is happy to inform all its friends and donors that campaign donations have helped the Land Board in meeting the cost of the recent land purchase and exchange that brought 10.37 new acres in the immediate Greenbelt of Auroville at the end of May. 
Angeli's fabulous fundraiser! Sunday the 18th of June at 4:00 -6-30 pm at Mukta, Auroson, Amara and Milla's House in Certitude to raise funds fro Angeli's further education. You may contribute on FS# (10) 3432 .
Consciousness is not only power of awareness of self and things, it is or has also adynamic and creative energy .It can determine its own reactions or abstain from reactions; it can not only answer to forces, but create or put out from itself forces. Consciousness is Chit but also Chit Shakti.
SABCL Vol 22 page 234 , Sri Aurobindo

The Working Committee invites all Auroville residents to meet Mr. Chunkath, a new Auroville Foundation Secretary on Tuesday June 21st at 4 pm at the Unity Pavilion.
UN Interantional Yoga Day on 21st of June – "Yoga unites us with the Universal flow and connects us with our own personal rhythms. The discipline of yoga enhances our ability to respond to subtle cues that promote wellness. Peace becomes the natural environment of our relationships and our world," said Douglass Stewart, Cofounder of the Solstice in Times Square: Mind Over Madness . Celebrating in AV at Town Hall open stage in the morning from 6 to 7.45.
From 9am to 12 at Savitri Bhavan – an Introduciton to Integral Yoga by Ashes Joshi
From 5pm to 6pm at SAWCHU Yoga demonstration by students of Arulvazhi Education Centre
Above all the complication of so-called human wisdom there is the luminous simplicity of the Divine Grace ready to act if we allow it to act. Life could be quite simple and easy if man's mind did not introduce in it so many useless complications.
The Words of The Mother, Vol.14