Posts Tagged 'life'
Every had the feeling of not belonging to this planet ?? Well dont suppress your feeling as Yuvraj Kapadia explains about transpersonal regression. Yuvraj Kapadia is here for 3 days in Auroville to meet with Psychologists and therapists to create sharing. Sigrid had organized a meet for Aurovillians with Yuvraj in order for everyone to get an introduction what is and what can transpersonal regression do for a person. His theory of creation and the cosmos was very intriguing and even if doesn't necessarily agree with our normal logic but from the psychic sense, there is a lot that Yuvraj had to illuminate within us, a rare treat for students and practicioners of psychology to have a open dialogue with him. A true knowledge bank of all that there exist, he was quite casual in delivering, what would be, life altering facts for some people.
To contact or meet with Yuvraj you can contact Sigrid as she is facilitating him in Auroville as a guest. Also watch out for a exclusive interview with him in the radio to get deeper insights about deeper realms of our being.
Students from California Institute of Integral Studies is visiting Auroville to learn and share what it means to live Integral Yoga. A rich course of events have been planned for them to explore different aspects of Auroville and interactions are organized for mutual learning.
One such occasion was today when they were at Bharat Nivas engaged in a spiritual discussion which was very rich in knowledge and of deep insights. They are here for two weeks and its an opportunity for everyone in Auroville to have a unique kind of cultural exchange with students of the same subject, Integral Yoga, inspired by the same master Sri Aurobindo and carry the same aspirations.
Sunday morning searching for the expression of the Divine in Matrimandir. Soundscape takes us through park of unity, passing the banyan tree, climbing up to inner chamber, and back down to lotus pond … returning to shooting sounds of cascading water of the fountain…

Biologiste, professeur à l'Université Pierre-et-Marie-Curie et professeur au  Collège de France, Gilles Boeuf préside, depuis 2009, le Muséum national d'Histoire naturelle. Expert français en biodiversité auprès de la ministre de l'écologie.
 Gilles Boeuf raconte l'histoire de la vie, ce qu'est la biodiversité et combien nous en avons besoin, puisque nous sommes, nous-mêmes, issus du vivant. Il conte des histoires de Nature, source de beauté et d'harmonie. La Vie est une entreprise, hautement durable depuis 3,8 milliards d'années, et dont nous aurions bien besoin de nous inspirer pour que notre humanité survive. Pour cela, elle devra nécessairement se transformer, individuellement et collectivement. L'évolution de la conscience serait-elle la clé du changement pour arriver à « L'Homme après l'homme » ?
Tonight concert of Brighu Sahni filled up the room at Pitanga Cultural Centre with friends, and all those who were aspiring to an interesting evening of good music. In a playful tone Brighu brought up different styles of his musical voyage, calling them tuning. But in all was a subtone of mellow, nostalgic memory playing through versatility of guitar, so skillfully mastered by Brighu.
Bhrigu Sahni is an Indian Guitarist and Composer based out of Brooklyn, New York. A graduate from the Berklee College of Music, he has had the honor of playing with acclaimed artists such as Angelique Kidjo, Meshell Ndegeocello, Bollywood Songstress Shalmali Kholgade, Michael McDonald (Doobie Brothers), Karsh Kale and Pakistani Rocker Atif Aslam.
He is currently working as composer and guitar player with various artistes (Arooj Aftab/ Maddela,etc) in addition to being a highly coveted recording artist and composer for independent and commercial cinema. He firmly believes in music as a catalyst for social change and works with Dharavi Rocks and Make A Difference (M.A.D.), by teaching music to underprivileged and highly talented slum kids in Mumbai (Dharavi) and Pune.

In an interesting conversation with two girls – Ahilya and Namoi, first graders of Futures School, we find out how they see different aspect of life in Auroville. Since they have decided to perform community service within Future School curriculum for first week on Auroville Radio, we talk about the radio, its importance in the community, its recognition, and importance of communication in general. Further we hear how they, as Auroville students, see education here, and they also talk on life in the community, real values…
For his homeback after couple of years Rolf prepared concert on 21st of April at 8pm at Sri Aurobindo Auditorium, Bharat Nivas, Pavilion of Indian Culture in International Zone together with Matt on piano, Suresh on drums and Mishko on bass. Sooner or Later he named the concert which will be consisted of his compositions, and as such would be a highlight of his musical career. Going trough changes and transitions he also decided to change his area of work, and started to teach math at Transition School.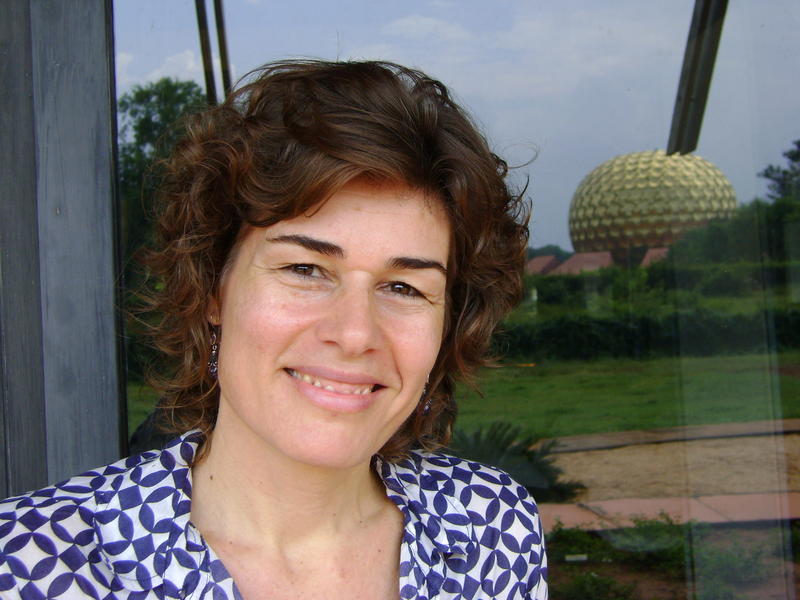 After recent evening of jazz standards we talk with Nuria, who is already an Aurovilian for almost 20 years. As she told us, that was the inner call, a strong connection with the Mother that brought her,and her partner here. Since music is her love, passion…life, Nuria is involved in projects or things that they got to do something with it. Music is to her also field of growth, and a spiritual experience. Beside leading the choirs children and adult's one she's actively involved in Kripa, which supposed to bring some more so needed space for the artist of three fields.