Posts Tagged 'Meeting'
{Art for Land Exhibition}
January 1st 2018 4pm Unity Pavilion
Acres for Auroville / Green Acres
On the 23rd of October a general meeting was held to discuss the topic of "code of conduct for all trusts and units of the Auroville Foundation". There was a good presentation along with many questions and doubts being raised.

Since a few months a movement has started in Auroville, a movement of reasoning and result.
A few community members have come together and are backing an initiative by the name of 'Exploring Prosperity'. The group made an introduction in one of the 'CAT' meeting. They shared an open letter which spoke of their agenda of work. They invited other community members to join this initiative. There was a signature campaign. On 17th Oct they organized a 1st gathering of all the people wishing to join this collective work. More than 40 people attended the meeting and selected an area of work to participate. The process was inclusive and involving, here the participants in groups shared what is their definition for Auroville Prosperity and then worked on pointing out what are the real obstacles in achieving this kind of prosperity.
the meeting ended with, group members self organizing their next steps and the path they wish to take as a collective to explore solution to all the obstacles realized during this exercise.
The Team is committed to re-allign Auroville to its original ideal and vision, and not focus too much on finding faults but investing energy in finding solutions which can bring prosperity to Auroville.
To contact the Exploring Prosperity Team, email on – exploringprosperity@auroville.org.in

85% of 222 residents voted YES to a proposed new Entry Policy, in a two-week voting process that ended at 2pm on Saturday, Sept 23., hereby the New Entry Policy is ratified.
Today 25th at 4pm at Unity Pavilion workshop by 50 team on 50th Auroville anniversary.
On Tuesday the 26th of September at 4.30pm at Unity Pavilion General Meeting on FAMC – updates, and Q&A session.
On Thursday 28th of September at 4.30pm at Unity Pavilion we are cordially invited to the launch of Auroville: A City for the Future By Anu Majumdar Published by HarperCollins India In conversation with Inge van Alphen & Mandakini Gupta Book release by Deepti Tewari Tea & Cake Books will be available courtesy Wild Seagull Bookshop With special thanks to the Unity Pavilion team
From step to step, from truth to truth, we shall climb ceaselessly until we reach the perfect realisation of tomorrow.
The Mother

5th Sept 2017 – CAT – ' Exploring Prosperity '
Auroville is approaching a landmark date, 50 years of existence. This is a wonderful opportunity to come together and celebrate our unity and resilience but is an even bigger chance for us to go into an introspection of where we are and what should be our route map for the future.
A group of Aurovillians have taken up the challenge to address core issues in Auroville, in areas regarding Human resource, services, commercial units, farms & forest, education, fixed assets and self governance.
The core team comprising of Pashi, Umberto, Luigi, Joseba and Giacomo with a support group of Anandi, Mita, Srimoyi, Rita, Paulette, Jaya, Romel and Mimansha.
Listen to the meeting as Pashi and group explore deeply into the Mother's actual original plan with facts and figures for developing Auroville – A city the earth needs.
The group identifies itself as 'exploring prosperity' and can be contacted at exploringprosperity@auroville.org.in . this is an open group and is open to all ideas related to steering Auroville onto a sturdy path progress and collective prosperity.
On the 26th August 2017 a general meeting was held at the Unity Pavillion to try to finalize the new draft for the Entry Policy. The main concerns seemed to be about the wording changes, which were Entry to Admission and Exit to Termination, which got resolved, and also what to do if the majority decide not to go ahead with the new policy, which also was resolved.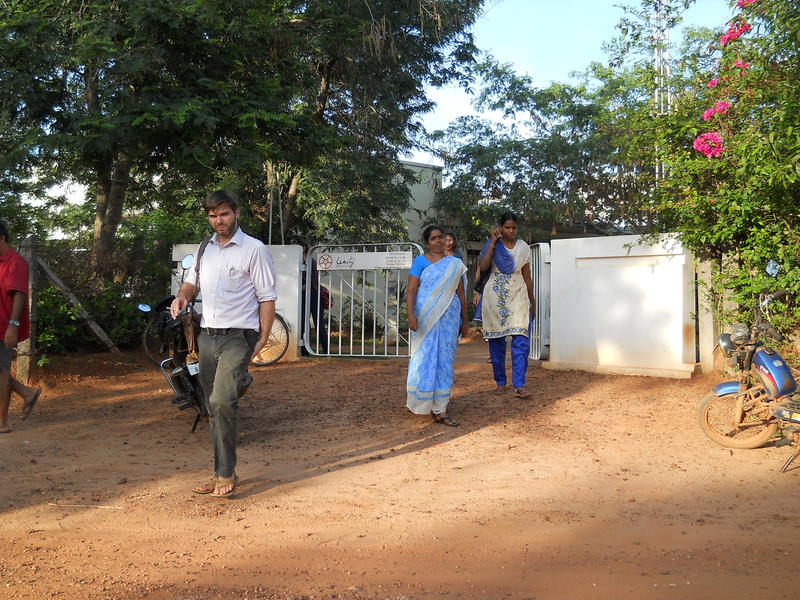 After the presentation at Unity Pavilion on GST held by CA. Rajendra Kumar P, (a practicing chartered accountant and senior partner of Sanjiv Shah & Associates, Chartered Accountants, Chennai, who is the Head-Indirect Taxation Practice of the firm) we stop some residents and ask their opinion about the new Goods and Service Tax for Auroville.