Posts Tagged 'Mental Health'
As the afternoon was going on the Blue Soul came on the stage. Kranti on vocal, Edoardo on guitar, Joel on bass, Peter/Robert on drums and Egmont on trumpet with some soft jazz pieces. Audience was getting numerous, and delighted by their perfomance.
At the same time tones of delicious food was cooked, giant butterflies were parading trough the Peaceful City, items were sold, games played, …performace of kalaripayattu and capoeira of Ginga Saroba……
Listen to Manoj Das, as he illuminates on the topic 'man in transition' which he redefined as 'transition with a difference'. Manoj Das was addressing the students from California Institute of Integral Studies, CIIS. Visiting Auroville to learn and share knowledge on different aspects of Integral Yoga. The students were in for a treat as Manoj Das, one of the greatest story teller in India was in mood to create deep insights and share remarkable candid moments from international history, most of which unheard of. The atmosphere was kept very light yet profound by the jovial speaker who in his own way, was feeding the curious students with information which suits their endeavor. A mixture of core science, philosophy, history, politics, spirituality, literature, psychology was served in manner of casual interaction, for which he must be truly appreciated. Manoj Das from the Ashram also shared his own personal journey, upto the point he is today in a very frank and modest manner. It was upto the listener to deepen his grasp because the flow of information was truly profound and inspired a spark of true wisdom. Only in Auroville, is this blend of all worlds possible, a true blessing.
Jazz music lovers have came on their expense last night at Cripa with the Jazz Night. Audience had a chance to hear some jazz standards of Joao Gilberto, Horace Silver, Bill Evans, Herbie Hancock…played by the visiting jazz guitar player Sid Jacobs, accompanied by "home" musicians Matt Littlewood on acoustics piano, Holger Jetter on bass and Srinath Srinivasan on drums.

In relaxing atmosphere of Solitude Farm we had a chance to listen last night to Mishko M'ba on bass and Matthew Littlewood on keyboards and sax . Beside that both are excellent musicians Mishko shared with us a bit of history of bass in jazz history, focusing on amplified jazz since 1952. Mishko and Matthew took us on a spoken and musical journey with evolution of the role of the electric bass in jazz
George Michael (Georgios Kyriacos Panayiotou), singer and songwriter, born 25 June 1963; died 25 December 2016
George Michael, who has died aged 53 of heart failure, was Britain's biggest pop star of the 1980s, first with the pop duo Wham! and then as a solo artist. After Wham! made their initial chart breakthrough with the single Young Guns (Go for It) in 1982, Michael's songwriting gift brought them giant hits including Wake Me Up Before You Go-Go and I'm Your Man, and they became leading lights of the 80s boom in British pop music, alongside Culture Club and Duran Duran. His first solo album, Faith (1987), sold 25m copies, and Michael sold more than 100m albums worldwide with Wham! and under his own name. 
Michael remained a major figure in the music industry even when his record releases slowed to a trickle in the later part of his career, and a loyal fan base ensured that his concert tours always sold out. However, from the late 1990s onwards he was beset by a string of personal crises and clashes with the law caused by drug use. He had always felt ambivalent about the demands of stardom, and found it difficult to balance his celebrity status with his private life. After years of concealing his homosexuality, he eventually came out in 1998, after being arrested for engaging in a "lewd act" in a public lavatory in Beverly Hills, California. 
tracklist
George Michael – I Can't Make You Love Me
George Michael And Mutya Buena – This Is Not Real Love
George Michael Duet with Mary J. Blige – As
George Michael – Spinning The Wheel
George Michael – Star People '97 (Live)
George Michael – Something To Save
George Michael – Precious Box
George Michael – Praying For Time
George Michael – To Be Forgiven
George Michael – They Won't Go When I Go
George Michael – John And Elvis Are Dead
George Michael – Killer – Papa Was A Rollin' Stone
Wham! – The Edge Of Heaven
Wham! – Club Tropicana
Last Christmas

This musical edition goes back in time, merging musical styles from funk, r&b, soul to hip hop… featuring some rare, and less known originals
tracklist
Slave – Just A Touch Of Love
GAZ – sing sing
Oliver Cheatham, Get Down Saturday Night
A Taste Of Honey – Boogie Oogie Oogie
C J & Co – Devil_s gun
Adriana Evans – Say You Won't
John Legen & The Roots – Our Generation (The Hope of the World)
D'Angelo – Left & Right
Ray J – Let It Go
Immature – we got it (featuring Smooth)
3LW ft P. Diddy & Loon – I Do
Dru Hill ft. Method Man – This is What We Do
Sylvia Striplin – You Can't Turn Me Away
Betty Wright – Clean Up Woman
Thief – Crazy
Curtis Mayfield – Diamond in the Back.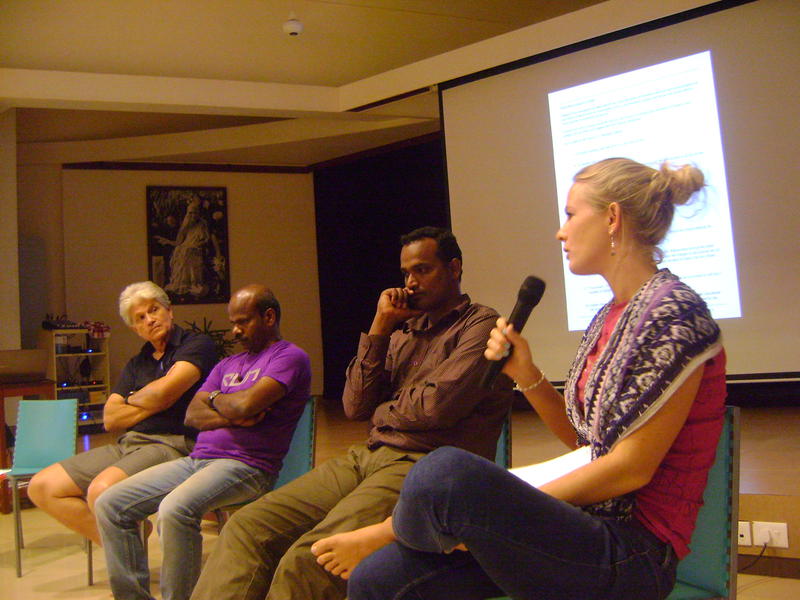 Yesterday's General Meeting on interaction with the Working Committee.
Members of the Working Committee gave an update on their work, with clarification on some subjects.

Well attended 2nd CAT (Create Auroville Together) yesterday at Unity Pavilion with the title "Where we are to Where we can be… " has brought forward some fresh and "new" ideas. Partialy meeting, partially barnstorming workshop in groups, has united different members of the community in the quest to look at our vital part of our life – economy.