Posts Tagged 'pollution'
SAVE WATER! Dear Community, We are facing a water crisis! The Water Group, AVC, FAMC, TDC and WC ask that you please
conserve water wherever you can! http://aurovillewater.in/for-aurovilians/
The Auroville Council and the Working Committee have formed a new team of Executives for the Matrimandir: Aurosylle (Reve) Eric (Courage) Hemant Shekhar (Creativity) John (MM Nursery) Jyoti Naoki Eri (Samasti) Louis Cohen (Citadines Vladimir (Grace)
The Residents' Assembly Decision-Making campaign on restructuring TDC has started.To participate in this process: 
– Voting ONLINE (use your personal link sent via RAS' mass mail on Saturday, May 13); or
– ON PAPER (vote forms have been attached to last week's News & Notes. Fill in the form, bring it to the RAS' office – Monday-Friday from 10 am to 12 pm up to May 26). 
Manual voting will happen on Saturday, May 27 at:
– PTDC between 9am – 11am;
– Solar Kitchen between 11am – 2pm.
The first AADHAAR registration camp will be held in Auroville from 24 to 30 May at the Auroville Foundation building..

The heart is in direct communion with the human soul, and when the heart speaks, even with the resistance of the head, something inside you changes; your heart opens another heart, and true love is possible.
Don Miguel Ruiz

The Low-Tech Lab, an initiative of young ingenious inventors working together to meet basic needs of humanity in a creative sustainable and environmental friendly approach.
One of the main focuses of Low-Tech Lab is working on a global collaborative research program and open-source documentation.
Their next step is to locate a suitable common ground for these inventors and engineers to gather and work together. Could this common space be offered by Auroville?
What is the Low-Tech Lab? Is it another business brand using trends such as "sustainable" and "environment friendly" to sell a product, or is this an innovative movement that wants to change the approach to global development?
Considering key words such as "do it yourself", "local manufacturing", "low environmental impact", "economic", "repairable", and "for all", how sustainable and environment friendly are some innovative inventions such as solar panels?
While working on technical solutions, how much do we ease our impact on the environment? Has Low-Tech Lab considered focusing on educating people to be more in tunes with nature?
A brief interview with Clement and Camille from Low-Tech Lab, and Mitia from Joy of Impermanence (Auroville).
"Your 5 minutes of attention can save the planet 500 years of decomposition time, WASH YOUR PLASTICS BEFORE YOU THROW"
Auroville is full of Culture, Education and Celebration, one of the few places on earth where not only we deal with our waste consciously but can create ways to have fun with it. Auroville radio met up with Palani and Kali who took charge of Ecoservice Unit from January 2016, keeping Auroville 'LitterFree' every single day.
In this program Palani and Kali share with us real-time facts and figures from last year, speak about the recent Kottakrai clean up campaign, share with us various myth and truths about the Ecoservice, draw comparison with their peers from Pondicherry, Villupuram and Chennai and bring our awareness to various DO's and DONT's that we can follow in order to minimizing "Our Waste" ending up in landfill. The Ecoservice was segregating the community waste into 60 categories last year, have now upgraded their process and are capable of segregating the total waste collected into 82 categories. No one else does that. The unit is working relentlessly and is coming up with unique and creative solutions to tackle the challenges of waste management. One of the main tools they are employing is to stop waste at it's source, by educating the community to make conscious choices in a way which will enable them to consume healthily and demand recyclable packaging for products. It can seem like just a job but what makes it successful is when your passion can make it into a challenge to do better. Encouraging the community to literally "talking thrash" to have a better future for all of us.
During the Litter Free Auroville 2017 Ribhu (from Wasteless) and Marc (from Upclycling studio) gave a very inspiring talk explaining the current waste management systems in our country and how it is affecting the environment. It started with a movie 'Trash to Treasure, about upcycling and recycling'. Then they talked about how it has become a need to change this system as soon as possible otherwise all of our lands are gonna be converted into a big dumpster. The talk was actively joined by many people.
The BCC has taken an initiative to hold open meeting with the members of the community, in their effort to make matters more simpler. The presentation speaks about the accounting performance for the year 2016-17 in comparison to the previous year, 2015-16.
The presentation was given jointly by members of Budget Cordination Commitee, BCC, which is a sub group of the FAMC, member from Human Resource Team, HRT, which is subgroup to BCC.
This is seen as a healthy move and generally in a good direction as during the presentation it was noticed, community members were able to share their grievances but also were able to seek relevant information, thus strengthening the notion of transparency of the systems.
Many suggestions were provided to the presenting group by the members attending the presentation which indicates such presentations act as a bridging instruments and should be encouraged. A major topic of the discussion was the status quo of maintenance and the policies surrounding it, a notion was passed around to have a study group formed which can formulate and help finalize maintenance policies which the community at large can comprehend and are in line with the ideals of Auroville.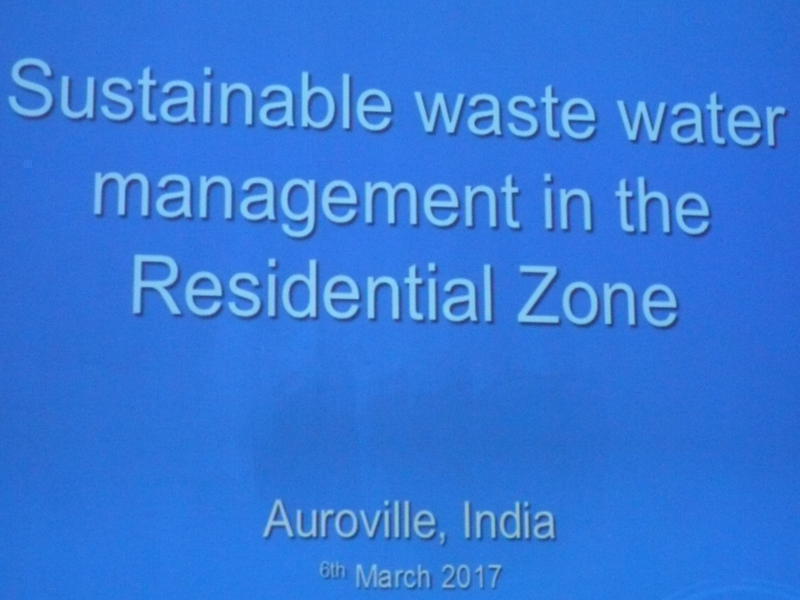 Monday 6th March we've recorded the debate on Auroville's Waste Water Treatment Plant International Meeting. This was the first time that waste water was handled collectively (for Residential Zones 1&2) instead of at the community level. The Town Developing Council shared information about the WWTP, including the route of the sewer lines, the dewat/vortex technology used at the plant how the purified water will be returned, about the laying of the pipes and the management plan of the WWTP. The TDC tryied to answer to concerns and questions the audience asked while we felt a certain amount of excitement in the hall.
The French movie director speaks about the making of her documentary Heritage Fight. It tells the story of the Australian Aboriginal tribe Goolarabooloo who fought against a company that intended to build the world's largest gas plant on the land they have been living on and protecting over millenia. Through a tight knit community culture and the practice of dreaming as a collective the Goolarabooloo managed to defend their holy land against corporate interest and destruction. Heritage Fight will be screened on Saturday, January 28 at 5 pm at Cinema Paradiso. Eugenie Dumont, the French director of the movie, will be at the screening for a discussion afterwards.
The event was organized by the French Pavilion.
This morning we had an interesting conversation with Dr. Amina Ather who is visiting Auvorille just for couple of days. During her stays she is giving workshop at SLI to women of rural Tamil Nadu. Her knowledge and rich experience are empowering women wherever she goes.
From the web:
Dr. Amina Ather , Presently working as Scientific Director, TSM (Traditional System of Medicine), Medizin Park Ruhr, Dusseldorf, Germany. Done her Bachelors in Unani medicine and Surgery,MD (Pharmacology – Clinical trial with single herb of Unani medicine, PhD ( Empowerment of Muslim women through green pharmacy) and MCA (masters of computer Application) . She Has been nominated for guinness book of records for creating database of medicinal plants from 12 countries and recoding photography digital source. Has been working in the field of TCAM since 2001 , has been awarded by ford foundation to create 24 entrepreneurs from zakat money . Has covered more than 700 schools and 300 villages in india and around the world on educating women in health education , she has 17 patents of herbals cosmetic products with halal certification , and 2 from FDA . At present she is working with Medizin Park Ruhr , Castrop Rauxel , Dusseldorf , Germany as scientific director for TCAM to develop opportunities for TCAM fraternity in academics , research and training in Europe with the support of EMA and EPMA (European Medical Association and Association for predictive preventive and personalized medicine).She would be the first unani physician to start her practice in Europe as a physician with the support of MPR.