Posts Tagged 'Projects'
How it feels when you finally 'realise' that this is what you've been looking for…
On Tuesday, 18th April 2017, SAVI hosted a volunteer presentation in Tibetan Pavillion, two volunteers Jyothirmayee and Mayank, working in "Kenji's Japanese Carpentry workshop" shared their life experience and how Auroville managed to give them what they have been looking for their whole life. They shared how they managed to deal with all the problems , how they managed to keep their basket full of questions aside and have an empty basket for answers on them. Jyothirmayee told a story how she felt magic happening when her 40 year plan started in like a snap. Mayank shared his love for wood, how they speak to him. After years of struggle inside out, they found something they have been looking for.
All you need to do for yourself is keep cleaning the stream of your flow and to put mind, body and heart in harmony and the magic will happen. This is how one can find that one "thing" they are looking for.
The applaud at the end of each talk spoke how everyone was so deeply touched by their stories.
What is the Low-Tech Lab? Is it another business brand using trends such as "sustainable" and "environment friendly" to sell a product, or is this an innovative movement that wants to change the approach to global development?
Considering key words such as "do it yourself", "local manufacturing", "low environmental impact", "economic", "repairable", and "for all", how sustainable and environment friendly are some innovative inventions such as solar panels?
While working on technical solutions, how much do we ease our impact on the environment? Has Low-Tech Lab considered focusing on educating people to be more in tunes with nature?
A brief interview with Clement and Camille from Low-Tech Lab, and Mitia from Joy of Impermanence (Auroville).
The Divine expresses itself in many ways….
water, in different forms, starting with a single drop, forming cascade in lotus pond, or a river stream; many droplets form a rain … and all leads into the ocean

Ok talks about how to make Auroville litter free by accumulating waste and using it innovatively. She talks about her workshop that involved making cushions out of plastic. In this interview Ok further talks about the idea behind Upcycling Studio, challenges faced and her aspirations.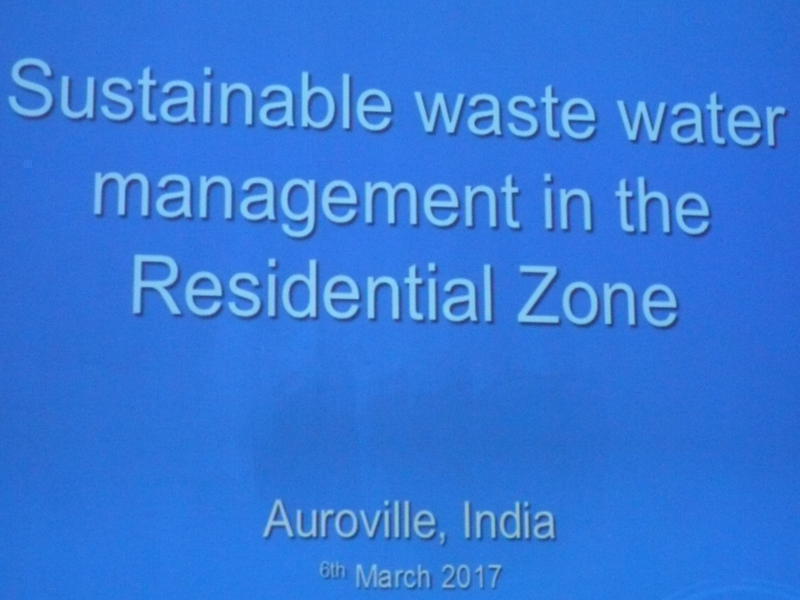 Monday 6th March we've recorded the debate on Auroville's Waste Water Treatment Plant International Meeting. This was the first time that waste water was handled collectively (for Residential Zones 1&2) instead of at the community level. The Town Developing Council shared information about the WWTP, including the route of the sewer lines, the dewat/vortex technology used at the plant how the purified water will be returned, about the laying of the pipes and the management plan of the WWTP. The TDC tryied to answer to concerns and questions the audience asked while we felt a certain amount of excitement in the hall.
ILHAAM is a fruit of an improbable encounter of an Israeli & Franco Lebanese. This meeting happened on a travelling circus for peace between Israel & Palestine. They combine world/pop/soul from their own kind with quantum electronics. The distinctive voice of Nina & the musicality of her partner Omri (multi-instrumentalist, beatbox, voice) create a sound that inspire us to dream & revolutionize our listening habits.
Sound produced and recorded by Joel
Through the art of the Architectural Instrument – A presentation of Paolo Soleri's theory of compact city design by David and Nadia (long term Acrosanti residents & friends of Auroville).
Sometimes the recording has a noise coming from the electromagnetic fields of the room, we apologize for it.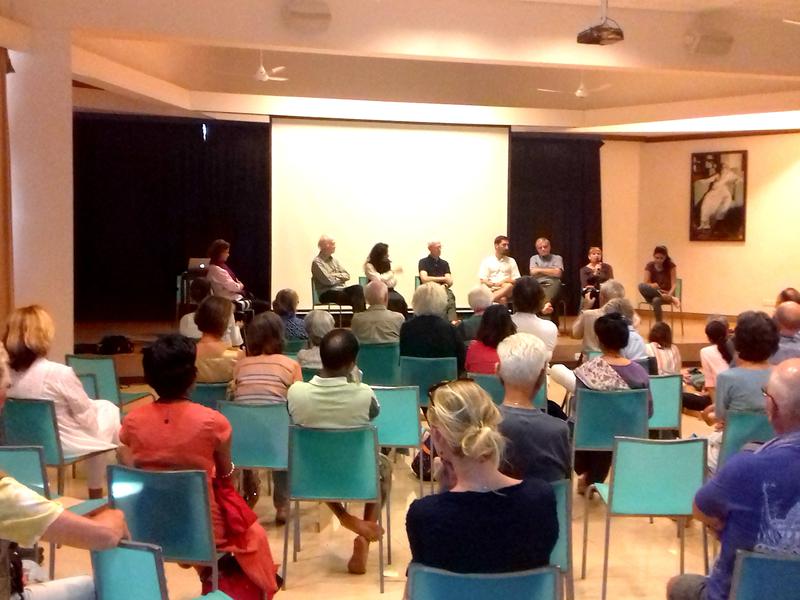 Tuesday 17th January at Unity Pavilion CAT 07 – it was about Auroville city plan with Anupama, Piero, Helmut, Toine, Judith Mandakini, Giacomo. The event was moderated by Anu and followed Q & A session.
Anupama was showing his city plan to the community as it was done by Roger Anger. After it was the time for questions about new plan and what Auroville need for many peoples who will come to visit the city.