Posts Tagged 'Projects'
This program is about teenagers that travel the world ad perform. For the 11th time we had a chance to see performance of group of students of Creative School, based in South Korea. Children travel around the world, and try to learn, and interact with people, wherever they go.

Some project holders made their presentations at Unity Pavilion in the presence of the new Governing Board proceeding the welcoming ceremony.
From Waste Management (using waste material to produce different objects such as chairs, cushions, huts and other things, and also segregating the waste), to Sustainability and Education. The idea is to focus on educating future generations and share our research with the world.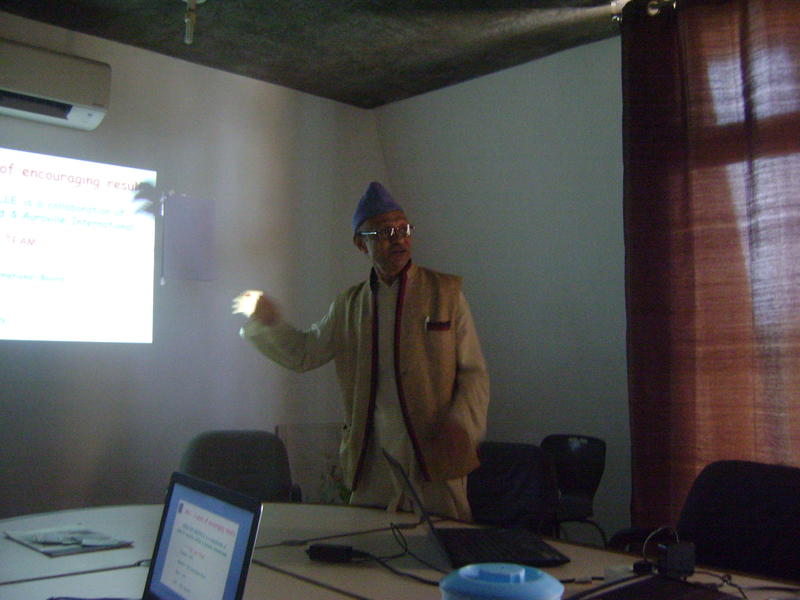 After three successful years, Acres for Auroville stepped into the 4th phase of its journey today on the 15th August, the auspicious day of the Independence Day of India and the birthday of Sri Aurobindo. We had a presentation for the Auroville's 50th birthday shown along with a healthy discussion amongst the Aurovillians and Aryadeep, Mandakini(who was available on Skype), Sigrid, Marco and Priya, on the land of Auroville.
Check out more on
https://www.aurovilleradio.org/uniting-for-aurovilles-land/

Shraddhavan, an author and Project coordinator at Savitri Bhavan talks about how things unfolded and brought her to Auroville, her initial days here, Sri Aurobindo's epic Savitri and a sweet message for the 50th Anniversary of Auroville.

We did of VOX POP on water shortage in Auroville., trying to find out the level of awareness amongst the population.
Most are aware that we are facing sever water scarcity, and they do perform small steps to conserve water in their houses,
Somebody said. "…humanity tends not to look at the conservation until it is a disaster …"