Posts Tagged 'Projects'
Ok talks about how to make Auroville litter free by accumulating waste and using it innovatively. She talks about her workshop that involved making cushions out of plastic. In this interview Ok further talks about the idea behind Upcycling Studio, challenges faced and her aspirations.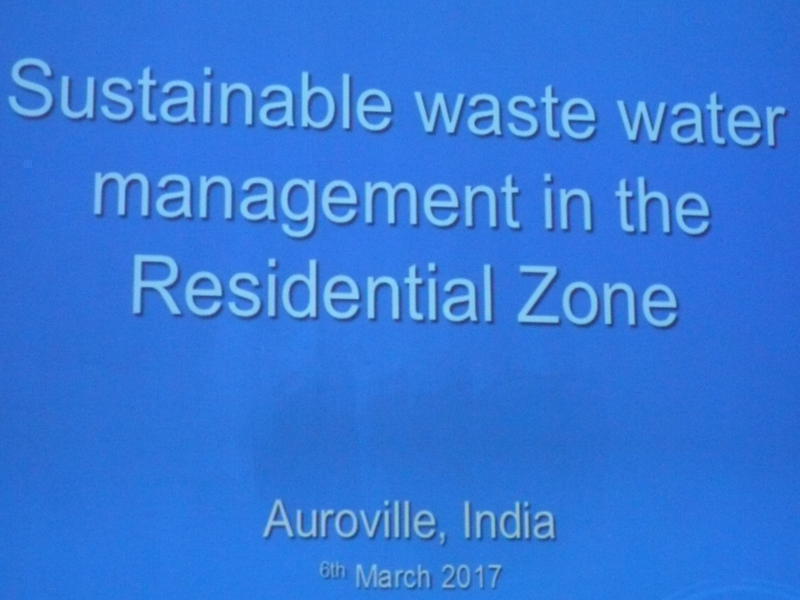 Monday 6th March we've recorded the debate on Auroville's Waste Water Treatment Plant International Meeting. This was the first time that waste water was handled collectively (for Residential Zones 1&2) instead of at the community level. The Town Developing Council shared information about the WWTP, including the route of the sewer lines, the dewat/vortex technology used at the plant how the purified water will be returned, about the laying of the pipes and the management plan of the WWTP. The TDC tryied to answer to concerns and questions the audience asked while we felt a certain amount of excitement in the hall.
ILHAAM is a fruit of an improbable encounter of an Israeli & Franco Lebanese. This meeting happened on a travelling circus for peace between Israel & Palestine. They combine world/pop/soul from their own kind with quantum electronics. The distinctive voice of Nina & the musicality of her partner Omri (multi-instrumentalist, beatbox, voice) create a sound that inspire us to dream & revolutionize our listening habits.
Sound produced and recorded by Joel
Through the art of the Architectural Instrument – A presentation of Paolo Soleri's theory of compact city design by David and Nadia (long term Acrosanti residents & friends of Auroville).
Sometimes the recording has a noise coming from the electromagnetic fields of the room, we apologize for it.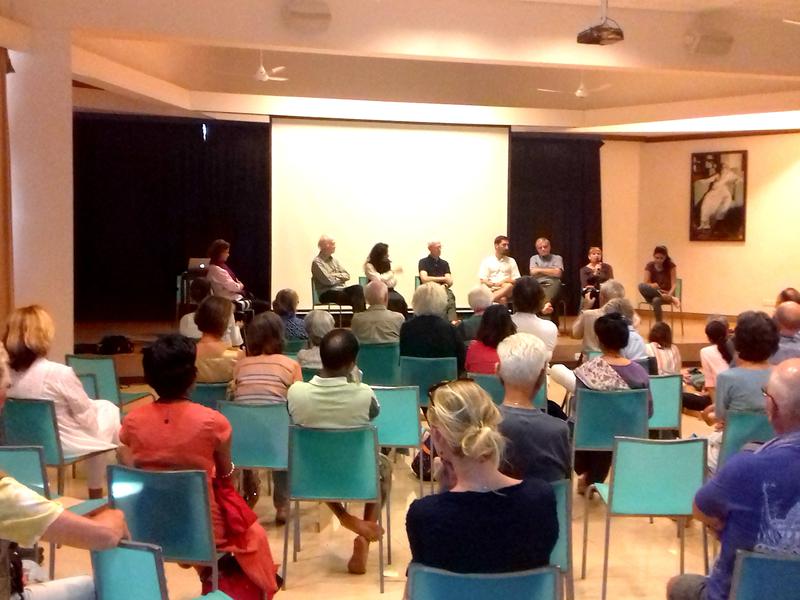 Tuesday 17th January at Unity Pavilion CAT 07 – it was about Auroville city plan with Anupama, Piero, Helmut, Toine, Judith Mandakini, Giacomo. The event was moderated by Anu and followed Q & A session.
Anupama was showing his city plan to the community as it was done by Roger Anger. After it was the time for questions about new plan and what Auroville need for many peoples who will come to visit the city.
Auroville architecture has been a source of inspiration for thousands of people, everyone visiting Auroville can only stare in astonishment and wonderment, how did they manage it?
Well today as a special orientation for the students visiting from California Institute of Integral Studies, Suhasini and Piero put together a marvelous presentation. It was an entire spectrum of architecture, Piero with his special insights on the early Auroville days and construction of Matrimandir and Suhasni with her sharing of the ideology and practice of her unit in creating architecture of Auroville that we see around us. Projects like, Matrimandir, Solar Kitchen, Visitor Center, Future School, Unity Pavilion were some of striking projects discussed in details by the two master architects.
This is a rare presentation, created by Piero with his collection of photographs which gives the real sense of the time when humanity as a whole embarked onto creating Matrimandir and eventually Auroville.
Eureka! Mankind has crossed yet another milestone in sustainable energy and all credit due to Solarus Solar.
A company set out to revolutionize the world with their patented innovative technology, which not only gives comparatively four times the solar output but is the only unique product in the market which can heat your water at the same time as producing electricity. We met with the Mr Leen Zevenbergen, CEO of Solarus Solar, who is here in Auroville doing their first ever installation in India. This historic accomplishment was made possible by enormous efforts and good will from Auroville Consulting and Sunlit Unit from Auroville.
It is very impressive to hear from Leen the core values on which this technology and his company is operating from, it goes to strengthen the ideology of clean energy and clean values.
The company was given a prestigious award 'Accenture Innovation Award' and were granted membership to the social stock exchange of London.
More details and contact info is available from their website www.solarus.com. Also joining the conversation are Nagarsammi, their representative in India and Jeron, who is working with Auroville Consulting.
Nipun! Just as the name means, 'a clever man', Nipun Mehta was like a Santa Claus with fresh ideas. In an introduction meet, organized by Manoj Pavitran and friends. The Participating Aurovilians got a treat this christmas when Nipus, whose name literally means Rishi, talking about 'Gift Economy'. As Nipun suggests, we have many kinds of capital amount, to trade and deal in, money need not be the only option. Nipun along with his wife and brother started an organization, leading successfully in the world, 'Service Space'.
The core principles of this organization are:
1. Totally volunteer operated
2. No fund-raising
3. Focus on small
He emphasis on the point of positive volition is what is required to create the desired ripple effect. When we create the correct atmosphere, the desired mind set within society can be achieved. The meet ended with a BIG group hug and people signing up for the 21 day kindness challenge. Smile cards and other positive symbols where distributed amongst Auroville as a gesture of love, for all of us to Pay-It-Forward.
Auroville congratulate's and acknowledges Satprem Maïni and his brilliant team as they have done the community proud by completing yet another project and this one in the most adverse condition, known to human civilization.
Not only did they complete this marvelous project, they have yet again proved to the community and world at large the possibility and advantages of constructing with Rammed Earth .
On completion of the project , the ' World Climate Change Summit ' gave a prize to 'Earth Institute' represented by Satprem and his team, "Green Building Award" for being a role model project, in meter of ' low carbon footprint' and 'eco-friendly' aspects of the project. For photos and more details about the project are available with the institute to explore.