Posts Tagged 'Recycling'
Ok talks about how to make Auroville litter free by accumulating waste and using it innovatively. She talks about her workshop that involved making cushions out of plastic. In this interview Ok further talks about the idea behind Upcycling Studio, challenges faced and her aspirations.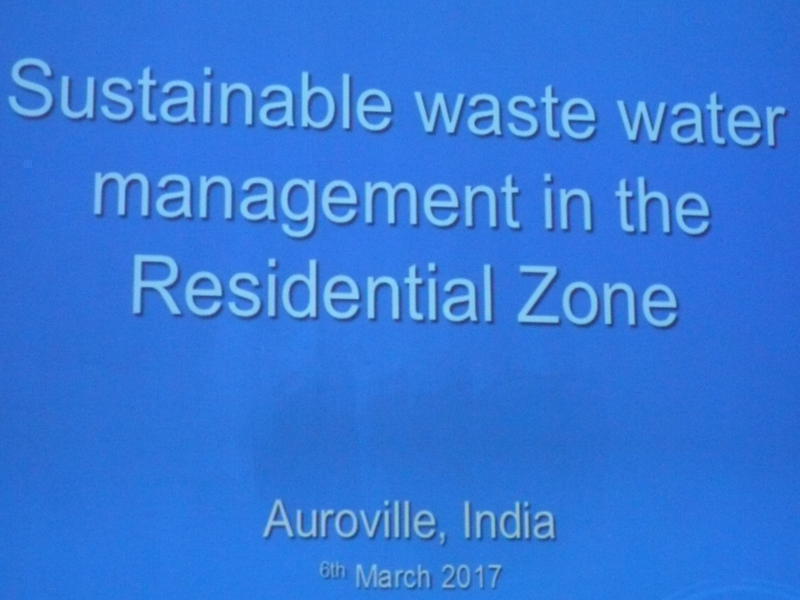 Monday 6th March we've recorded the debate on Auroville's Waste Water Treatment Plant International Meeting. This was the first time that waste water was handled collectively (for Residential Zones 1&2) instead of at the community level. The Town Developing Council shared information about the WWTP, including the route of the sewer lines, the dewat/vortex technology used at the plant how the purified water will be returned, about the laying of the pipes and the management plan of the WWTP. The TDC tryied to answer to concerns and questions the audience asked while we felt a certain amount of excitement in the hall.
Last night premiere of Vinu Karthick play Once Upon a River at Sri Aurobindo Aduitorium, Bharat Nivas, Pavilion of India once again proved that our community with its bioregion does have lots of talent. Further, collaboration with many of good will and creative ideas brings that extra flavor to the whole thing.
about the play
As Vinu says "It is eternal story, but with a twist" Oncde Upona a River is a playful comedy with lots of music , touching the areas of relationships with a pull between Love and Passion. For the twist one of the celestial beings Narad manage to create chaos with manipulative question – which is more essential for the perfect relationship either Love or Passion? ….. with the amusement of Narad chaos begins destroying the illusion on perfection…
at the end ….Happy End.
The play will be played also tonight and tomorrow night – 8pm at Bharat Nivas.
actors: Vinu Karthick, Chetan Kumar, Shilpi, Swar, Kalou, Sophie, Deep, Renana, Christophe, Shrey, Franzi, Siddharth, Natasha, Sethupathy, Hema, Satish, Prithvi, Yashoda, Kineret Lali, Mukesh Kumar 
original scores : Hartmunt Von Liers
singing coach: Shakti
festival music performed by Mohanam Sound Troopset
design: Swar, Ok, Christophe, Mukesh Kumar
lighting design: Jean L.sound and
video design: Franzi and Myrta
costume design: Tanya
stage manager: Maheshasst. stage managers: Sanjeevi and Gospelasst. director: Franzi
directed by Jill

Tony Radet presented a an interesting talk about his alternative energy projects and his experiences while volunteering in Sacred Groves.
The Avi International were invited on Friday 26th of February to visit Sacred Groves project which aim is to provides low-cost, low-maintenance, and off-grid ecological housing
The Unstitute has interviewed Melanie a volunteer at Eco Femme, a local start-up of eco friendly hygiene products for women, at Auroville Youth Centre's Chrismas Fair.
We have spoken about the ideas behind Eco Femme, their educational and outreach projects as well as worldwide awareness and the conscious application of the knowledge about the human effect on the environment, how we can control pollution more effectively through education and the necessity for a collective change which starts with the daily choices each of us can make personally.

Saturday 29th of August from 2pm to 5pm celebration of Auroville Botanical Gardens 15th Birthday
Sunday, August 30th at 4.30pm at Sankalpa Dome, International Zone, Book launch of Noel – Yarsolava's Flowers.
Friday 28th August at 5pm at Certitude inauguration of badminton court, at 5.15. Badminton Tournament starts.
Sunday 30th August between 10 and 11.30am House Warming of Aruoville Budokan – new Aikido dojo at Dana sports ground.
August 31st, at 4.30pm at SAIIER – Joy of Learning – Water Issues.
1st September at 5pm at Unity Pavilion we are invited for an informational meeting with Varuna team (including Michael Bonke)
1st September at 5pm at Pitchandikulam we are invited to a short presentation and discussion on the topic of What is the Global Ecovillage Network?
Saturday, 29th August. from 9am to 3pm at Savitri Bhavan , International Zone we can participate in one day workshop on Smart Water Management.
An aimless life is always a miserable life. Every one of you should have an aim. But do not forget that on the quality of your aim will depend the quality of your life.
The Words of The Mother, Vol.12
"I slept and dreamt that life was joy. I awoke and saw that life was service. I acted and behold, service was joy".
Rabindranath Tagore