Posts Tagged 'renewable energy'
In conversation with Suhasini Ayer, we get to know about how she chose Architecture as a subject to study, what brought her to Auroville, her upcoming project Humanscapes, young architects and the future of India and Auroville in terms of architecture.

A one day workshop organised by Auroville Green Practices at CSR which introduces participants to the Solar cells giving them an insight into solar installation along with the site visits at various places in Auroville.

In today's musical podcast we are featuring some of newly songs on the scene of pop, hip hop, dubstep….. dancable

tracklist
Two Friends ft. Cosmos & Creature – Out of Love
Cake – Never There
Teenagers – My Chemical Romance
The Score – Revolution
MGMT – Electric Feel
Fall Out Boy – Young And Menace
Kendrick Lamar – Humble
Jonas Blue – Mama ft. William Singe
Mura Masa – All Around The World
Lorde – Green Light
Mr. Probz – Till You're Loved
The Kooks – Bad Habit
Luis Fonsi, Daddy Yankee – Despacito ft. Justin Bieber
Autograf – Simple ft. Victoria Zaro
Gorillaz – Sleeping Powder
Remady & Manu-L – L.I.F.E.
Charlie Puth – Attention
Zayn – Still Got Time ft. PARTYNEXTDOOR
Drake – Passion Fruit
KREAM – Taped Up Heart ft. Clara Mae
Seizo – Oh, Baby


Yesterday, at the Sustainable Living Institute in Kottakarai was a workshop conducted as a part of a Reasearch program between Heriot Watt Univeristy, Findhorn Foundation College, Scene Connect, CSR, Buddha Garden and Auroville Consultancy. The workshop was meant to learn from the local farmers about the challenges and opportunities in the Tamil Nadu farming community.
This interview is with Micheal and Andrew who are visiting academics from Findhorn Foundation College and Herriot-Watt university. They are developing sustainable agriculture and energy conserving practices . They talk about the technology being tested here could potentially be implemented at a mass scale, and help drastically reduce the unbridled consumption of natural resources. The irrigation systems being developed could result in a 60% reduction in water consumption of irrigation, reduction in compost input, increase in yield and increase in nutrient content of the harvest.

SAVE WATER! Dear Community, We are facing a water crisis! The Water Group, AVC, FAMC, TDC and WC ask that you please
conserve water wherever you can! http://aurovillewater.in/for-aurovilians/
The Auroville Council and the Working Committee have formed a new team of Executives for the Matrimandir: Aurosylle (Reve) Eric (Courage) Hemant Shekhar (Creativity) John (MM Nursery) Jyoti Naoki Eri (Samasti) Louis Cohen (Citadines Vladimir (Grace)
The Residents' Assembly Decision-Making campaign on restructuring TDC has started.To participate in this process: 
– Voting ONLINE (use your personal link sent via RAS' mass mail on Saturday, May 13); or
– ON PAPER (vote forms have been attached to last week's News & Notes. Fill in the form, bring it to the RAS' office – Monday-Friday from 10 am to 12 pm up to May 26). 
Manual voting will happen on Saturday, May 27 at:
– PTDC between 9am – 11am;
– Solar Kitchen between 11am – 2pm.
The first AADHAAR registration camp will be held in Auroville from 24 to 30 May at the Auroville Foundation building..

The heart is in direct communion with the human soul, and when the heart speaks, even with the resistance of the head, something inside you changes; your heart opens another heart, and true love is possible.
Don Miguel Ruiz

The Low-Tech Lab, an initiative of young ingenious inventors working together to meet basic needs of humanity in a creative sustainable and environmental friendly approach.
One of the main focuses of Low-Tech Lab is working on a global collaborative research program and open-source documentation.
Their next step is to locate a suitable common ground for these inventors and engineers to gather and work together. Could this common space be offered by Auroville?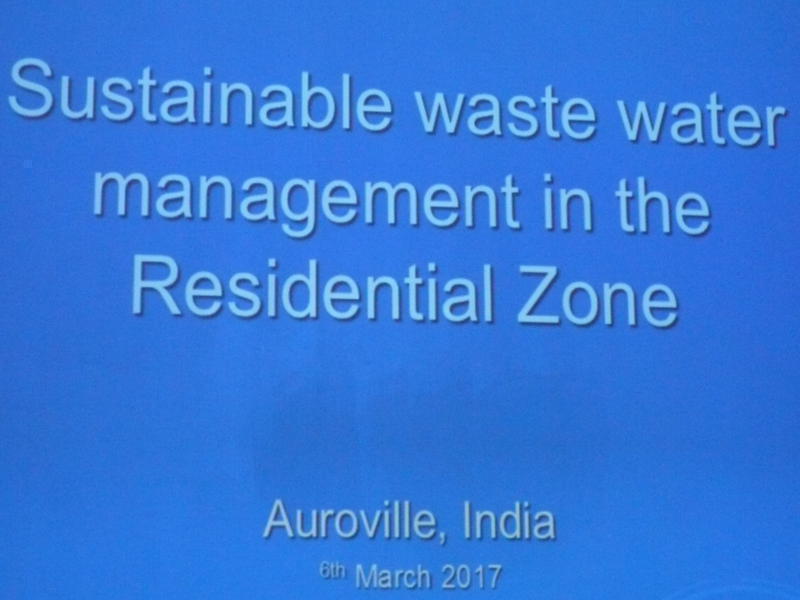 Monday 6th March we've recorded the debate on Auroville's Waste Water Treatment Plant International Meeting. This was the first time that waste water was handled collectively (for Residential Zones 1&2) instead of at the community level. The Town Developing Council shared information about the WWTP, including the route of the sewer lines, the dewat/vortex technology used at the plant how the purified water will be returned, about the laying of the pipes and the management plan of the WWTP. The TDC tryied to answer to concerns and questions the audience asked while we felt a certain amount of excitement in the hall.
Eureka! Mankind has crossed yet another milestone in sustainable energy and all credit due to Solarus Solar.
A company set out to revolutionize the world with their patented innovative technology, which not only gives comparatively four times the solar output but is the only unique product in the market which can heat your water at the same time as producing electricity. We met with the Mr Leen Zevenbergen, CEO of Solarus Solar, who is here in Auroville doing their first ever installation in India. This historic accomplishment was made possible by enormous efforts and good will from Auroville Consulting and Sunlit Unit from Auroville.
It is very impressive to hear from Leen the core values on which this technology and his company is operating from, it goes to strengthen the ideology of clean energy and clean values.
The company was given a prestigious award 'Accenture Innovation Award' and were granted membership to the social stock exchange of London.
More details and contact info is available from their website www.solarus.com. Also joining the conversation are Nagarsammi, their representative in India and Jeron, who is working with Auroville Consulting.
Tony Radet presented a an interesting talk about his alternative energy projects and his experiences while volunteering in Sacred Groves.