Posts Tagged 'SAVI'
23, 24, 25, 26 & 30 June and 1, 2 July 2017 from 6:30 am till 8:30 am and from 4:00pm till 8:30 pm Pudhucherry state level basketball tournament in Auroville at New Creation Sports Ground. The Auroville Basketball Family is organizing this event jointly with LOTUS and FRATERNITY basketball clubs from Pondicherry.
All are cordially invited to come watch the hair-splitting, nail-biting action!
Date: June 24th – June 25th 2017Venue : Unity Pavilion and Upasana Design StudioDESI COTTON WORKSHOP AT UPASANA or Importance of growing local cotton seed varieties.
Saturday the 24th of June at 5.30pm at Kamban Kalai Arangam (Pondy) Classical Indian dance (Bharatanatyam) performance by 7 dancers (aged 7 to 11) of one of the best Bharatnatyam School in Pondy, Ezhilar Kalaikoodam (whose guru, Sumati Sundar, used to teach in Auroville)
The surest way towards this integral fulfilment is to find the
Master of the secret who dwells within us, open ourselves constantly
to the divine Power which is also the divine Wisdom and
Love and trust to it to effect the conversion.
The informational General Meeting on guidelines, rules and regulations for Auroville Learning Activities (Alas) will be held in the Unity Pavilion on Saturday, 29th April, from 10am to 12pm.
Tuday, 27th at 7.30pm at Pavilion of Tibetan Culture KinGi invites us to a Poem Flow , an inner climate vocally performed.
On Saturday , 29th of April at 8pm at Pitanga An Evening of Classical guitar with Ashaman and special guest Vera.
On Firday 28th at 7.45pm at Bhavishyate, Bharat Nivas We are kindly invited to a special film projection" VELI" in the presence of Sashikanth, the Director.
Friday 28thApril – 6.30 pm to 9 pm behind Unity Pavilion SAVI team invites to *FOOD FUN FRIENDS* – volunteers putluck.
Saturday 29th April 2017 at 5 pm Cinema ParadisoThe French Pavilion presents "The nest of the wind: dystopian research" An exploration on living, utopia and dystopia. Conference Presented by Julie Beauté, student in eco-philosophy in Paris; only in French.
We are invited on Saurtrday 29th to Well Cafe at Sve Dame to a Reggae Night with dinner, movie screening of "Marley" 2012 and with DJ playing till midnight.
Issue 7 of  "The Squeak" , a magazine by the Media and Communications students of The Learning Community (TLC) kids aged 10-14, is out.
The integral Yoga is so called because it aims at a harmonised totality of spiritual realisation and experience. Its aim is integral experience of the Divine Reality, what the Gita describes in the words samagram mam, "the whole Me" of the Divine Being. Its method is an integral opening of the whole consciousness, mind, heart, life, will, body to that Reality, to the Divine Existence, Consciousness, Beatitude, to its being and its integral transformation of the whole nature.
SRI AUROBINDO


How it feels when you finally 'realise' that this is what you've been looking for…
On Tuesday, 18th April 2017, SAVI hosted a volunteer presentation in Tibetan Pavillion, two volunteers Jyothirmayee and Mayank, working in "Kenji's Japanese Carpentry workshop" shared their life experience and how Auroville managed to give them what they have been looking for their whole life. They shared how they managed to deal with all the problems , how they managed to keep their basket full of questions aside and have an empty basket for answers on them. Jyothirmayee told a story how she felt magic happening when her 40 year plan started in like a snap. Mayank shared his love for wood, how they speak to him. After years of struggle inside out, they found something they have been looking for.
All you need to do for yourself is keep cleaning the stream of your flow and to put mind, body and heart in harmony and the magic will happen. This is how one can find that one "thing" they are looking for.
The applaud at the end of each talk spoke how everyone was so deeply touched by their stories.
Friday 21st April, at 4pm at Unity Pavilion Closing session of 'Create Auroville Together 'to feel the resonance, the heartbeat of unity in diversity in action Cats TUNING TOGETHER with the guidance of the Russian Singing Bells …feturing an excerpt of interview with Cats reflecting where Sandyra invites us to this event.
Today, Monday 17 April, 4.30pm at Unity Pavilion The IZ Coordination Team will have a final discussion about the proposed construction of a 'European Temporary Pavilion'
Tonight at 7.30pm at Last School , near Kalabhumi The Three-Maskmen (and Where is Tamanna?) – comedy play written by Dyuman and produced by Last School students during the 2016-2017 school year.
Tuesday 18th April 6 pm at Pavilion of Tibetan Culture Savi invites us for Volunteer presentation "Kenji's Japanese Carpentry workshop" with Jyothirmayee and Mayank.
On Thursday, April 20 between 10:30 am and 12:30. Everyone is warmly invited to An Open House at Transition School .
TLC invites all to our open house On Friday 21st April from 3-6 pm at Base Camp (Dana).
Kindergarten on Earth – The Kindergarten is presenting a small exhibition of the works and photos of the children in mixed age groups who were offered a choice of activities on the topic of earth.
Every morning may our thought rise fervently towards Thee, asking Thee how we can manifest and serve Thee best.
The Mother

We invited Dominique to speak to the radio about her project SAVI and the circumstances for volunteers in Auroville. The zeal and passion for making a difference stands out while speaking with Dominique as she narrate's the challenges and opportunities volunteers possess while contributing to Auroville. She points out volunteers are an integral part of the Auroville story, "We have Auroville because of the volunteers efforts over the years". In this high energy exchange of ideas, she laid out various plans and ideas the community could adopt to safe guard their greatest asset, the volunteer workforce. In the recent past the change in visa policy of the Indian government has made things already tough for volunteers to freely come and participate in the Auroville experiment. She emphasis, the community too has developed some policies which make it difficult for the volunteers to imagine contributing to growth of the community. How have we reached a place where the volunteers are not only, not encouraged, but strangely are sometimes not even acknowledged for their unconditional giving. Recently she made a presentation in the CAT's program, underlining the exact amount of contribution the volunteers make towards Auroville's overall wealth. She has made some ground breaking discoveries and has also developed a detailed plan, to help the community reverse this situation of not being an ideal choice for volunteers coming from all over the world. Auroville belongs as much to them as to the people living here. With this strong determination to cause a break through, she will soon be initiating her LEAD project, to know more, support and contribute towards this endeavor you can contact her on
her email- dom@auroville.org.in
"when the going gets tough, the tough get going"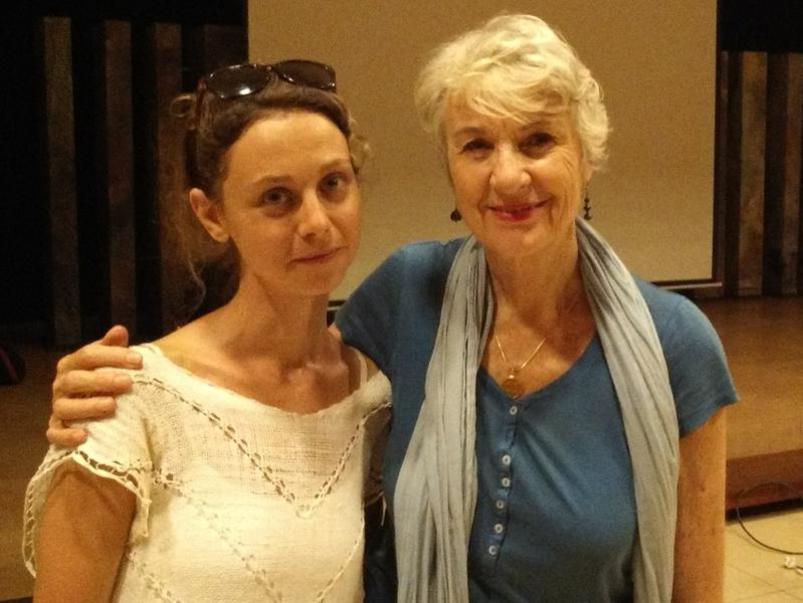 This CAT's meet (Creating Auroville Together) was on the most crucial topic to Auroville, which are the volunteers. As someone once said, without volunteers there would be no Auroville. And for this utmost important service of facilitating the volunteers, we have the SAVI service. SAVI had created this CAT's meet and gave a heart touching presentation on the workings of SAVI to support the volunteers and also an insight into the contribution volunteers are literally making into the Auroville lifestyle, with an underscore that they are being perhaps taken for granted rather than cherished. Who were the first set of Aurovillians, the Volunteers!
SAVI team through its members gave a presentation based on facts and figures about their day-to-day working and in a unique manner invited an entire array of real-time sharing from existing volunteers, something the audience could relate to. SAVI pointed out about the stringent rules of the visa process and also some of the rules of Auroville community are not so encouraging for volunteers. They with proper projections proved the actual accounted contribution done by volunteers which is more than 3.5 crores, and a question was naturally left imposing to the participating community members, why so are volunteers preferred lesser than visiting guest in terms of housing and contributions? In simple words why are the volunteers often found in hardships and how can we create resources which give the message of Auroville being a Volunteerland, WELCOME VOLUNTAIRE'.
To download the presentation PPT – click here
Tuesday March 21st, 4 pm at Unity Pavilion CAT 13: A Journey through Volunteerland – Facilitated by the Savi team.
Friday 24th & Saturday 25th March at 8 pm at Visitors Center The French Pavilion Presents- "THE MENTAL FORTRESS"A selection of French Texts from Mother and Satprem, read in FRENCH Onlywith Céline, Christophe, Frédéric and Vers'Haut Directed by Céline
Thursday 23rd, March at 3:30 pm at Bhavishyate, Bharat Nivas CIRHU
Aurovilian Conversations -"Michael on "Sustainable community building and the Joy of Impermanence"
On Saturday 25th March from 9 am to 6 pm opening of the model apartment
at Kalpana Housing Project
Litter Free Auroville 2017 on 25th from 9am to 12 "PICK UP" trash at KK and Ganesh Bakery area.
To see, know, become, and fulfill this One in our inner selves and in all our outer nature, was always the secret goal and becomes now the conscious purpose of our embodied existence.
Sri Aurobindo The Synthesis of Yoga
Frequency of the week | ECHO
Our soul is constantly working for us. She shows us the way and wants to inspire us. Often we don't listen, because the signals from the soul sometimes seem illogical. They don't fit within the boundaries of our thinking. This is what you experience when you feel something is going to happen, but you are not sure exactly what.
At a subconscious level you pick something up, something that you cannot explain within your head. That 'something' feels like an echo. It's the reflection of what your soul transmits to give you information about where you are right now. Echoes can repeat frequently or not; it all depends on where you want to go. That is why it's important to give your soul the right information. Tune into exactly what you want, what makes you happy and which people or situations will help you further. Just like a radio station, your soul will transmit the exact signal to you at the right moment just before you reach your next station.
The frequency of Echo gives you insight into which energy you transmit and when it will echo back to you.
Affirmation of this week: Echoes from the soul give me insight to what I transmit and receive.

Wednesday, 15th of June at 4.30 pm at SAIIER conference room (Lavenir invites the community for an open discussion on the Solar Kitchen roundabout.
Thursday, 16th of June at 5..pm in Pavilion of Tibetan Culture
"The true Stories of Volunteers" with Svaram and Insturment making in Auroville by SAVI.
Friday, 17th of June at 8pm at Visitors' Centre " Intimate Revelations" – Wazo Solo Show
Sunday 19th of June between 9 am and 4 pm at Auroville health Center a free Cardiology Camp.
The Divine gives itself to those who give themselves without reserve and in all their parts to the Divine. For them the calm, the light, the power, the bliss, the freedom, the wideness, the heights of knowledge, the seas of Ananda.
Sri Aurobindo