Posts Tagged 'Savitri Bhavan'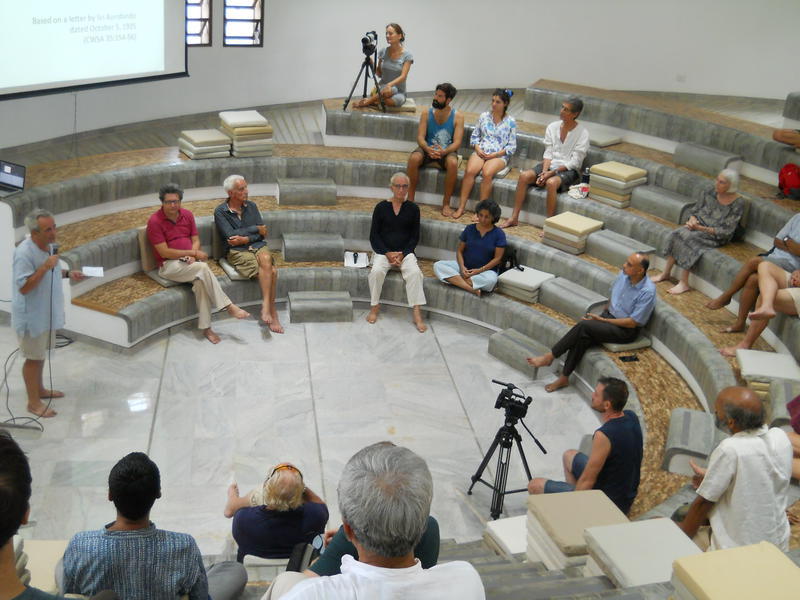 On International Yoga Day, Savitri Bhavan hosted a discussion on the importance and newness of Sri Aurobindo's Integral Yoga. In this fascinating segment, both Aurovillians and guests question and analyze Integral Yoga. Tune in for some enlightening insights.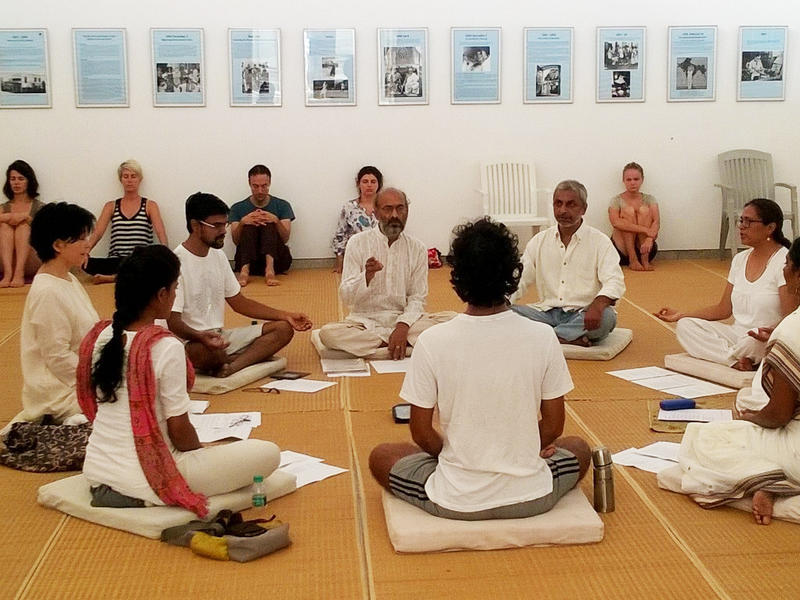 On the occasion of the third International Yoga Day (June 21st 2017), the Dakshina chanting group of Auroville brings you some sonic excerpts of their hour long Sanskrit shloka chants from Savitri Bhavan, Auroville, 7-8 AM.
Let's enrich ourselves and intensely aspire in the Light of Integral Yoga as we listen to Sri Aurobindo's Gayatri mantra and mantras dedicated to The Divine Mother — Devi Stuti and Aum Anandamayi and the beej mantra.
Om Namo Bhagavatey Sri Aravindaya.
Dakshina Chanting Group of Auroville received 12 weeks of 'Know Your Rhythm' training programme from Arnab B. Chowdhury before we went onto this special chanting session.
members of the Dakshina chanting group:
Aravind, Bom, Di, Hemant, Meera, Mona, Renu, Siddhartha and Arnab
Here are some sonic excerpts (3:22 minutes) from the Vedas, Bhagavad Gita and specific Mantras dedicated to Sri Aurobindo and the Divine Mother
At Savitri Bhavan, on the 15th December 2016, Divyanshi Chugh presented the third seminar of her ten seminar series on the Integrality in all Spheres of Life, the theme was poetry. She invited two guest speakers, Vladimir Yatsenko and Manohar (Luigi Fedele) to share their experience and knowledge of Savitri.
Divyanshi Chugh presents the first session of a seminar series at Savitri Bhavan, which will cover Integrality in all Spheres of Life. This weeks theme was Integral Philosophy based on the handouts by Matthys Cornellisen, Indian Psychology Institute, Pondicherry.

While Susheela was on her usual morning ritual of grooming the plants outside Town hall, I had an opportunity to hear her story of how she came to Auroville and she opens up on how happy and contented she is here.

Une introduction sur la vie de notre chroniqueuse Gangalakshmi et son parcours à Auroville.

BHAKTI POETRY IN MUSIC AND DANCE
24th March, 2016
Savitri Bhavan
A mesmerising performnce by Gordon Korstange on South Indian Flute, Joel Eisenkramer on Hindustani Slide Guitar and Madhumita Padnaik is improvised dancing to the narrative of the poetry read in English during the performance.
Bhakti movement refers to the theistic devotional trend that emerged in medieval Hinduism. It originated in the seventh-century Tamil South India (now parts of Tamil Nadu and Kerala), and spread northwards.
The meaning of the term Bhakti is analogous but different than Kama. Kama connotes emotional connection, sometimes with sensual devotion and erotic love. Bhakti, in contrast, is spiritual, a love and devotion to religious concepts or principles, that engages both emotion and intellection.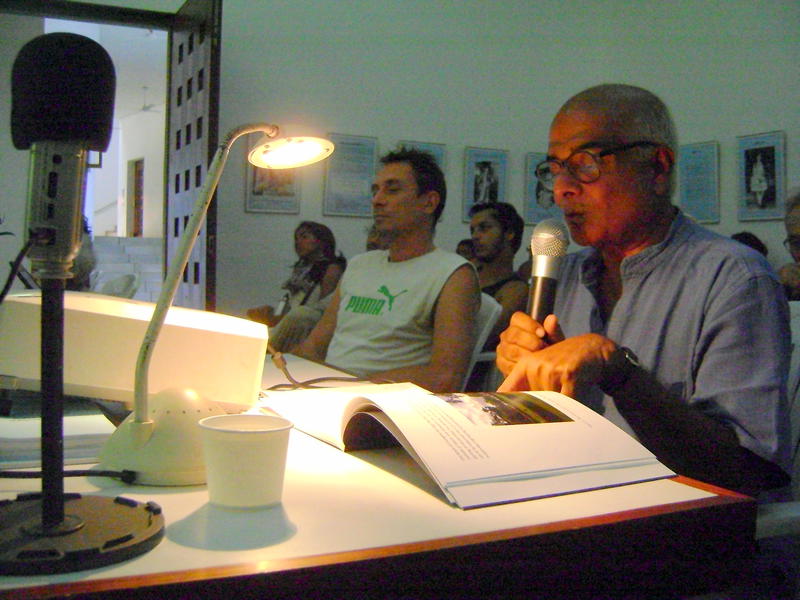 Yesterday's talk on 'Buddhist Building Traditions for sustainable living in the ancient city of Anuradhapura, Sri Lanka', at Savitri Bhavan by Dr. Satyajit Ghosh witnessed the usual enthusiastic response from the Auroville Community of Architects, students, volunteers and people related to water resource management and energy mobilization in built-up spaces. The talk was dedicated to the memory of Nirodbaran, who had Buddhist origins and mentored Dr. Ghosh's sadhana up to the end of his life.
Dr. Ghosh introduced the ancient city of Anuradhapura with one of his favorite quotes 'Architecture is inhabited sculpture.'
Anuradhapura was established as the first capital of Sri Lanka in the 4th century BC and continued to remain so, for nearly ten centuries. The study showed the comparison between the schemes of natural ventilation in the dormitories of the Jetavana Vihara and the Great Brazen Monastery, which were monuments of high historical significance. Other than being UNESCO acclaimed world heritage sites, The Great Brazen Monastery is arguably the world's first sky-scraper, built in 100 BC and which could be also considered the first example of 'Proportionate architecture' (61 x 61 x 61). The study included detailed research on how the Buddhist architects of one thousand years ago assured the comfort of the monks of Anuradhapura through the control of air and water flow through the buildings. The fact that the city won fame for being the pioneer of hydraulic air-conditioning in the ancient world was proved through his in-depth technical research. The connection between micro physics and architecture was then elaborated by Dr. Ghosh. The study also threw light on the Envimet simulation software developed, where the latitude and longitude details of a location could generate the required solar transmission and other wind details of the place. Further explanation was on another system used for determining thermal comfort – PMV (Predict Mean Vote), which concluded that the Jetavana Vihar was a building of a relatively low thermal mass compared to the Great Brazen Monastery. The tremendous efforts and the intelligence of the Buddhist architects was highlighted through the study of water reservoirs and their linkages across Anuradhapura, as well.
The 75 minute talk culminated with a Q & A session and the research published in the form a book – 'Idioms of Sustainability in ancient Anuradhapura' was kept open for purchase, with the leads contributed to Savitri Bhavan.
Residents Assembly Service invites us tomorrow any time between 10am to 4pm to a room warming of their new space in Town Hall on 1st floor. Otherwise they will be in that room for us Monday to Friday, 10 am – 12pm, 2 pm – 4 pm or by appointment.
On Friday 22nd at 4.30pm Adil invites us again to Savitri Bhavan, International Zone for reading of your favorite passage of Savitri amongst his free-standing painted panels on Transformation Series.
UnLtd Tamil Nadu is now a "Resource Partner" for Startup Weekend Social Innovation, the first Startup Weekend event focused on social enterprises in India. The program will take place from 29th May to 31st May in Bangalore. http://www.up.co/communities/india/bangalore/startup-weekend/5097. For questions and ticket or housing requests, please email Nelson at community@unltdtamilnadu.org