Posts Tagged 'Solitude Farm'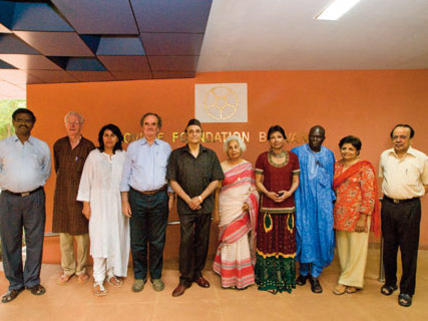 All the residents of Auroville are invited to two gatherings with the members of the Governing Board and the International Advisory Council to thank them for their continuous support to Auroville during the last two terms: Interaction with the GB/IAC on Saturday, 8 September, at 7.30 pm at La Terrace on the roof of the Solar Kitchen and silent gathering at the Matrimandir Banyan Tree on at 10am. On Saturday at 5.30 at Savitri Bhavan Ladislav Brozman on violin, Ahsaman at 7pm at Pitanga on classical guitar, Quiz Show at 8pm at Visitor Centre
Sweet Master of Love, grant that all my consciousness may be concentrated in Thee so that i may live only by love and light.The Mother
Emergence band a community started by Krishna McKenzie in the international township of Auroville, South India. They live a dynamic, alternative lifestyle, growing their own food, creating buildings in natural materials, and running an organic restaurant. They promote active sustainability, giving workshops and hosting like-minded volunteers. And last Friday (31th of August) Krishna gave a live solo performance at his own farm during the rainy night. The rain did not stop Krishna and the audience from having fun in the kitchen of the farm.
This afternoon at 5pm at Unity Pavilion in International Zone we are invited to a General Meeting take 2 – Admission and Termination Regulations, and the agenda of this meeting is to discuss with Mr. Bala Baskar the compiled RA feedback and agree on a way forward. On Saturday at Visitor Centre at 8pm we can test our knowledge of Auroville Trivia against the celebrity teams at the Quiz Show brought to us by Genius Incorporated Production. On Monday the 27th of August At Pitanga Cultural Centre we can listen to a "Set Fire to the Rain"
Remember always the Divine and all you do will be an expression of the Divine Presence.The Mother
In today's news we feature interview with Bridget form L'AVenir d'Aurovile / TDC reflecting on Mr. Doshi three days meetings and interactions with the working groups and Aurovilians…Due to summer holidays, there will be no Pondy trips by the ACT buses and Saiier Transport Service buses from Friday 22nd through Sunday 24th of June. Outside Solar kitchen, look for Fertile's bullock cart on Saturday 23rd from 10am for Mango Fandango – fun and Games, music if you bring it, MANGO's off the back of the bullock cart!
Consciousness is the faculty of becoming aware of anything through identification. The Divine Consciousness is not only aware but knows and effects. To become aware of a vibration, for instance, does not mean that you know everything about it.The Words of The Mother, Vol. 15
Do you want to know the secret of Krishna? If you couldn't go to the Lively up your Earth music festival in Solitude Farm and see the musical of the TLC students, now you can listen to this funny performance which gave the whole audience something to laugh about.
To celebrate life and overcoming cyclone was the keynote of Lively Up Your Earth eco music Festival in Solitude Farm on Saturday 28th of January. With Cyclone Blue we went down the memory lane into early 70ies, by evergreen rock songs well played and sung by amazing olny 13 years old Danny, who joined his father Amando and Matt. And it is something in known that made us at ease, so Cyclone Blue hit the dancing strings in audience and enthusiastic share of encouragement. To Joel and his team we are grateful for excellent sound.
THIS IS A NEW RECORDING FROM JOELS MIXING DESK AND MASTERED BY HIM, OF THE LIVELY UP YOUR EARTH ECO MUSIC FESTIVAL.
Hosting Lively Up Your Earth eco – music festival for the second time in Solitude Farm with numerous stalls of products ecologicaly oriented, gadgets for children, food and lots of music brought community and more together almost a month after the natural catastrophe of Thane. Emergence as the hosting band came up on stage the last, and late. Solids songs of world music and poetic rock, reflecting the uniqueness of city life in Auroville and life of members of the band kept the audience on their toes. Thanks for excellent sound to Joel and team
THIS IS A NEW RECORDING FROM JOELS MIXING DESK AND MASTERED BY HIM, OF THE LIVELY UP YOUR EARTH ECO MUSIC FESTIVAL. Krishna Mckenzie (lead singer and guitarist), Mishko Mba (bassist), Suresh Bascara (drums), and Karthick Iyer (violinist and vocalist)
There's no doubt that Marc Vella captured hearts of Aurovilians with his loving attitude toward music as toward audience, nature… Films we saw before his arrival, his personal presence in the town, brought again crowd to the Lively Up Your Earth eco music festival at Solitude Farm on last Saturday 28th of January. We can thank to private donors which contributed needed money to hire a piano from Chennai and with that made it possible for all of us to hear to Marc Vella amongst the palm trees of Solitude Farm.
Thanks goes to Joel and the whole sound team for excellent sound
The Pavilion of Tibetan Culture invites us to an exhibition of rare historic photos Walking into Exile – The Dalai Lama arrives in Tawang (March 31 to April 18, 1959) tomorrow 28th of January at 5pm. The exhibition will be inaugurated by Prof Samdhong Rinpoche, former Kalon Tripa and will be followed by a talk by Samdhong Rinpoche on My Vision of Future Tibet .In today's news we feature short phone interview about it with Namgyal. Weekend it will be nicely busy, as it is usual for this time of the year, with lots of good music, presentations…
Silence is always good; but I do not mean by quietness of mind entire silence. I mean a mind free from disturbance and trouble, steady, light and glad so as to open to the Force that will change the nature.The Mother