Posts Tagged 'Sound'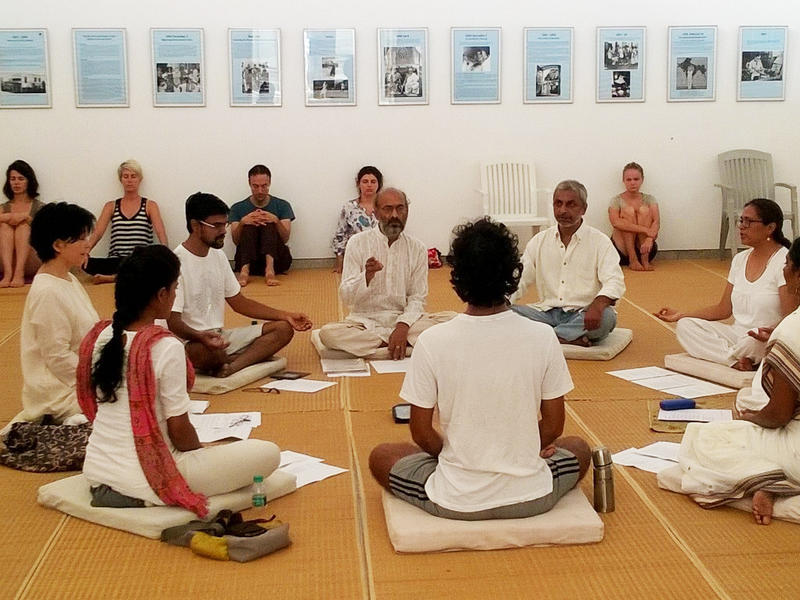 On the occasion of the third International Yoga Day (June 21st 2017), the Dakshina chanting group of Auroville brings you some sonic excerpts of their hour long Sanskrit shloka chants from Savitri Bhavan, Auroville, 7-8 AM.
Let's enrich ourselves and intensely aspire in the Light of Integral Yoga as we listen to Sri Aurobindo's Gayatri mantra and mantras dedicated to The Divine Mother — Devi Stuti and Aum Anandamayi and the beej mantra.
Om Namo Bhagavatey Sri Aravindaya.
Dakshina Chanting Group of Auroville received 12 weeks of 'Know Your Rhythm' training programme from Arnab B. Chowdhury before we went onto this special chanting session.
members of the Dakshina chanting group:
Aravind, Bom, Di, Hemant, Meera, Mona, Renu, Siddhartha and Arnab
Here are some sonic excerpts (3:22 minutes) from the Vedas, Bhagavad Gita and specific Mantras dedicated to Sri Aurobindo and the Divine Mother
Today, on Kanye West's 40th birthday, AV Radio features some of his top tracks on our new segment Birthday Beats; for your listening pleasure.
Tracklist (a-z)
All Of The Lights ft. Rihanna, Kid Cudi
Amazing ft. Young Jeezy
Can't Tell Me Nothing
Flashing Lights ft. Dwele
Gold Digger ft. Jamie Foxx
Good Life ft. T-Pain
Heartless
Homecoming
Only One ft. Paul McCartney
Otis ft. Jay-Z
POWER
Stronger
Touch The Sky ft. Lupe Fiasco

Lighten up our Tuesday morning with this alternative, rock and acoustic playlist.
tracklist:
Arctic Monkeys – Do I Wanna Know
Hozier – Cherry Wine
Arctic Monkeys- 505
The 1975 – Somebody Else
Matilda – Alt-J
The Neighbourhood – Sweater Weather
Oh Wonder – Alll We Do
Imagine Dragons – Believer
Mumford & Sons – Believe
Tom Odell – Another Love
Youth – Daughter
Cage the Elephant – Cold Cold Cold
Jessie Ware – Say You Love Me
Nothing But Thieves – Honey Whiskey
The Lumineers – Sleep On The Floor
Vance Joy – Riptide
Amber Run – I Found
George Ezra – Budapest
Bastille – Pompeii
X Ambassadors – Gorgeous

Barking dogs, vans and motorbikes passing by, and even more noises were unable to spoil the mesmerizing sound of Pujasree's voice.
An amazing ability to improvise.
The best place to play for spontaneity is in a cafe, not on stage.
What does it mean to be a woman in Indian culture?
Tristan, volunteering in Aquadyn as a software programmer who follows his passion of playing music by night.
He has an intense form of musical expression. Accompanied by his guitar he goes into improvised musical tangents reminiscent of the doo-op period. He very likely has the secret ability to scat.
Gino, with the ability to turn just about any object into an instrument of percussion plays along adding a necessary element of oomph.

Feauring the best artists from and around the 70s, this mix will surely make you shake a leg. Crank up the volume, get loose and let the boogie do the rest.
Tracklist (a-z)
Blue Swede – Hooked on a Feeling
CHIC – Dance Dance Dance
Chubby Checker – Let's Twist Again
Chuck Berry – Johnny B Good
Earth, Wind and Fire – Boogie Wonderland
Elton John – Crocodile Rock
Elton John – Pliladelphia Freedom
Elvis Presley – Jailhouse Rock
George Benson – Give Me the Night
Jerry Lee Lewis – Great Balls of Fire
KC and The Sunshine Band – Get Down Tonight
The Jacksons – Blame it on the Boogie
The Jackson 5 – ABC
Ritchie Valens – La Bamba
The Trammps – Disco Inferno
The Whispers – And the Beat Goes On
Wham! – Wake Me Up Before You Go
On 21st April, in unity Pavillion last session of CAT14 was held and it was all about creating harmony. Russian Bells were used to demonstrate how harmony can be developed among various individuals and that too with minimal efforts, all you need is balancing between receiving and giving. Vera with her Russian bells showed us how with just a bit of practice the sound vibrations can be harmonised.
The 2 hour of ringing bells session was so soothing and relaxing, people meditated with the sounds. They shared the joy of sound and silence and to tune with others' vibrations.
With the music, CAT 14 ended leaving everyone present there totally spaced out, still feeling the vibrations passing through them.