Posts Tagged 'Traditional'
Sanghamita Das rendered us a fascinating presentation on the highly traditional Baul singing and dancing tradition in Kala Kendra.
Bauls are a religious and cultural group of India, best known for their songs and poems to the god who dwells within. The term "Baul" is usually understood to mean "madman" or religious ecstatic, and Bauls often describe themselves as crazy for God.
The Baul tradition dates back to the early 8th C AD and has grown weaving together threads from Sahajiya Buddhism, Turkish Sufism and Bengali Hinduism. This powerful musical form has been recognised as a "Masterpiece of the Oral and Intangible Heritage of Humanity" by UNESCO.
She supported herself on Ektara and Guggi drum and Suresh on cajon and Dhani on guitar took care of some added percussion and strings.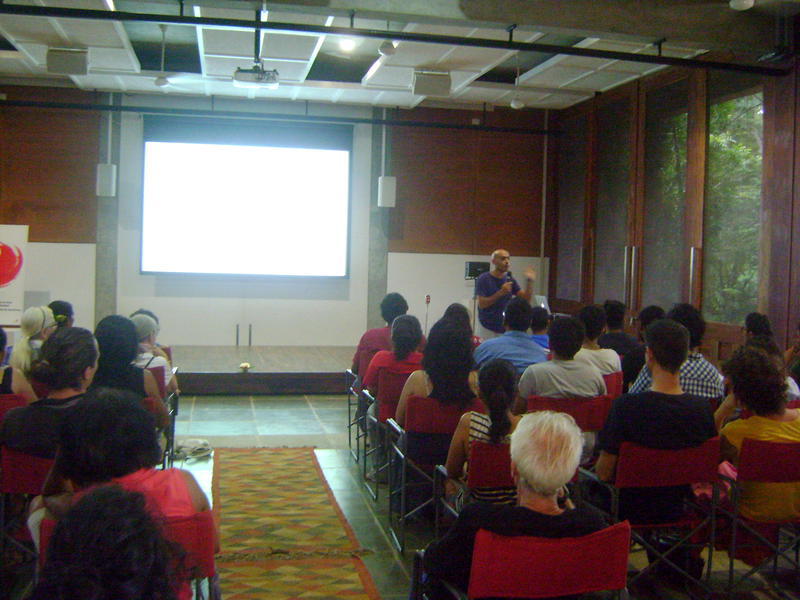 Environment plays an important role in the society we live in. In this presentation by Omar, get to know about environment dating from prehistoric times to the 21st century.

The Mana Fashion Design Studio is a project created and run by a team of 3 Aurovillians, Claire, Rv, and Julie. Each one of them carries an artistic background (painting, graphic designing, music) and they take their inspiration from traditional arts and crafts from around the world. All their products are entirely hand made and every piece is unique with its' own delicate embroidery and special fabrics. At the moment, they open their studio (Located at Sukhavati) every Wednesday and Saturday between 9;30 and 12 for women to come and find the perfect piece of clothing or one of their gorgeous bags as well as interact with the artisans themselves. Mana has a website on which you may look through their designs and learn more about the whole project:
manaauroville.wordpress.com

Jyoti and Ratnam of the Auroville Basketball Family discuss the results of the semi finals of the Puducherry State Level basketball tournament. Held at the New Creation sports ground, the event was jointly organized by LOTUS and FRATERNITY basketball clubs along with the Auroville Basketball Family on 23rd, 24th, 25th, 26th and 30th June as well as on 1st and 2nd July, 2017. They discuss key players, challenges posed by more experienced players to the juniors and their expectations from the matches.

A collaboration of Ilaignarkal Education Center and Mohanam Cultural Center, brought together the Tamil New Year celebration in Auroville hosted by Visitor Center.
The Ilaignarkal Education Center is involved with teaching and bringing together the Tamil workers of Auroville. The Mohanam Cultural Center experiment with making different sorts of instruments (mainly percussion, string and wind instruments) out of local material.
Almost like a harvest festival many seasonal fruits and vegetables were presented in honor of the Tamil New Year. Astrological predictions were announced as what the coming year would bring. Live traditional Tamil music and dance enhanced the event.

It was a three days workshop organised by Bharat Niwas, it was conducted by artists from SEWA (Self Employed Women Association), Gujarat. They taught people the almost lost art of block printing and tie and dye which was used earlier for cloth printing and now it is getting replaced by screen printing and other techniques. This workshop was to make people know more closely about Indian culture.
A lot of people from all age groups took interest in the workshop.
We had an interview with Seema Majumdar from Darpana Acedmy, Gujarat and she talked about the work they do and how they are taking efforts to educate people about the art and culture of India.

At the very beginning of Hibiscus festival this band played just one song, Louis and Patrick on djembe, Joel on bass while Audrey was involving the dancers.

An interesting interview with Aunkh H. Chambalala, who visited us this morning to invite us to the first of his talks. The talk will be on African Astronomy and Cosmology, and was scheduled for today at the Unity Pavilion.
Aunkh gave us an insight in ancient African knowledge of astronomy, cosmology, and affairs of life. Amongst others we were talking about today's youth, and his passionate involvement in education them.
Jazz music lovers have came on their expense last night at Cripa with the Jazz Night. Audience had a chance to hear some jazz standards of Joao Gilberto, Horace Silver, Bill Evans, Herbie Hancock…played by the visiting jazz guitar player Sid Jacobs, accompanied by "home" musicians Matt Littlewood on acoustics piano, Holger Jetter on bass and Srinath Srinivasan on drums.