Posts Tagged 'West Indies'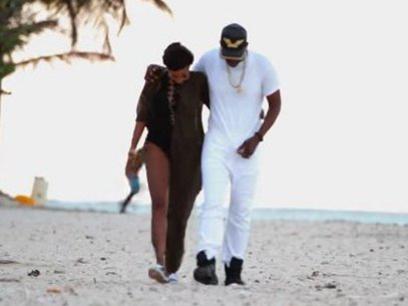 Story of fresh cuts is going on – today dancehall
tracklist
Street Soul Riddim Mix Feat. Chris Martin, Romain Virgo, Alaine, Cecile
Konshens – Gal Dem Sugar
Eddy Kenzo ft. Alaine – Addicted
R. City – Crazy Love Ft. Tarrus Riley
Pitbull – Options ft. Stephen Marley
Vershon – Wul It Out
Keznamdi – Victory ft Chronixx
Popcaan – Naa Stoop
Popcaan x Drake – My Chargie
Vybz Kartel – Remember Me
Ishawna – Shape of You (Equal Rights – Remix)
Spice Sweet ft Busy Signal
Romain Virgo & Bugle – No Problem
KickRaux & Ras Kwame feat. Ayo Jay, Demarco, Doctor & Tyga – Feelin U
DJ Khaled – I'm the One ft. Justin Bieber, Quavo, Chance the Rapper, Lil Wayne
Busy Signal, Patrice Roberts – O'Baby
Capital D – Dancehall Nice Again
Demarco – Something To Think About
Charly Black – You're Perfect
UFO Miles – Chi Ching Ching
Shawn Ice – Levels To This
Gyptian & Konshens – Bingo _Yardstyle Ent
Jahmiel – Nuh Loyal

Life in Senegal has a soundtrack, and the Senegalese sound unmistakably has a Latin vibe. By tracing the bloodlines of slavery, arching from Gorée Island off the coast of Senegal, to North America, South America and the Caribbean, it is possible to begin to understand the long history in the relationship between Senegalese and Cuban music. Where people go, culture follows and where there is culture, there is the song that carries the story of its people.
Music in Senegal, with its strong structure of Latin flavor, continues to evolve with new musicians joining the international circuit every year.
Despite the differences in cultures, the music should feel like home to you. It's the sadness, happiness, hopes and dreams that are a part of every human, a sense of longing and belonging that traveled throughout history and has become the sound of almost everything you hear on the radio and television. Orchestra Baobab is that sound directly from its source, a musical melting pot with the organic ingredients providing an undeniable flavor.
We are featuring in the beginning two songs from album to be released on 31st of March 2017 Tribute to Ndiouga Dieng….continuing with their early years…. Pirates Choice, Specialist in All Styles , Made in Dakar …

trackllist
Orchestra Baobab – Foulo
Orchestra Baobab – Fayinkounko
Orchestra Baobab – Utru Horas
Orchestra Baobab – Coumba
Orchestra Baobab – Aduna Jarul Naawo – N'Wolof
Orchestra Baobab – Ndeleng Ndeleng
Orchestre Baobab-Gouygui de Dakar – Sibam
Orchestra Baobab – On Verra Ca
Orchestra Baobab – Ngalam
Orchestra Baobab – Jiin Ma Jiin Ma
Orchestra Baobab – Ndiaga Niaw
Orchestra Baobab – Pape Ndiaye
Orchestra Baobab – Nijaay

Trench Town Status or "You have to 18 and Over"
takes us way back in time featuring tracks from The Aggrolites, Home T & Cocoa Tea & Shabba Ranks, Gappy Ranks, Slightly Stoopid and more
tracklist
The Aggrolites – Complicated Girl – Rugged Road
Gappy Ranks – Put The Stereo On
Cocoa Tea – 18 And Over
Frankie Paul – Stuck On You
Lady Saw – Sycamore Tree
Shabba Ranks, Cocoa Tea & Rebel Princess – Just Be Good To Me
Macka B – Never Played A 45
Lee 'Scratch' Perry – Disco Devil 12
Slightly Stoopid ft. Capleton – No Cocaine Remix
Leroy Smart – Waiting In Vain Version -1974
Linval Thompson – Holding On To My Girlfriend
Cocoa Tea – Good Life
Dennis Brown I Don_t Know
John Brown's Body feat. Peetah Morgan – The Gold
Cocoa Tea & Shabba Ranks & Home T – Pirates Anthem
Sly & Robbie- Crazy Baldhead
Cocoa Tea & Shabba Ranks – Rumors
Alpha Steppa & Gregory Isaacs – Crucial Steppa + Officer Dub
Lee Scratch Perry – Jungle Roots Dub


Today's musical edition features tracks from Cyril Diaz, The Mighty Sparrow, Lord Invader & His Calypso Rhythm Boys, Mighty Dougla, Round Table Knights Vs Bauchamp and more …. Carlos Malcom , the father of reggae, and more. Calypso is a style of Afro-Caribbean music that originated in Trinidad and Tobago during the early to mid 20th century. Its rhythms can be traced back to West African Kaiso and the arrival of French planters and their slaves from the French Antilles in the 1600s.
The music, which drew upon African and French influences, became the voice of the people, and was characterized by highly rhythmic and harmonic vocals, which was most often sung in a French creole and led by a griot.
tracklist
Cyril Diaz & His Orchestra – Voodoo
Young Tiger – Calypso Be
Mighty Dougla .- Exchange No Robbery
CHARLIE BINGER & HIS QUARTET – Jamaica Is The Place To Go
Dandy Crawford – Matilda Matilda
Lord Kitchener, London Is the Place for Me
Young Tiger – I Was There (At the Coronation)
Azie Lawrence & Carib Serenaders – West Indians In England
Lord Creator – Independent Jamaica
Carlos Malcom & His Afro Jamaican Rhythm – Elena
John Buddy Williams Band – Saturday Night Blowout
Mighty Bomber – Mamaguy
Lord Nelson – King Liar
Small Island Pride- Taxi Driver
Lord Creator – Kingston Town
Carlos Malcolm & his afro jamaican rhythms – Skaman
Count Lasher and His Calypso Quintet – Perfect Love [10 inch]
Don Drummond – ovellanegra.
The Mighty Sparrow- Congo Man
Baron – Feeling It

Erika not unknown to Auroville performed last night at Kasha Ki Aasha in Pondicherry with Shanks who has shown his talent on different occasions either be concert or jam sessions.
Erika Lernot was born in Martinique and grew up in Paris, France. Throughout her childhood she was surrounded by different styles of music including the traditional drums of the Carribean Islands as well as jazz, soul, hip hop and Oriental. These influences as well as those sounds coming from Africa, Cape Verde and Brazil are mixed into her songs in their poetry and rhythm culminating in a unique mix of French soul and Caribbean jazz.
She has performed in Parisian venues like New Morning, Hotel de Ville, Studio de l'Ermitage and Olympia and recently completed a tour of India hosted by Alliance Francaise.

Oyaya or Joy was the first song of the evening sung by Erika, and as it went forward energy was rising. Toward the end there was hardly any one sitting at peace. Smoothnes, tranquility and vibrant energy of life in Erika's and Siam's song indeed have carried us to some other space. Music which reflects today's globality of the planet, born in Caribbean islands, enriched with African and South American rhythms, and more, would be hard to label but it carries all the warmth of the heart of Erika and Siam.
At the same the night itself has proven that the need of informal social gathering to celebrate togetherness in the community is huge. And what could be more universal than the language of music.

Last weekend, the community had the chance to explore some views on the culture of the Americas. The atmosphere, at the Unity Pavilion in the International Zone, was relaxed and friendly. It was in particular the Latino countries of Central and South Americas that were covered. Also in the news:' three days of the theater show – Sri Aurobindo's Viziers of Bassora – is being put on stage by Aryamani. Auroville also had a chance to see some good films, taste mate, coffee and tamales, in addition to seeing and participating in dance workshops. Yesterday, Christmas songs were shared, and a salsa rueda performance held, with a workshop.