Posts Tagged 'West Indies'
Third part of Roots and Culture mix featuring few of known musicians of the genre, such as Frankie Paul, Gregory Isaccs, Jacob Miller, Culture and others.
Roots as a subgenre of reggae deals with the everyday lives and aspirations of the artists concerned, including the spiritual side of Rastafari and the honoring Jah It also is identified with the life of the ghetto sufferer, and the rural poor. Lyrical themes include spirituality and religion, poverty, black pride, social issues, resistance to government and racial oppression, and repatriation to Africa.
tracklist
Gregory Isaacs – Material Man
Jacob Miller – Mr Officer
Frankie Paul – Slow Down
Jackie Brown – Close by Your Side
Eric Donaldson – More Love
Roman Stewart – Sing a Hit Song
Gregory Isaacs – Objection Overruled
Frankie Paul – I Know The Score
Eric Donaldson – Are You Thinking of Him
Culture – Vacancy
Derrick Morgan – Angela
Ijahman Levi & Madge – I Do
Bunny Wailer – Dreamland
Jackie Brown – Lion Head
Eric Donaldson – The Way You Do The Things You Do
Alpha & The Mellow – I'm Trying
Eric Donaldson – Follow Me
Culture — Satan company
The Itals – Satisfaction
Delroy Wilson – I've been in love
Ruddy Thomas & Trinity – Everyday Is Just A Holiday – Natty Dread On The Go

The island of Hispaniola is divided in two by an invisible line cutting down its central mountain range. On one side is Haiti, the other the Dominican Republic: one colonized by the French, the other by Spain. . It was home to the first–and only–successful slave revolt when Haiti rebelled against France in 1791. For decades, Eurocentric elites in the Dominican Republic have painted Haitians as inferior and threatening. Today, there is an uproar around the issues of Haitian immigration to the D.R., and politicians who are lobbying to build a wall between the two countries.
Despite the conflicts, Dominicans and Haitians are linked by deeply interwoven histories, economies and cultures. The songs are always performed in Haitian Kreyòl and typically celebrate the African ancestry of the Afro-Haïtian masses. Vodou is often implemented through the procession. The genre was imported to the Dominican Republic , where it is known colloquially as Gaga. Follwoing is an unique mix of old, and new songs featuring from Tabou Combo….to Luis Vargas.
tracklist
Papa Legba
Tabou Combo 
Nemours Jean Baptiste 
Fabre Duroseau "Haitian Piano"
Angel Viloria "Bajo El Cerezo"
Various Artists "Los Merengues Favoritos de Trujillo"
Boukman Eksperyans – Papa Legba
Legba, Gangan, Dantor's food
Gede
Mi Gente – J. Balvin, Willy William – FitDance
Various Artists – Mpoko ka diw bye " Hommage à Black Alex "
Danny Ocean – Me Rehúso
Diomedes y El Grupo Mio "Diomedes el Bum Bum del MerengueWilfrido Vargas 
Wilfrido Vargas- Lo Ajeno Se Deja Quieto
Carolina Camacho – Leona
Ogou
Strings – Confirmation
Carolina Camacho – Ninfa de las Aguas
Luis Vargas A Esa Mujer la Borrare
Yoskar Sarante – Guerra de Amor
Today's musical edition is about women in reggae. It is a glimpse into a moment in history, from 70ies and up, in which we celebrated the outstanding female voices of reggae music. Jamaica is, and probably will always be, a patriarchal society, but at this point in time the rise of women within the genre had become a notable, positive development.
Probably the best-known among Jamaica's female singers is the trio called the I Three, who sang harmony vocals for Bob Marley and the Wailers from 1974 until Marley's death in 1981. Marcia Griffiths, Judy Mowatt and Rita Marley all had successful professional solo careers before joining up with the Wailers.
Apart from those three well known women , we feature many more from Susan Carol, Annette Brissett, Hortense Ellis…., and many more.
tracklist
I-Threes – Many Are Called
Althea and Donna – Uptown Top Ranking
Melody Beecher – Diamonds & Thrills
Susan Cadogan – Do It Baby
Carlene Davis – I Remember
Hortense Ellis – Reflections – Girls
Sharon Forrester – Love Don't Live Here Anymore
Marcia Griffiths – Steppin' Out a Babylon
Sheila Hylton – Breakfast In Bed
I Threes – Waitin in vain (bob 's cover)
Debra Keese – Travelling
Jennifer Lara – Hand To Mouth
Annette Brissett-Half A Mile
J C Lodge – Someone loves you honey
Rita Marley The Beauty Of God's Plan
Judy Mowatt – Only a woman – Mr Dee J
Ranking Ann – A Slice Of English Toast
Sister Carol Dread Natty Congo
Nadine Sutherland – Until.
This musical edition features Bob Marley's offsprings – Damian, Stephen, Ky Mani, Julian, Jr. Gong, Ziggy….and their current production, along with few other fresh cuts from the realm of reggae.
Damian Marley Drops Knowledge In New Visual For "R.O.A.R."
In it he pays tribute to his home country of Jamaica, taking viewers on a tour of the song's captivating lyrics about life on the island in the visual for his latest release "R.O.A.R"
"R.O.A.R." is featured on Damian's upcoming fourth studio album, 'Stony Hill' set to release July 21, 2017, exclusively on TIDAL, his first your first solo album in 12 years.
tracklist
Damian Marley – R O A R
Damian Jr. Gong Marley – Nail Pon Cross
Queen Ifrica – Truversation ft. Damian Jr. Gong Marley
Damion Marley ft. Vybz Kartel and Sizzla
Stephen Marley – Rock Stone ft. Capleton, Sizzla
Bunji Garlin ft. Damian 'Jr. Gong' Marley – The Message
Stephen Marley Rude Bwoy ft. Damian Marley, Julian Marley, Jo Mersa
Protoje – Who Knows ft. Chronixx
Cali P feat. Capleton – Dem Ago Burn Up
Stephen Marley – Ghetto Boy ft. Bounty Killer, Cobra
Damian Jr. Gong Marley – Set Up Shop
Samory I – Rasta Nuh Gangsta
Gentleman & Ky-Mani Marley – Tomorrow
Chronixx – Likes
Stephen Marley – Scars On My Feet ft. Waka Flocka Flame
Monkey Marc – No Surrender feat. Sizzla, Capleton, Fantan Mojah & Mista Savona
Protoje – Evil Displa
Culture – Why am I a Rastaman
Ziggy Marley- See Dem Fake Leaders
Lutan Fyah – Sweet Trichomes
Anthony B – King In My Castle
Nas & Damian Jr. Gong Marley – Patience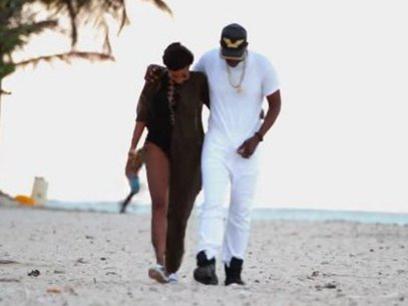 Story of fresh cuts is going on – today dancehall
tracklist
Street Soul Riddim Mix Feat. Chris Martin, Romain Virgo, Alaine, Cecile
Konshens – Gal Dem Sugar
Eddy Kenzo ft. Alaine – Addicted
R. City – Crazy Love Ft. Tarrus Riley
Pitbull – Options ft. Stephen Marley
Vershon – Wul It Out
Keznamdi – Victory ft Chronixx
Popcaan – Naa Stoop
Popcaan x Drake – My Chargie
Vybz Kartel – Remember Me
Ishawna – Shape of You (Equal Rights – Remix)
Spice Sweet ft Busy Signal
Romain Virgo & Bugle – No Problem
KickRaux & Ras Kwame feat. Ayo Jay, Demarco, Doctor & Tyga – Feelin U
DJ Khaled – I'm the One ft. Justin Bieber, Quavo, Chance the Rapper, Lil Wayne
Busy Signal, Patrice Roberts – O'Baby
Capital D – Dancehall Nice Again
Demarco – Something To Think About
Charly Black – You're Perfect
UFO Miles – Chi Ching Ching
Shawn Ice – Levels To This
Gyptian & Konshens – Bingo _Yardstyle Ent
Jahmiel – Nuh Loyal

Life in Senegal has a soundtrack, and the Senegalese sound unmistakably has a Latin vibe. By tracing the bloodlines of slavery, arching from Gorée Island off the coast of Senegal, to North America, South America and the Caribbean, it is possible to begin to understand the long history in the relationship between Senegalese and Cuban music. Where people go, culture follows and where there is culture, there is the song that carries the story of its people.
Music in Senegal, with its strong structure of Latin flavor, continues to evolve with new musicians joining the international circuit every year.
Despite the differences in cultures, the music should feel like home to you. It's the sadness, happiness, hopes and dreams that are a part of every human, a sense of longing and belonging that traveled throughout history and has become the sound of almost everything you hear on the radio and television. Orchestra Baobab is that sound directly from its source, a musical melting pot with the organic ingredients providing an undeniable flavor.
We are featuring in the beginning two songs from album to be released on 31st of March 2017 Tribute to Ndiouga Dieng….continuing with their early years…. Pirates Choice, Specialist in All Styles , Made in Dakar …

trackllist
Orchestra Baobab – Foulo
Orchestra Baobab – Fayinkounko
Orchestra Baobab – Utru Horas
Orchestra Baobab – Coumba
Orchestra Baobab – Aduna Jarul Naawo – N'Wolof
Orchestra Baobab – Ndeleng Ndeleng
Orchestre Baobab-Gouygui de Dakar – Sibam
Orchestra Baobab – On Verra Ca
Orchestra Baobab – Ngalam
Orchestra Baobab – Jiin Ma Jiin Ma
Orchestra Baobab – Ndiaga Niaw
Orchestra Baobab – Pape Ndiaye
Orchestra Baobab – Nijaay

Trench Town Status or "You have to 18 and Over"
takes us way back in time featuring tracks from The Aggrolites, Home T & Cocoa Tea & Shabba Ranks, Gappy Ranks, Slightly Stoopid and more
tracklist
The Aggrolites – Complicated Girl – Rugged Road
Gappy Ranks – Put The Stereo On
Cocoa Tea – 18 And Over
Frankie Paul – Stuck On You
Lady Saw – Sycamore Tree
Shabba Ranks, Cocoa Tea & Rebel Princess – Just Be Good To Me
Macka B – Never Played A 45
Lee 'Scratch' Perry – Disco Devil 12
Slightly Stoopid ft. Capleton – No Cocaine Remix
Leroy Smart – Waiting In Vain Version -1974
Linval Thompson – Holding On To My Girlfriend
Cocoa Tea – Good Life
Dennis Brown I Don_t Know
John Brown's Body feat. Peetah Morgan – The Gold
Cocoa Tea & Shabba Ranks & Home T – Pirates Anthem
Sly & Robbie- Crazy Baldhead
Cocoa Tea & Shabba Ranks – Rumors
Alpha Steppa & Gregory Isaacs – Crucial Steppa + Officer Dub
Lee Scratch Perry – Jungle Roots Dub


Today's musical edition features tracks from Cyril Diaz, The Mighty Sparrow, Lord Invader & His Calypso Rhythm Boys, Mighty Dougla, Round Table Knights Vs Bauchamp and more …. Carlos Malcom , the father of reggae, and more. Calypso is a style of Afro-Caribbean music that originated in Trinidad and Tobago during the early to mid 20th century. Its rhythms can be traced back to West African Kaiso and the arrival of French planters and their slaves from the French Antilles in the 1600s.
The music, which drew upon African and French influences, became the voice of the people, and was characterized by highly rhythmic and harmonic vocals, which was most often sung in a French creole and led by a griot.
tracklist
Cyril Diaz & His Orchestra – Voodoo
Young Tiger – Calypso Be
Mighty Dougla .- Exchange No Robbery
CHARLIE BINGER & HIS QUARTET – Jamaica Is The Place To Go
Dandy Crawford – Matilda Matilda
Lord Kitchener, London Is the Place for Me
Young Tiger – I Was There (At the Coronation)
Azie Lawrence & Carib Serenaders – West Indians In England
Lord Creator – Independent Jamaica
Carlos Malcom & His Afro Jamaican Rhythm – Elena
John Buddy Williams Band – Saturday Night Blowout
Mighty Bomber – Mamaguy
Lord Nelson – King Liar
Small Island Pride- Taxi Driver
Lord Creator – Kingston Town
Carlos Malcolm & his afro jamaican rhythms – Skaman
Count Lasher and His Calypso Quintet – Perfect Love [10 inch]
Don Drummond – ovellanegra.
The Mighty Sparrow- Congo Man
Baron – Feeling It

Erika not unknown to Auroville performed last night at Kasha Ki Aasha in Pondicherry with Shanks who has shown his talent on different occasions either be concert or jam sessions.
Erika Lernot was born in Martinique and grew up in Paris, France. Throughout her childhood she was surrounded by different styles of music including the traditional drums of the Carribean Islands as well as jazz, soul, hip hop and Oriental. These influences as well as those sounds coming from Africa, Cape Verde and Brazil are mixed into her songs in their poetry and rhythm culminating in a unique mix of French soul and Caribbean jazz.
She has performed in Parisian venues like New Morning, Hotel de Ville, Studio de l'Ermitage and Olympia and recently completed a tour of India hosted by Alliance Francaise.