Posts Tagged 'Youth'
Barking dogs, vans and motorbikes passing by, and even more noises were unable to spoil the mesmerizing sound of Pujasree's voice.
An amazing ability to improvise.
The best place to play for spontaneity is in a cafe, not on stage.
What does it mean to be a woman in Indian culture?
Tristan, volunteering in Aquadyn as a software programmer who follows his passion of playing music by night.
He has an intense form of musical expression. Accompanied by his guitar he goes into improvised musical tangents reminiscent of the doo-op period. He very likely has the secret ability to scat.
Gino, with the ability to turn just about any object into an instrument of percussion plays along adding a necessary element of oomph.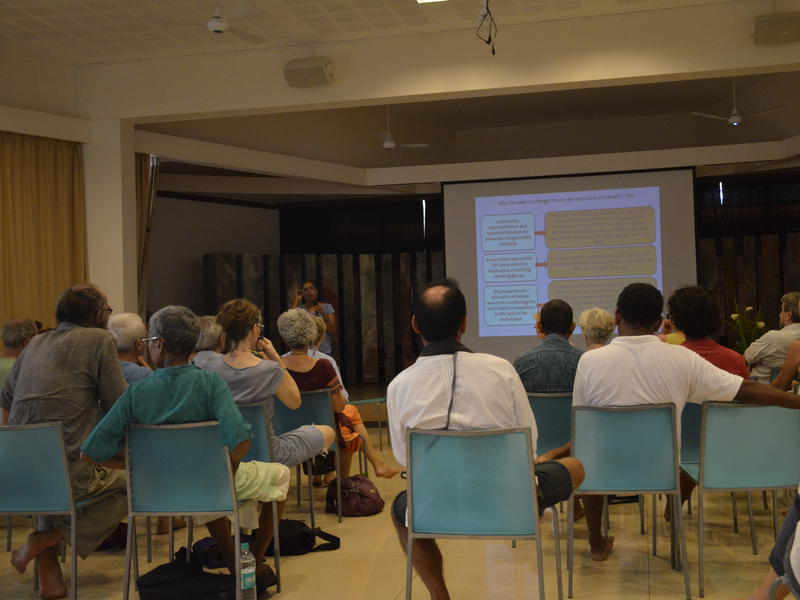 Therre was a general meeting held on Monday April 24 in Unity Pavilion which was a continuation of last months general meeting where the core group came up with fulfilling the task of restructuring Town Planning & Development Council (TDC)/L'Avenir d'Auroville. Last year, the Auroville council was asked to facilitate a process to restructure the TDC, the core group working on this comprised of Martin, Jesse, Sauro, Pashi, Shama, Suhasini, Mamta, Elvira, Lionel and Christiane. This meeting was a preparation for a Resident Assembly Decision-making Event (RAD) May 13 – June 10. The team proposed a revised structure of TDC and asked for the opinions of people present in the meeting on the same. A lot of healthy debate and constructive insights were offered by the members of the community attending the presentation. The feedbacks and comments for last month's meeting were also shared. Involvement of youths was an important point in the discussion. Meeting ended up on a positive note.
Follow the links for earlier meetings:
http://www.aurovilleradio.org/restructuring-tdc/
http://www.aurovilleradio.org/how-can-we-restructure-the-tdc/
Last School Theater presents sequence of Three Masken and Where is Tamanna?; another comedy play written and directed by Dyuman. Three Maskmen, petty clumsy thieves who with their elaborated plans aspire to be big "fishes". Does the complexity of twist and turns in plan bring the wanted result?
Play is staged and produced by students of Last School of school year 2016/17, and we have a chance to see some already proven actors, and some good new ones.
Chloe performed an interesting piece of music out of old tapes and systems. Her performance was intriguing as she created music through waste. The performance was a potpourri of jazz music, conversations and other genres of music.

Eight young musicians from Marseilles, France, with their brass instruments played a variety of pop dance songs, and created a refreshing festive atmosphere.
Although the concert took place on a Monday evening, the youth and volunteers found the charming vibes irresistible and took to the dance floor.
The musicians were interacting with the audience with a light sense of humour. It was a surprise to find such a joyful concert at the Youth Centre.

Heidi Watts and Chris Sperry explored the concept of democratic classrooms over decades in different types of schools in the United States. Democratic schools encourage students to make their own decisions as a student community. This practice cultivates student ownership and student responsibility. In Auroville's Teacher Center both, teachers and parents discussed the chances and challenges as well as opportunities and limits to student decisions. The final conclusion: Let's meet again on that topic!