Daily Archives:
2013/11/07
Yesterday Dr. Karan Singh, Chairman of the Governing Board gave a talk on 'Vedanta Today' in a beautifully decorated Sri Aurobindo Auditorium, Bharat
Nivas. Professor Manoj Das of the Sri Aurobindo Ashram was presiding and he introduced Dr. Karan Singh to the public. Dr. Karan Singh mentioned the origin, the different aspects and relevance of Vedanta in todays world. Vedanta follows the Veda and completes it. The Upanishads are its fundamental elements.
Like all other branches of Indic spirituality, Vedanta is structured on dialog, on question and answer. It posits the essential unity of mankind: Vasudeva Kudumbakam, the world is one family.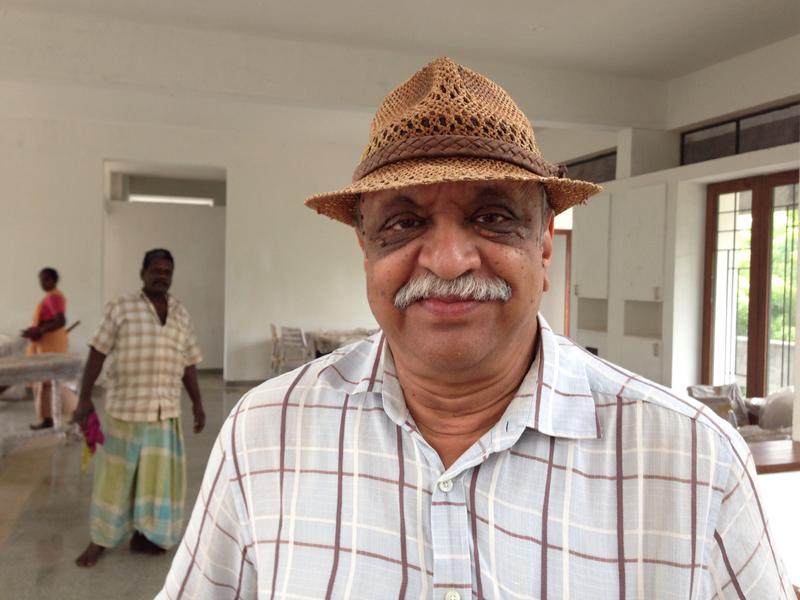 In today's news you can listen to Sanjeev on the new building of SAIIER. Founded in 1983, SAIIER has, ever since, been located in Bharat Nivas, Pavilion of Indian Culture (International Zone). Sanjeev also invites the community to participate in tomorrow's inauguration. It will take place at 9.30am at Town Hall, next to the Auroville Foundation, where the new building is located. Further, Dr. Karan Singh, Chairman of the Governing Board, with Prof. Manoj Das from the Ashram as chief guest, invites us to a talk: 'Vedanta Today'. That takes place today at 6.30pm at Bharat Nivas.
Equality: Perfect equality of our spirit and nature is a means by which we can move back from the troubled and ignorant outer Consciousness into the inner kingdom of heaven and possess the Spirit's eternal kingdoms of greatness, joy and peace. Mother … there is another blue, near to the purple, which is the light of a power of the vital. Sri Aurobindo. Lord , give me perfect sincerity, that sincerity which will lead me straight to Thee. The Mother
'
Discover the uncontaminated villages of Munnur and Perumukkal.Have a walk in the village of Munnur, where clay pots are created and cooked on the road sides; visit a family of potters that will welcome you with snacks and will show you their home-based factory. Visit the ruins of a 900 years old temple and climb the rocks to reach the sacred temple of Perumukkal, built in the 12th century for the local omonimous goddess, worshipped for protection an prosperity from the inhabitants of the village.
Enjoy the sunset and the incredible landscape from the top of the rocks, from where you can meditate and see, far away, the Matrimandir.
Meeting point at Lively Boutique 2:00pm on Saturday 9th and 23rd November. Advanced booking requested. Bioregion Tour is a project of Mohanam Cultural Center. Advanced booking requested for guests, aurovillians and volunteer. Contact us at mohanamprogram@gmail.com or +91 (0)413 2623806