Daily Archives:
2017/12/11
Today's General Meeting on International Zone at Unity Pavilion was set up boldly with two parts – presentation of small, and emerging groups of the
IZ,
– report from the IZ' recent presentation in Auroville's exhibition in association with UNESCO in New Dehli.
Unfurtunatley there was time only for first part, and the report from New Dehli should come up in next two weeks.
In past few years the International Zone witnesses fast growth, and enthusiasm from all parts of the world i.e. their representatives here in Auroville. In this light new paradigms also coming forward, and with it tendency to express real human unity in diversity in merging, collaborating; following the spiritual path that Sri Aurobnido and The Mother outlined.

Responses to Seeing Material Reality. Being Aware of the Supramental.
When one is no longer ruled by the material consciousness because one sees the reality of the so-called material knowledge, physical laws and falsehoods of the outer existence, one is already close to the solution. Only natures who have had a contact with something of the Divine Consciousness can do this. People developed in this way can also be aware of the supramental consciousness on the plane of the subtle physical. If we develop the inner perception of our subtle physical and the subtle physical plane it will put us into contact with the truth which is already manifested. This broadcast also has some of Sri Aurobindo's information in Savitri about the subtle physical plane. Mother says that Sri Aurobindo is established there permanently in a form which looks like his form when he was in the Ashram. The original tape will play after the English translation.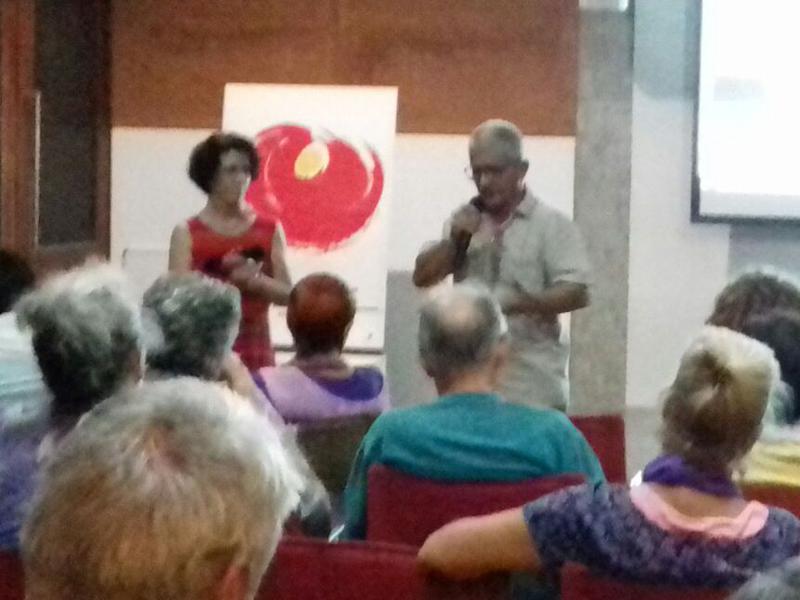 Last night at Bhumika Hall, Bharat Nivas was a special screening of short films: : "A Sacred Message from Colbian Indigenous Tribe"", presented by German Zuluaga from Colombia in Spanish with translation by Stella Rodriguez . Mr.German Zuluaga, visiting guest, has started a Multicultural Community in Sierra Nevada 5 years ago in an abandoned settlement. He started exchanging products and services with the Koggies from a village 5 km away. He wanted to help them to keep their Sacred way of living ,and unexpectedly he has found his own spiritual path.
After the presentation, and screening was a session of questions and answers.
Numerous audience was united in the thought, that that special tribe, which live exclusively spritual life, should be preserved, and kept in peace for the benefit of the future of whole planet.