Category Archives:
History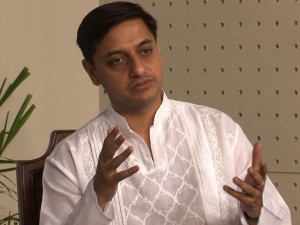 Saturday afternoon saw the MMC packed full. Mr. Bala Baskhar and many others were present to hear Mr. Sanjeev Sanyal talk about his most recent book "The land of the seven rivers". Mr. Sanyal is a leading Indian economist, environmentalist and urban theorist. He has worked in the field of financial markets since the mid-nineties and is widely regarded as one of Asia's leading economists. In addition he is a well-known environmentalist and an expert on the economics of cities, founder of the Sustainable Planet Institute,
, a member of the Steering Committee of "Urban Age" at the London School of Economics (LSE), and a Senior Fellow of the World Wildlife Fund. In addition, Sanjay is the co-founder and Director of GIST - a think-tank that is a pioneer in the field of environmental accounting, and, not least, a famous writer with the best seller "The Indian Renaissance: India's Rise after a Thousand Years of Decline", and other books, under his belt. Do listen to his take on the near and long-term future, based on his understanding of our genetic and historical past. '
In this the second lecture about the Goddess Sarasvati, Nishtha translated and explained more of the poetry. Nishtha has translated all main and sub-hymns to the Goddess Sarasvati in the Rig-Veda. Participants had a chance to hear how the Rishis of the Rig-Veda chanted about what they heard and seen in the spiritual worlds as they where invoking the Goddess Sarasvati. There will be two succeeding lectures on Wednesday in Verite Hall 3-5 pm.
Aurodhan Gallery at Pondicherry will present on Friday 3th of February an interesting "Pondicherry" exhibition of selection of fine art photographic images exclusively selected from the book launched at the same time. Sebastian shared with us some insights on the process of making the book, which is collaboration of photographic artistic view of life heritage of Pondicherry with written word of Pascal Bruckner, Akash Kapur and Amin Jaffer, all experts on their fields of exploration. "Pondicherry" is published in French and English.
Surya Tahora nous a presente une conférence captivante sur le védânta et les chemins de la liberté, ou comment apprehender la vision du UN absolu et universel. Surya n'est n Madagascar... Il rencontre en 1995 Swami Dayananda Saraswati, un enseignant contemporain de la non Dualit (Advaita Vedanta) dans la tradition du philosophe Indien Shankaracarya. Surya Tudie depuis cette date avec Swami Dayananda les principaux textes de la tradition philosophique Indienne dans leur langue dorigine, le sanskrit . Il est également titulaire d'un doctorat en Sciences pharmaceutiques et d'un MBA. Il a travaillé pour des grandes socits multinationales dans le domaine du marketing international et stratégique la fois Paris et Bangkok. .Il à participe de nombreux cours résidentiels de courte et longue dure conduits par Swamiji Coimbatore et Rishikesh, qui sont deux de ses centres dtudes et de retraite en Inde. Depuis 2007, Surya et Neema animent des séminaires et des retraites intensives, et donne des conférences publiques sur la non Dualit en Inde et en Europe, la fois en Anglais et en Français.
On Thursday 23rd at 5 pm in Cinema Paradiso - Town Hall, Anais Woin in collaboration with French Pavilion and CIRHU presented "History of ancient manuscripts". Anais is an historian, researcher at CRNS (Centre National Recerche Scientifique), specialist of the Christian Kingdom of Ethiopia during medieval and modern periods. She works with manuscript texts, most of them being consulted in the churches and monasteries of the Ethiopian highlands. Those manuscripts are still part of a living culture and much related to oral traditions.
From this field work as well as from her researches in libraries and archives, she possesses a deep knowledge of manuscript culture. The conference she held in Auroville was about manuscripts and more over about the men (and sometimes women) who were preparing, writing, painting and reading them. Looking at some concrete cases, we will also reflect on our contemporary relationship with texts and images. ITALIAN VERSION - Storia dei manoscritti antichi - Mercoledi 23, alle ore 17 al Cinema Paradiso nella Town Hall, Anais Woin, in collaborazione con il Padiglione Francese e il CIRHU, ha presentato "Storia dei manoscritti antichi". La Woin, storica e ricercatrice al CNRS (Centro Nazionale della Ricerca Scientifica francese) ha spiegato lo sviluppo degli alfabeti dell'area mesopotamica e medio-orientale, illustrando l'evoluzione segnica, dalla scrittura cuneiforme ai pittogrammi dell'aramaico antico, sui vari supporti impiegati nel tempo, come tavolette d'argilla, rotoli di papiro (la cui lettura necessitava di un lavoro fisico che comprendeva l'uso di entrambe le mani e un particolare metodo di respirazione), codici e libri prodotti con la carta. Ci ha introdotto alla cultura calligrafica ancora viva dell'Etiopia, partendo dalla produzione della pergamena ricavata dalla lavorazione della pelle di capra e dalla realizzazione del resistente inchiostro vegetale con ricetta segreta, fino alla successiva rilegatura e consegna del libro ai copisti scrivani. Molti dei testi manoscritti utilizzati dalla Woin per questa ricerca sono stati consultati direttamente nelle chiese e nei monasteri degli altopiani etiopi ed e' risultato che solo i religiosi e i letterati sono in grado di leggerli. www.cnrs.fr (Centre national de la recherche scientifique). www.cemaf.cnrs.fr (Centre d'tudes des mondes africains). www.cirhu.com (Centre for International Research in Human Unity).