Category Archives:
Arts & Culture
For the English magazine, an interview with Giovanni Fusetti. He's the co-founder and' pedagogical director of KIKLOS International School of Theatre Creation in Padua, Italy. His pedagogy integrates physical theater with different practices of physical and emotional awareness.' He will give a workshop of four days duration in Auroville called 'Celebrating the Perfect Imperfection.' This workshop addresses every person wishing to experience a journey of self-discovery through the healing power of laughter. The workshop will be on April 12th ,13th, 14th & 15th, 9:30- 12:30 and 14:00 – 17:00 at' New Creation Studio (upstairs). Click or in the picture to listen the interview with Giovanni.
"CALL FOR LIGHT"Time: 25 December - 8.00 to 8.30 p.m. Venue: Amphitheatre, Matrimandir (entrance by the office gate). A new set of Singing Bells manufactured and played by Alexander Zhikharev from Russia. Organised by the Russian Pavilion, Narad, Svaram, the Amphitheatre Group and Friends.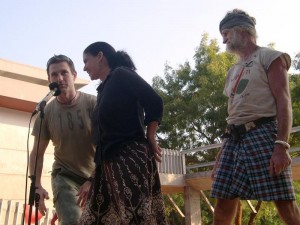 Live audio drama is a program produced by Auroville Radio station in '07. The first drama happens in a cruise ship, the captain and DJ fight all the time but in fact they are in love. In other side of ship an Australian girl falls in love with a Spanish boy. She tries to know more about her future by going to a fortune-teller and at the end at the last night of their journey they all confess of being in love with one each other. A unique drama of 40 minutes accompanied by a music band. Various groups performed their respective dramas.
The second drama it's in French and it make sense to listen to... Surprise. The last drama is about Superman and his love. Evil captures Superman's love, Superman goes to fight with him and after going through difficult situations he succeeds. Groups of actors and actresses from language backgrounds such as English and French participated and performed their Dramas. The concept of the dramas revolved around love, passion, romance and relationships between different people. The talented actors displayed their acting skills.
Mirra Women's Group organized a circle dance and singing programme on March 8th 2008 on account of International Women's Day at the SAWCHU building (Bharat Niwas). Women from the villages were invited to sing their traditional Kummi songs and taught the dance in which several ladies from the group and from Auroville participated. Mirra Women's Group is a group of women from in and around Auroville who meet twice a month and conduct and participate in workshops in activities like tailoring, jewellery making, painting etc, to enrich themselves. To downlod this program (in Tamil) click .'
Paul, Jesse, Clare, Norman and Matthew were some of the coordinators of' the musical "Oliver!". They spoke of how the idea came about to create this ambitious project, how the work developed and was realized in a warm atmosphere filled with joy and laughter. A recording of it, which will be released as a DVD, was organized by Doris.Who was the initiator? Who was the perpetrator? Learn everything by hearing the debate.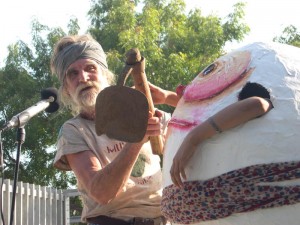 Story starts in a ship where Captain and two passengers, Chico and Meli, are arguing. They want to go to an island. Chico wants to go there to meet Medusa to change his life and he thinks that Medusa can help him. When they reach the island Oda and his daughter help Chico to find Medusa's place and when they reach there Oda starts talking to Medusa. Finally Oda decides to leave the island with his young wife Daisy and start a new life. Medusa decides to die and leave the earth in peace. Yatra Arts Foundation also staged a tamil family drama.
This was followed by a play based on Madam Filarski, a self-proclaimed clairvoyant, who has a baby. Charles goes to her to view his dreams and at the same time the baby starts crying. While she tries to quiet the baby two other old clients arrive. The play is a comedy about Madam Filarski caught between her baby's antics and her clients who become preoccupied with trying to quiet the crying baby .