Category Archives:
Visual Arts
Audrey Wallace-Tailor is an Aurovilian painter who has had many exhibitions in America and Auroville. She is an abstract painter using a variety of attractive colors and forms. Audrey settled in Auroville in 2007. She gives workshops in drawing and colors and teaches art. Here, she talks to us about her life and her works, and of the elements of color and form in her paintings. These days, Audrey is painting on the Bharat Nivas entrance wall, where many visitors come and express their surprise.
Audrey says about her work: "Starting to work, I usually mix three or four colors (a very pleasant time, like in cooking). Then I use rollers, sprays, sponges, squeegees, brushes, throwing, glazing -- applying the paint in any way that seems appropriate. I consciously want the viewer to know that my body is creating this work. Actually, it is my body and gravity, for many times I work on a panel on the wall of my studio that I can rotate clock-wise and counter clock-wise letting the paint move." --- audreywallacetaylor.com/ '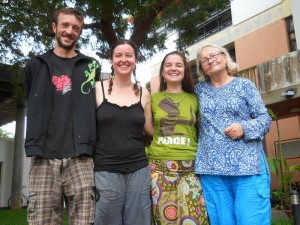 Christiane and Valerie from the collective ArTranslation talk to us about the project they are undertaking, in Auroville, this month. Aurellll and Cedric complete this collective of artists from the island Reunion, a small French island near Mauritius in the Indian Ocean. Exhibiting in Gallery Square Circle in Kala Kendra, Bharat Nivas, on December 4th to 14th, the opening is on the 4th at 4.30 pm. Personal works will be exhibited whilst the collective is also working outside on a structure made of gathered wood and stones.
The structure is meant to shelter useful seeds of plants like pumpkins and beans, as well as aromatic herbs and spices, and is adapted to the environment around it. As they build the structure, the collective also builds relationships with others who are participating. They focus on the quality of these relationships and enforce what they call `relationship ecology'. Having come from Reunion Island to meet artists from different cultures, especially the Tamil culture. In Reunion Island, a good third of the population is of Tamil descent. Also, they chose to come to Auroville because the charter is very close to the guidelines they follow in their collective working. They have been working together for three years and are interested to see how the collective work will evolve when the participants are from different cultures and do not know each other beforehand. Everyone in Auroville, artist or not, is invited to come and participate either in the work on the structure, by adding a branch or painting on scraps of cloth dipped in plaster, or by adding to the collective fresco. You can meet them at the opening on December 4th or on Saturday 7th or Thursday 12 (at 3 pm), at Kala Kendra (Bharat Nivas) for talks, projections of slideshows and short movies. You are welcome to bring your own as they are very interested in discovering the work of other artists and sharing views about making art. More info: www.facebook.com/Artranslation '
The imaginative' trunk on the bypass road between Kalabhumi to Arka was very much inspiring to Liliana to made it alive. Here is a short interview with her just after she and Nelle finished the art installation in the middle of hot afternoon with bikes passing by, and the road workers on their job. The trunk, most likely the remains of the cyclone Thane is now alive again, with purple vest and some very colorful flowers on the head, made by Liliana at the workshop. And, of course this piece of art belongs to all, and invites to continue.
'
Seeing artists of all India creating in live is possible until the 27 of March. Inspired by the amazing surrounding of Sri Ma Guest House, ten artists are taking part of the National Painters' Camp, organized by Lalit Kala Akademi and the Auroville Foundation. They're coming from Delhi, Jaipur and Chennai and expect to meet you at the camp, preferably between 3 to 4 pm. Artists from Auroville, mainly writers and movie makers, were invited to the opening on Friday. Rm Palaniappan, regional secretary of Lalit Kala Akademi, inaugurated the event.
International Teahour of the Edible Book and MailArt exhibition Bake a Book a Day was presented by Peter Netmail in Aurelec Art Gallery. The International Edible Book Festival is a creation of Judith A. Hoffberg and Batrice Coron. Judith got the idea over a Thanksgiving turkey with book artists in 1999. Batrice created www.books2eat.com where despite the distances everybody can enjoy worldwide's creations. They contacted friends and colleagues; their first event happened in year 2000. Since then the festival continues as an annual sensation.
The International Edible Book Festival is held annually around April 1st. In this particular day the artist Peter Netmail (Peter Kustermann) made a magic recipe with different kinds of tree and others ingredients into his box. Then with the help of the audience's energy and concentration it developed in a beautiful and good book for Auroville. To our knowledge, the following countries have held this festival: Australia, Belgium, Brazil, Canada, China, England, France, Germany, Hong Kong, India, Ireland, Italy, Japan, Luxemburg, Mexico, Morocco, Netherlands, New Zealand, United States of America, Romania, Russia, Singapore, Sweden. This event unites bibliophiles, book artists and food lovers to celebrate the ingestion of culture and its fulfilling nourishment. Participants create edible books that are exhibited, documented and then consumed. April 1st is also the perfect day to eat your words and play with them. - www.netmailart.de - www.colophon.com/ediblebooks/photos.html -